06.18.08
home | metro silicon valley index | features | silicon valley | feature story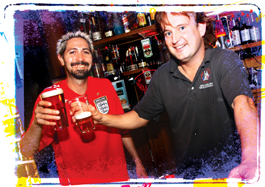 Photograph by Felipe Buitrago
Bars & Clubs
Cupertino
Alexander's Steakhouse
Restaurant | Lounge
10330 N. Wolf Road, Cupertino; 408.446.2222
A snazzy steakhouse with all the top-shelf bar accoutrements, Alexander's is a bastion of stylishly clad businessy types with deep pockets and expensive tastes. Distinguished, adventurous chefs using unique cooking methods and both Asian and American influences produce mouthwateringly tender and flavorful entrées of top-quality cuts. The cozy, sleek bar area is popular for pre-dinner martinis and relaxing with a fine glass of wine. While any outing to Alexander's Steakhouse may not be easy on the wallet, it's totally worth the splurge.
BJ's Brewhouse
Brewery | Restaurant
10690 N. De Anza Blvd., Cupertino; 408.865.6970
Since it opened in 2007, BJ's Brewhouse has quickly become a brewery institution in Cupertino known for decent prices and awesome beers. While at first glance this place may seem like a brewpub version of an Applebee's, the quality of food and selection of suds far surpasses anything that most other chain restaurants can offer. The environment has taken on the life of a local bar, with a constant supply of regulars glued to bar stools and busy Friday nights filled with the drunk and flirtatious.
Blue Pheasant Bar and Grill
Restaurant | Lounge
22100 Stevens Creek Blvd., Cupertino; 408.255.3300
With tasty food and a primo location on the Blackberry Golf Course in Cupertino, the Blue Pheasant is a regal hangout catering to slightly older crowds who chase rounds of golf with good steak, a martini or two and maybe a few turns on the dance floor. This place gets pretty hot later in the evening with DJs who play everything from modern tunes to '50s hits.
Britannia Arms
Restaurant | Live Music
1087 De Anza Blvd., Cupertino; 408.252.7262
Yeah, the Brit is one of those places that is cool enough that the pub-loving world is lucky there's more than one location. The Cupertino location is the original—considered by many to be the best of the three—and is known for some of the best fish and chips and cold English brews wielded on this side of the Atlantic. This is also the place to keep up with all the stats from your favorite Euro soccer—or football—games. Hardcore regulars and newbies (a.k.a. soon to be regulars) pack in here on a regular basis for dancing to DJ and live band tunes, proving their American Idol skills with karaoke and hanging out with friends on the big front patio, which is, in our opinion, one of the coolest places to hang out.
Duke of Edinburgh
Restaurant | Bar
10801 N. Wolfe Road, Cupertino; 408.252.7262
No other bar has gone to as much trouble to create an authentic setting as the Duke of Edinburgh, and that's why it's one of our favorite British Isle hangouts around. Everything from the actual bar to the décor was shipped directly from England and assembled to exact pub specs, creating the ultimate pub experience. The Duke is a big bar that offers an equally large supply of beers and a killer menu of pub grub. What's more is that you can top off your night by tossing steel tipped darts or catching up on the latest European football games, broadcasted throughout the bar.
Park Place
Restaurant | Lounge
10030 S. De Anza Blvd., Cupertino; 408.873.1000
Sipping a martini under a dim glow in the Park Place lounge in Cupertino is, in our opinion, a darn fine way to unwind when you want a taste of sophistication and you don't want to have to put up with the sloshed coeds who congregate at other bars. Right near the Cypress Hotel, the bar draws a decidedly older crowd of visitors, but with its refined offering of contemporary American cuisine, bona fide wine list and chic décor, Park Place proves to be as rich as any Monopoly game property.
Paul and Eddie's Monta Vista Inn
Bar
21619 Stevens creek Blvd., Cupertino; 408.252.2226
Every city must have its quintessential neighborhood bar, and for Cupertino—Paul and Eddie's Monta Vista Inn is where all ages of drinkers congregate. You'll find a crowd of both middle-aged regulars on leave from desk or family duties and De Anza College students waxing philosophical about Lost. Frequenters of this watering hole may say they come for the dozen beers and Jaeger on tap, strong cocktails, good company and jukebox, but we swear it's the freakin' popcorn machine.
TGI Friday's
Restaurant
10343 N. Wolfe Road, Cupertino; 408.257.2050
Walking into a TGI Friday's can sometimes seem like strolling into Disneyland: an overriding sense of enthusiasm running through the perky workers, vibrantly over-the-top décor decking out the place, people dressed up like Cinderella and Mickey Mouse—OK, maybe that last part isn't true, but after a couple of the strong cocktails served up from this chain restaurant's drink menu, don't be surprised to get a bigger buzz than expected. Groups of celebrants and dinner dates come for the hearty entrees and decadent desserts, but we all know why the after-work crowd congregates here: two—count 'em, two—happy hours.
Send a letter to the editor about this story.