06.18.08
home | metro silicon valley index | features | silicon valley | feature story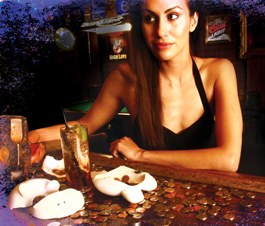 Photograph by Felipe Buitrago
Bars & Clubs
Los Altos
The Boardwalk
Sports Bar
4940 El Camino Real, Los Altos; 650.964.7500
The Boardwalk has been serving up good food, good drinks and generally good times since 1975, and shows no signs of stopping. Rumored to have some of the best burgers and pizzas around, this place is where you can find everyone from older solo drinkers to full families hanging out, having dinner and sipping brews while the kids play video games and the grown-ups keep up on the stats courtesy of the big screen TV.
Los Altos Grill
Restaurant | Lounge
233 Third St., Los Altos; 650.948.3524
With a menu, cocktail and wine list as decadent as the affluent crowd of Los Altos, both regulars and out-of-towners flock to this American cuisine mainstay. Sitting pretty in tranquil-for-a-downtown Los Altos, the Los Altos Grill gets packed on both weeknights and weekends, what with the exquisite dishes of rib-sticking fare fresh from the wood fired rotisserie and the top-notch wine list featuring over 50 types of wine. Upscale atmosphere, excellent service and an overridingly chill ambience make this an ideal spot for relaxation.
Maltby's Restaurant & Tavern
Restaurant | Bar
101 Plaza North, Los Altos; 650.917.8777
A casual neighborhood hangout, Matlby's Restaurant & Tavern has a welcoming vibe that draws in locals for good American eats and cocktails. The interior is cozy and stylish, with a large bar where relaxed after-work crowds can be spotted enjoying one of the rare draft brews or wine from the list of over 25 available by the glass. Although it's known as more of a restaurant, this Los Altos establishment does sport a loyal following of regulars who return time and again for the friendly service and down to earth atmosphere.
Send a letter to the editor about this story.