06.18.08
home | metro silicon valley index | features | silicon valley | feature story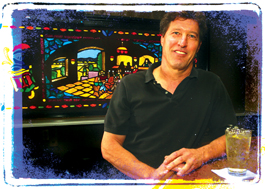 Photograph by Felipe Buitrago
Bars & Clubs
Los Gatos
#1 Broadway
Live Music
102 S. Santa Cruz Ave., Los Gatos; 408.354.4303
A popular spot for the 30-and-up set who still dig playing after dark, #1 Broadway rocks so hard that you can hear the music and barroom laughter from down the street. The tiny dance floor gets more action than Ibiza on busy nights when bands are dosing up the crowds with a steady stream of pop-rock, country and Top 40 hits. Bartenders who are beyond skilled at their trade happily supply potent cocktails that folks down between rounds on the floor or drink out on the balcony. Yeah, you can get fresh air and still enjoy your drinks.
180 Restaurant and Lounge
Restaurant | Lounge
15? N. Santa Cruz Ave., Los Gatos; 408.399.1804
As the name implies, 180 Restaurant & Lounge took over the old Los Gatos Bar & Grill and ran in the completely opposite direction. Long gone are the days of the celestially painted ceiling and lava lamps. Now, industrial-chic décor, exposed brick, artsy lamps and strange po-mo art installations (i.e. the girl behind the window who wears lingerie and wiles away the evening reading a book) reign awkwardly supreme. Between the designer-style food and the skilled bartenders, 180 Restaurant & Lounge holds its own in the nightlife scene, attracting a young, trend-conscious crowd seeking the Los Gatos equivalent of a Manhattan lounge.
Black Watch
Dive Bar
141 ? N. Santa Cruz Ave., Los Gatos; 408.354.2200
Any local will tell you that whether there's something you want to celebrate or something you want to forget, the kamikazes from the Black Watch will do the trick. This loveable bar is a Los Gatos legend for those wickedly strong and tasty drinks that are easier to swallow than Viagra on a desperate night. Though the Black Watch is in every way outfitted like a classic dive bar, the hipster crowds that pile in on Friday and Saturday nights prove us wrong time and again. A word to the wise: this place is built to the scale of a tic tac box, so if you're coming in on the weekends with a group of friends, get here early and score one of the booths or a corner of the bar.
Boulevard Tavern
Dive Bar
15043 Los Gatos Blvd., Los Gatos; 408.358.0774
A favorite hangout for the Harley owning population of the area, the Boulevard Tavern is the kind of bar that feels nothing like its hopped-up Los Gatos kin. This is probably the only place in LG that we could really call a dive, and that's why we love it. The brews are cold, the drinks are strong, the atmosphere is decidedly no-expectations and the crowd likes it best when good rock tunes are pouring out from the jukebox.
C.B. Hannegan's
Bar
208 Bachman Ave., Los Gatos; 650.395.1233
This split-level Irish pub in downtown Los Gatos has been a neighborhood favorite for years and a home away from home for more than just locals. The friendly vibes and lengthy menu of satisfying fare combine to give C.B. Hannegan's an atmosphere that even families can enjoy earlier in the evening. Catering to a diverse crowd of urban-hipsters and middle-aged socialites, this place packs 'em in most nights, and it throws one of the biggest St. Paddy's day celebrations in the area. The rockin' bartenders have their skills down pat and the servers are generally the pretty and flirty kind that the frat boys try to take home at the end of the night.
Carrie Nation's
Bar
8 N. Santa Cruz Ave., Los Gatos; 408.354.1771
Carrie Nation's is a cross between a mellow haunt for locals and a venue for impromptu reunions for Los Gatos High alumni. During the early evenings, you'll more than likely find the same set of friendly regulars posted up on bar stools chatting with the bartender and checking game stats; late night, on the other hand, brings in a more age-diverse crowd that can include everyone from MILFs and their daughters to sots that have been drinking since the dinosaurs roamed. When the busy weekend crowd rolls in, heavy-handed bartenders bring drunkenness on without a problem, much to the chagrin of the no-nonsense bouncers attempting to keep the vivacious crowds under control.
Double D's Sports Grille
Sports Bar
354 N. Santa Cruz Ave., Los Gatos; 408.395.6882
Double D's pretty much has it all: full bar, huge menu of good food, 21 TVs that rock sports 24/7, video games, a jukebox, two pool tables, a prime downtown LG location and a name that makes people giggle just a little bit. At any given time, you can find Los Gatos families of four digging into quality food, sports junkies keeping the bar area lively and a selection of younger scenesters shooting pool or playing video games with parallel enthusiasm. Seriously, if they put a shower in this place, we'd probably move in.
Forbes Mill Steakhouse
Restaurant | Lounge
206 N. Santa Cruz Ave., Los Gatos; 408.395.6434
Doling out some of the best preparations of contemporary steakhouse cuisine in the South Bay, Forbes Mill is a frequent choice for the hip and classy crowds of Los Gatos. The bar lounge area has established itself as a chic hangout for a regular gathering of well-dressed thirtysomethings who enjoy noshing on gourmet apps and sipping martinis during happy hour or as a precursor to hitting the downtown LG nightlife scene. The wine list here is outstanding, supplying more than enough top-notch varieties to anyone with a fondness for the grape.
Jo's North End Restaurant
Sports Bar | Restaurant
532 N. Santa Cruz Ave., Los Gatos; 408.395.6908
The former Johnny's Northside Grill used to be more of a neighborhood watering hole, but it's been sold and converted into an American restaurant serving staples like ribs, chicken, steak, pasta and seafood. A kids menu and patio dining make it family friendly, as do the Wednesday night "Neighborhood Night" specials that set up Mom and Dad with a complimentary bottle of wine. Sports are also in full effect on HDTVs and they're open for breakfast on weekends.
La Hacienda Inn Hotel
Dance Club | Live Music
18840 Saratoga–Los Gatos Road, Los Gatos; 408.354.6669
There's always something exciting about going to a bar in a hotel. Maybe its because you never know what kind of crowd you'll encounter, or maybe its just because it's a deviation from the normal downtown bar hop—either way, La Hacienda will satisfy your need to stray from the routine. Mingle with mysterious international travelers, or just see what the fat bald guy from Detroit thinks about soaring gas prices (just an idea) as you sip cocktails and enjoy the fine entrees the restaurant has to offer. The Hotel also hosts a variety of live music acts, usually of the classic rock variety.
Los Gatos Brewing Company
Brewery | Restaurant
130 N. Santa Cruz Ave., Los Gatos; 408.395.9929
The recent microbrewery craze has given birth to yet another craftsmen of the hops—the Los Gatos Brewing Company. Though you might not expect to find an honest, beer loving establishment in a place where Chardonnay seems to be the drink of choice, the Brewery is indeed a purveyor of some damn fine brews, three of which are regular varieties while three are seasonal. The handcrafted beer, along with a wide-ranging menu that includes things like smoked salmon pizza and slow roasted pork loin, will satisfy any adventurous and thirsty soul.
Mountain Charley's Saloon
Dance Club | Live Music
15 N. Santa Cruz Ave., Los Gatos; 408.395.8880
Packed to the hilt on a nightly basis (often with a line to prove it), Mountain Charlie's Saloon is like a hedonistic hunting ground for Los Gatos' population of wild eyed, hard drinking twenty- and thirtysomethings. Between chugging brews and slamming shots that taste like juice, the young and the horny hit the dance floor and grind salaciously to rock-oriented tunes courtesy of live bands or DJs.
Steamer's Grillhouse
Restaurant | Lounge
31 University Ave., Los Gatos; 408.395.2722
With some of the best seafood preparations around and a killer martini list, Steamers Grillhouse is one of the coolest places in town for just about any chic occasion. The spacious lounge area is regularly packed with well-dressed folks starting out their evening with a creative cocktail and a few light apps, and the outdoor patio is one of the prime Los Gatos dining and drinking spots during the warm summer months.
Three Degrees Restaurant and Bar
Restaurant | Lounge
140 S. Santa Cruz Ave., Los Gatos; 408.395.7070
Three Degrees is the kind of bar you'd expect to find in Los Gatos: elegant, sophisticated, and pricey. But as they say, you get what you pay for, and in this case, it's high-class all the way. The restaurant specializes in California cuisine of the highest caliber, with fresh fish and steak entrees, with a wide selection of chic cocktails to match. Three Degrees is a great place to bring a date for a romantic night on the town—just don't expect to leave without spending a pretty penny. But for those looking for the deals, here's the tip: "3D Hour" (a.k.a. happy hour) is every weekday from 3:30 to 6:30, with half-priced appetizers and two bucks off select beers and wines.
The Wave Room
Bar | Live Music
50 Los Gatos–Saratoga Road, Los Gatos; 408.354.3300
Once a renowned pickup location for less-than-timid singles, the Wave Room has matured considerably since its heyday (which actually lasted three decades), but it's still a place worth visiting whether you're spoken for or not. Funky tropical décor befits well-priced drinks and a lively atmosphere, while live entertainment three nights a week keeps the party vibes going strong. Sure, the Wave Room may be where your parents hung out eons ago, but how many local bars have been deemed cool for four decades?
Wine Cellar
Lounge | Restaurant
50 University Ave., Los Gatos; 408.354.4808
The secret is out. Once a clandestine little romantic destination for an older clientele, the Wine Cellar's stylish digs, outstanding food and fantastic drinks have been drawing in the chic crowds of twenty- and thirtysomethings seeking their own sips of the sophisticated life. The full bar is staffed with a skilled set of sleek bartenders who make some of the best cocktails around, and even sommeliers will be envious of the Wine Cellar's impressive list of—you guessed it—wine.
Send a letter to the editor about this story.