06.18.08
home | metro silicon valley index | features | silicon valley | feature story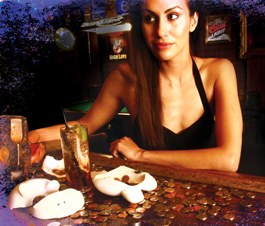 Photograph by Felipe Buitrago
Bars & Clubs
Palo Alto
Antonio's Nut House
Bar | Restaurant
321 S. California Ave., Palo Alto; 650.321.2550
While the schizoid quality of the décor and the sea of peanut shells on the ground might seem a little strange at first, Antonio's Nut House clearly knows what the bar biz is all about. With five pool tables, a pinball machine, a full kitchen serving cheap food, a lotto scratcher dispenser and what is possibly the most eclectic décor outside of a carnival (the girls' bathroom has silly mirrors), Antonio's funky Palo Alto digs welcome a constant supply of Stanford students and enthusiastic drinkers. While you can satisfy your peanut cravings by asking the bartender for a cupful, we highly recommend that you stick your hand in the cage and take them from the gorilla—seriously.
Blue Chalk Café
Billiards | Restaurant
630 Ramona St., Palo Alto; 650.325.1020
Belying the cute sidewalk patio and the name of the place, Blue Chalk Café is way more than just a cafe. This lofty venue not only rocks out an impressive selection of south of the border-inspired food, it's the only place in Palo Alto to offer billiards, shuffleboard, two bars and live music all under the same roof. We firmly believe that life is drastically improved when you've got a margarita in hand, and apparently Blue Chalk feels the same way—as evidenced by the killer selection of tequila and kick-ass signature 'ritas.
Café Rosso & Bianco (by Café Niebaum-Coppola)
Lounge | Restaurant
473 University Ave., Palo Alto; 650.752.0350
A sophisticated and stylish hangout in Palo Alto, Café Rosso & Bianco is a fabulous spot for after-work crowds seeking good food and amazing wine. Like a Dionysian temple, this upscale restaurant and wine bar has offers an incredible menu of Mediterranean and Italian foods, not to mention a spectacular selection of wine that will make any collector jealous. The wines hail from the four corners of the world, with special selections from, you guessed it, the Niebaum-Coppola wineries.
Cibo Bar and Grill
Restaurant | Lounge
3401 El Camino Real, Palo Alto; 650.493.2411, 800.492.7335
Located inside Palo Alto's Creekside Inn, Cibo Bar and Grill is a casual spot with a well-rounded menu of American-influenced Mediterranean and familiar Italian fare. Frequented by a steady set of older Palo Alto residents and employees of nearby businesses, Cibo is a welcoming spot for mellow get-togethers and satisfying meals. All the food is also available in the chic lounge area, as well as an extensive array of cocktails.
Cocktail Lounge at Palo Alto Bowl
Lounge
4329 El Camino Real, Palo Alto; 650.948.1031
Since not everyone has the skills to bowl without a flawless reputation for gutter balls, places like the Cocktail Lounge at Palo Alto Bowl are paramount for those unfortunate enough to have been dragged to the lanes by their bowling-enthusiast friends. Between the stiff drinks, the cheap prices, the dartboards and the pool tables, this painfully retro lounge offers plenty of entertainment options along with a fool-proof way to make your bowling adventure cooler. Come on—even gutter balls are funny when you're the proud owner of a bellyful of whiskey.
Dan Brown's Lounge and Sports Bar
Sports Bar | Lounge
4141 El Camino Real, Palo Alto; 650.493.9020
Dan Brown's Lounge and Sports Bar is exactly what the name suggests. In the style of split personalities, the front part of the joint is a steadfastly retro lounge catering to blue-collar bar stool regulars and a handful of random locals seeking happy hour libations, and the back half is a raucous sports bar with a fervent set of fans and 10 TVs glued to sports channels. The back half also has pool tables, foosball, pinball and air hockey—all of which are absolute must-haves for everything from drinking games to barroom bets.
Empire Grill and Tap Room
Bar | Restaurant
651 Emerson St., Palo Alto; 650.321.3030
Palo Alto's posh Empire Grill and Tap Room is something between a smart and classy cocktail lounge and an upscale-casual restaurant for garden dining. The massive bar is an inviting mahogany titan that proudly frames a sturdy supply of inebriants, and the garden patio—which is easily twice the size of the snazzy interior—is like an ivy-draped heaven for midafternoon cocktails or date-impressing alfresco dinners. If you can pick your poison, Empire can meet your need; the well stocked bar, impressive list of taps and ample list of wines by the glass means that there's little you can't find here.
Evvia Estiatorio
Restaurant | Lounge
420 Emerson St., Palo Alto; 650.326.0983
Inspired by the breezy, rustic and charming old-world ambience of the Mediterranean, Evvia Estiatorio is a stylish and exotic hangout for Silicon Valley socialites seeking the flavors of Greece without the inconvenience of jet lag and airfare. An epicurean list of wines and a menu of satisfying Hellenic cuisine combine with the smart and lofty setting to create an ever-popular spot for lunch, dinner and excellent cocktails.
Gordon Biersch
Brewery | Restaurant
640 Emerson St., Palo Alto; 650.323.7723
Yeah, yeah, Gordon Biersch is a chain and chain bars are the enemy, right? But Gordon Biersch started right in Palo Alto and has maintained its local feel despite having restaurants in 16 states. It's also obvious that Gordon Biersch cares about the quality of both its food and beer. The garlic fries are amazing and the beer comes in a wide enough variety of choices from light to dark for nearly every palate to be satisfied. Patrons who aren't sure what they'll like should order the beer sampler for a little taste of everything.
La Bodeguita Del Medio
Lounge | Restaurant
463 California Ave., Palo Alto; 650.326.7762
Unlike most Cuban restaurants in the States, La Bodeguita Del Medio actually has a sister restaurant right in Havana. It's obvious that La Bodequita offers a level of authenticity that is lacking in other restaurants, and the food—from appetizers to dessert—is consistently delicious. The Mojitos, wine list and rum selection is equally impressive. La Bodeguita also has a cigar divan with a separate smoking lounge where guests can browse the assortment of fine cigars while enjoying a cocktail.
Lavanda Restaurant & Wine Bar
Restaurant | Lounge
185 University Ave., Palo Alto; 650.321.3514
For sophisticated older Palo Alto locals, Lavanda Restaurant and Wine Bar is one of the best places around to try new wines over delicious upscale cuisine. Upwards of 600 bottles, with around 30 by the glass, are available at Lavanda, which means it would take nearly a year to try each if you had two different ones every day. It might be hard to find the time, but this is a challenge that would definitely make for a great year.
Luna Lounge at the Westin
Lounge
675 El Camino Real, Palo Alto; 650.321.4422
Comfortably luxurious both indoors and out, Luna Lounge features an extensive martini menu and list of California wines that sleek sophisticates can enjoy by the Westin's heated pool. Though this isn't exactly a nightlife hot spot, it's an excellent starting point for a classy night out. As an added bonus, if you choose to spend your evening sipping cocktails in this upscale hotel lounge, the long journey home only requires enough sobriety to push the elevator button.
MacArthur Park
Restaurant
27 University Ave., Palo Alto; 650.321.9990
Casually upscale MacArthur Park tries hard to win over diners and drinkers alike, and it succeeds with flying colors. Wooing patrons with generous portions of excellent American cuisine, a stellar wine list and the finest selection of scotch and whiskey we've seen in a long time, this Palo Alto institution has a far-from-uncanny knack for turning one-timers into full-blown regulars.
Maddalena's Café Fino
Lounge | Live Music
544 Emerson St., Palo Alto; 650.326.6082
Maddalena's Café Fino is, in every way, the kind of quiet, classy place that could easily impress a date. The menu features Italian cuisine and the bar produces some seriously excellent martinis in this warm, 1920s art deco café. Jazz and classic piano entertainment Monday through Saturday evenings draws an older, more refined selection of Palo Alto's population who enjoy reveling in the stylings of a bygone era.
Miyake
Restaurant | Bar
140 University Ave., Palo Alto; 650.323.9449
Half Japanese restaurant, half college rager, Miyake has something for everyone. Don't be surprised to see a line up the street with a bouncer guarding Miyake's door on a Friday night. Students and young professionals flock here for the delicious and reasonably priced food, and the excuse to stand on a chair in public while a waiter yells, "I say SAKE you say BOMB!" Don't let the behavior of the drunken students at Miyake reflect poorly on Stanford—many Santa Clara University students have been known to take the 6:05 express train to Miyake, enjoy a few sake bombs while almost tipping over their chairs and finally stumbling back to the Caltrain (not that we know from experience).
Nola
Lounge | Restaurant
535 Ramona St., Palo Alto; 650.328.2722
If rubbing elbows with the overdressed and overpaid is your idea of a fun Friday night, Nola may become your new favorite bar. OK, it's not that bad—Nola has some pretty cool décor that seems to be straight out of Bourbon Street, but does a Pink Panty Dropper really need to cost $8? Some of us in need of panty dropping may also be on a budget. Regardless of the prices, Nola has a lively bar scene and food that's pretty decent and definitely worth venturing out of the dive bars at least a couple times for.
Old Pro
Sports Bar
2865 El Camino Real, Palo Alto; 650.325.2070
541 Ramona St., Palo Alto; 650.326.1446
The Old Pro is known for its beer towers and mechanical bull, both of which play off each other interestingly as the night drags on. For example: one may have never considered riding a mechanical bull, especially with one's girlfriend's best male friend in front. But throw in a few beer towers (for research purposes) and anything is possible. In addition to massive amounts of drink and endless ways to humiliate oneself, the Old Pro has some downright tasty food—try the nachos, they're probably about 10 inches tall.
Rose and Crown Pub
Live Music
547 Emerson St., Palo Alto; 650.327.7673
There are British pubs that feel like the owners bought decorations out of a British pub catalog, and then there are ones that feel like stepping into a neighborhood watering hole in London. The Rose and Crown Pub is definitely the latter. This place has some seriously hard to find beers on tap, which is reason enough to go. Live music, comedy shows and quiz nights are a few more reasons to check out the Rose and Crown.
Rudy's Pub at Elbe Restaurant
Bar
117 University Ave., Palo Alto; 650.321.3319
A dark and comfy corner bar in Palo Alto, this place exudes neighborhood vibes. It's an awesome haunt during the week for friendly faces and random domino-assisted drinking games, while weekends pack in with locals taking their drunken skills to the dance floor. It's a also local haven anyone who has a special place in their heart, or liver, for imported European brews, and the cocktails pack enough of a punch that we'd be remiss not to warn you.
Sundance the Steakhouse
Palo Alto Restaurant | Lounge
1921 El Camino Real, Palo Alto; 650.321.6798
An upscale Palo Alto institution, Sundance the Steakhouse is a godsend for ardent carnivores. Surf and Turf, slow-roasted prime rib and aged New York striploin are just a few of the items on the menu, and a nationally recognized wine list with over 450 selections means that no meal will go unaccompanied. This place also features the kind of cozy, low-key rustic lounge where one could wile away the hours relaxing and sipping specialty martinis, rare blended whiskey, ports or other bacchanalian treats.
Tamarine
Palo Alto Restaurant | Lounge
546 University Ave., Palo Alto; 650.325.8500
You know a restaurant owner has done something right when their restaurant doubles as one of the hippest nighttime scenes. At Tamarine, flavorful contempor ary Vietnamese cuisine paves the way for enjoying creations from their exotic martini menu that tastefully infuses unusual flavors. This cutting-edge Palo Alto restaurant and lounge also serves as an art gallery displaying the fantastic, colorful works of emerging artists from regional areas of Vietnam.
Trader Vic's
Restaurant
4269 El Camino Real, Palo Alto; 650.849.9800
Trader Vic's is Palo Alto's tribute to all things Polynesian. This worldwide restaurant and bar chain chose the path of more refinement when establishing it's roots in Palo Alto, swapping out kitschy tiki vibes for a more artistic setting dolled up with collected artifacts from the globe-trotting owner. Classy crowds pack into this joint for decompressing island-style with exotic European, Chinese and Polynesian influenced fare and mai tais that will leave you eternally grateful for the existence of rum.
Zibibbo
Restaurant | Lounge
430 Kipling St., Palo Alto; 650.328.6722
The pan-Mediterranean cuisine is the reason that Zibibbo has received countless accolades, and the renovated Victorian setting is what makes us all want to move in to this chic eatery and spend the rest of our days on its patio sipping rare wines under olive trees. This highly praised Palo Alto restaurant and lounge features a staggering list of over 60 wines by the glass and an equally impressive array of cocktails.
Send a letter to the editor about this story.