06.18.08
home | metro silicon valley index | features | silicon valley | feature story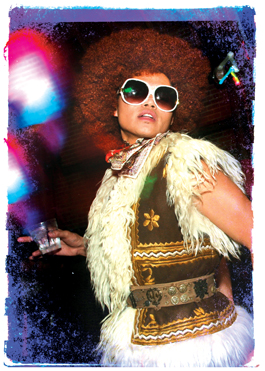 Photograph by Felipe Buitrago
Bars & Clubs
San Jose
300
Lounge | Bowling
5420 Thornwood Drive, San Jose; 408.578.850
300 San Jose is a bowling alley that looks more like a disco with '50s ambience and a dash of psychedelics. Light and video shows illuminate the 59-lane concourse, and a distinctly upscale style sets a stage for everyone from groups of friends to corporate groups to enjoy. If you're hungry, dig into something from the menu of what could only be called "designer pub grub"—think smokehouse barbecue burgers, portobello mushroom sandwiches and Thai-spiced chicken wings. The bar is stocked with all the necessary brews and liquors, and the drink menu has everything from classic martinis to kamikaze shooters to giant bowl cocktails. Good times.
A Perfect Finish
Lounge | Wine Bar
55 S. First St., San Jose; 408.288.6000
Something about drinking in a wine bar makes everyone feel refined. As one of the newest additions to the San Jose bar scene, A Perfect Finish aims to be exactly what the name suggests: the upscale wine bar where well-behaved crowds might just find the perfect way to end their day. The menu is made up of blissful bacchanalian treats ranging from Spanish and Italian cheese plates to panna cotta and crème brûlée. The wine list features both moderately priced and expensive rare vintages; wines are available by the taste, the glass, the flight and the bottle. For the grape-neutral members of the population, you can enjoy lesser-known fine brews or rum, scotch, tequila and mescal flights.
A.P. Stump's
Restaurant | Lounge
163 W. Santa Clara St., San Jose; 408.292.9928
A.P. Stump's is an upscale steakhouse in downtown San Jose that boasts an amazing menu, a staggering collection of wines and a swanky crowd of well-dressed professionals on a nightly basis. The steaks and seafood are widely considered to be some of the best around, and the wine list borders on heavenly with over 4,000 vintages in the cellar. The selection of fine scotches, cognacs and cordials is tops, and every cocktail is made with premium liquor. This posh downtown hangout has a snazzy cocktail area where you can relax with post-work martinis, wait for your table or just impress your date.
Agenda Lounge
Restaurant | Dance Club | Lounge
399 S. First St., San Jose; 408.380.3042
In the ever-changing SoFA district of downtown San Jose, places like the Agenda Lounge are a rarity for their ability to say that they've been here for more than a year. A one-stop shop for dining, dancing and schmoozing, Agenda has been filling South First with heavy house and steamy R&B beats for years, courtesy of some top-notch DJs that show up on a regular basis. This is also one of the hottest spots for showing off your best salsa moves on Wednesday nights; Salsa newbies can take free classes before the open dancing starts. Sunday nights also rock the Planet Reggae party, the longest-running reggae night in San Jose.
Alex's 49er Inn
Sports Bar
2214 Business Circle, San Jose; 408.279.9737
If you order four well drinks and it only comes to eight bucks, it's not a mistake, it's just Alex's 49er Inn: a no-frills joint serving dirt-cheap rounds to aspiring drunks of all legal ages. Old-school wood paneling and furniture that's just comfy and sturdy enough to keep you off the floor set the stage for imbibing ridiculously cheap drinks and rocking out to classic tunes and the occasional karaoke serenade. Small, dimly lit and home to a rickety pool table, Alex's 49er is a perfectly grubby neighborhood dive in every possible way.
Amber India
Restaurant | Lounge
377 Santana Row #1140, San Jose; 408.248.5400
If there ever was a place that could seduce you with cocktails and food, Amber India is it. In a stylish, jewel-toned atmosphere, Santana Row shoppers dine on meals so expertly prepared and sumptuously spiced that they could convert anyone who isn't a fan of Indian cuisine. This haven for hipsters and well-heeled Bay Area folk gets serious points for its list of cocktails, which, while not exactly cheap, are fabulously creative and as tasty as the sustenance.
Aqui Cal-Mex Grill/ Saddle Bar
Restaurant | Bar
5679 Snell Ave., San Jose; 408.362.3456
1145 Lincoln Ave., San Jose; 408.995.0381
Three words: Industrial strength margarita. Not only is Aqui the kind of place where you can imbibe a margarita that will have you doing the hat dance naked in no time, it's one of the best places for awesome cheap food in San Jose. The food is the sort of flavorful, Cali-Asian-Mexi blend that you'd expect to find in a higher-end type of place (think mango ginger chicken salads and Thai peanut chicken tamales), but the order-at-the-counter style cuts out the wait time and tip money, allowing you to spend your dough indulging in the goodness found in their 40 types of tequila.
Arcadia
Restaurant | Lounge
100 W. San Carlos St., San Jose; 408.278.4555
Decked out with that sleek, sophisticated style that San Jose professionals devour, Arcadia is an upscale gem that stands out from its San Jose brethren. The refined cocktail lounge within this downtown restaurant is a hot spot both pre- and post-dinner, filling in with dolled-up crowds who pass the time sipping specialty martinis and Macallan 18s. The cuisine is five-star, which pretty much guarantees that any meal is going to be amazing and amazingly expensive, whether you're indulging in ahi tuna tartare or American Kobe burgers.
Azucar Latin Bistro & Mojito Bar
Bar | Restaurant
71 E. San Fernando St., San Jose; 408.293.1121
Though Azucar does a good job being a suave Latin bistro, the highlight of any experience here is the cocktails. Mojitos of every kind, from traditional ones to blends made with house-infused rum, flow like water from sleek, black-clad bartenders who might just toss the bottles in the air with a style that makes Cocktail--boy Tom Cruise look like a novice. Aside from the mojitos, what's the most popular thing at Azucar? The pomegranate-infused tequila. Drink it straight, put it in a cocktail, drink it standing on your head for all we care—just try it. Yeah, it's that tasty.
Bamboo Lounge/Island Grill
Bar | Restaurant
1355 N. Fourth St., San Jose; 408.392.2468
In the mood but out the funds for kickin' it island-style? Well, the Bamboo Lounge has got your scene. Decked out with all the thatched island regalia that any Jimmy Buffet fan would seek, this is the place to get tipsy on fruity blended drinks that come with a guarantee of brain freezes and hangovers. Plasma screens stuck up around the shack-style bar keep sports fans up to date, and live music starts at 9pm Wednesday through Saturday.
Blake's Steakhouse and Bar
Restaurant | Bar
17 N. San Pedro St., San Jose; 408.298.9221
Blake's is a classic San Jose steakhouse on downtown's San Pedro Square. An old-school casual setting and enormous portions of American classics draw in carnivorous crowds on a regular basis, as do the hefty selections of wine and premium liquors that make up the large bar. This place is famously packed with celebrating drinkers and diners on nights when the HP Pavilion is hosting events, so if you plan on eating and getting sauced here before an event, make a reservation.
Blank Club
Live Music | Bar
44 S. Almaden Ave., San Jose; 408.292.5265
A showcase for all manner of rebellious rock groups, the Blank Club is one of the only places in San Jose that's rock & roll through and through, baby—it's all about the music here. This die-hard live music venue features acts on most nights in the form of both locally and nationally recognized talent, all of which is generally met by hard-drinking rabblerousing patrons. The Blank also sports a great list of DJs who fill in on the nights when the music isn't live, spinning everything from goth and industrial to the classics. Not only is this probably our favorite place in San Jose to catch a live rock show, it's also our favorite spot to show off our punk rock skills at Monday night karaoke.
Blowfish Sushi to Die For
Restaurant | Lounge | Dance Club
335 Santana Row #1010, San Jose; 408.345.3848
Only at some sleek and sassy place like Santana Row will you find a sushi bar that doubles as a sleek and sassy nightspot. Blowfish rocks an übertrendy, well-dressed crowd and an atmosphere that borders on schizophrenic; the walls are dotted with TVs showing various psychedelic, seizure-inducing anime and random light displays. The sushi here is awesome, plain and simple, and the creative cocktails are strong enough to convince even the biggest wuss that daring to order the namesake fish would be a good idea if it were an option.
Branham Lounge
Dive Bar
1116 Branham Lane, San Jose; 408.265.5525
Old-school '70s style, complete with porno-mag-worthy red velvety walls, Branham Lounge is a straight-up locals dive. While crowds of aging barflies used to be the mainstay here, the addition of DJs and a few plasma screens have ushered in a younger set, adding a bit of eye candy to the quirky crowd of regulars. One thing that has never changed about this kick-ass neighborhood dive is the staff of bartenders who know how to pour 'em heavy and serve 'em cheap. Trust us, compared to other places, you can get wasted here for next to nothing.
Britannia Arms
Bar | Restaurant | Live Music
5027 Almaden Expwy., San Jose; 408.266.0550
173 W. Santa Clara St., San Jose; 408.278.1400
Ahhh ... the beloved Brit. With regular live music, a big bar, tons of seating and a massive outdoor patio, the Britannia Arms has been corralling a number of San Jose scenesters for quite some time. The skilled bartenders are friendly, as are the patrons that make up the majority of the often packed bar and back patio area. The Brit also serves as the stomping grounds for avid sport fans that want to catch the stats on the latest hockey, basketball, baseball and football (both the kicking kind and the American kind) games. When live bands aren't thrilling the masses, resident DJs pull folks to the floor with earfuls of hip-hop jams, pop beats and '90s throwbacks.
Caravan
Dive Bar
98 S. Almaden Ave., San Jose; 408.995.6220
The heavyweight champ of dive bars, the Caravan is a die-hard local watering hole where the unpretentiously thirsty can carry on with excellence. When local bands and DJs aren't blaring out rock-centric tunes, the jukebox supplies just about every kind of music you can think of, offering a soundtrack for tattooed sharks to sharpen their skills on the pool table. All walks of life congregate here regularly; wizened blue-collar sots, punk rock hipsters with artfully messed up haircuts, biz pro types taking a relaxing post-work walk on the divey side and even the occasional vagrant whose last bit of cash is dedicated to the strong and cheap drinks the Van provides. Seriously, this place welcomes everyone, even writers who need to end their day with a good shot and a cold beer.
Cardinal Lounge
Bar | Lounge
3197 Meridian Ave., San Jose; 408.269.7891
A painfully retro neighborhood lounge steeped in Vegas-style kitsch, the Cardinal Lounge looks like some place your ornery grandmother would sit sipping sidecars and bitching about the Reagan administration. Cheap cocktails and karaoke draw in a slew of quirky regulars that range from the barely legal to the barely living, and the überconvenient location inside the all-night Cardinal Diner is perhaps the coolest thing we've ever seen. Just imagine: after downing a few shots and crooning a few rounds on the aging karaoke machine, you can wander into the dining room and sit down to a big plate of deliciously greasy diner food. Awesome.
Chacho's
Bar | Restaurant
18 S. Almaden Ave., San Jose; 408.293.138
A local bar and killer Mexican restaurant, Chacho's gets packed on a regular basis with just about every kind of customer, from the after-work crowd to the rocker set waiting for the show at the Blank to begin. Sure, the awesome food is totally worth the visit, but it's the knock-your-socks-off selection of tequilas that we love most. With over 90 varieties of that blessed agave spirit—15 of which are mescal—neophytes and connoisseurs alike can get sauced enough here to forget about what a pain it was to find a parking spot. The skilled bartenders make cocktails that are almost death defying, from mind-boggling margaritas to signature drinks like the Cholo and No Panties.
Checkered Flag Bar and Grill
Bar
803 Lincoln Ave., San Jose; 408.271.1880
Happily nestled between two liquor stores, Checkered Flag Bar and Grill is a bar for the true drinkers of San Jose. This surprisingly large hangout sports a solid crew of regulars who park their Harleys out front and head inside for a plate of good, greasy bar food and stupidly cheap drinks. Since this place is the proud king of all two- and four-wheeled things, motor sports are generally the show of the night on the TVs that hang over the well stocked bar. Between shooting pool and testing your skills on the shuffleboard, the cool bartenders will keep you supplied with strong cocktails and random bomb shots.
Cinebar
Dive Bar
69 E. San Fernando St., San Jose; 408.292.9562
An icon of San Jose boozemanship, the Cinebar is a dark and tiny sanctuary for rockers, pool sharks and anyone who likes getting stinking drunk no matter what day of the week it is. In the windowless confines of this favorite local dive, the drinks are poured strong and cheap, a singular fact that every wayward punk, drunk and dropout in San Jose can attest to. During the days, which start at a bright and early 6am for this place, you can find just about anyone nursing a round and chatting with the bartenders; come late night, though, this kick-ass dive gets packed with all manner of patrons who pass their time doing shots, sipping brews and shooting rounds on the pool table. After thorough research, we've concluded that we love getting sauced at the Cinebar—and trust us, we've researched a lot. Yes, we love our job.
City Bar and Grill Hilton Hotel
Bar | Restaurant
300 Almaden Blvd., San Jose; 408.947.4444
A casual hangout in downtown San Jose's Hilton, the City Bar & Grill is a mainstay for conventioneers with expense accounts. During conventions, of which San Jose has its fair share, this place is packed with attendees digging into classic American fare and putting down a few cocktails between exhibits or meetings. Despite the hotel location, this place manages to draw in a faithful set of locals who like drinking in the smooth jazz atmosphere.
Claddagh
Bar 1300 First St. #A, Gilroy; 408.848.5050
A family-friendly hangout for the Irish pub-lover in all of us, the Claddagh is where you can get sauced Irish-style in Gilroy. This large restaurant and bar was once the only hangout in garlic town, so it established itself quite nicely as an all-around good time for just about every soul who has a penchant for pub grub, beer and whiskey. Though other bars have since opened up in the area, not much about the Claddagh has changed; it's still just as popular for good food and tasty drinks during normal hours, and it still gets packed with the hard drinking, dance loving, over-21 set later in the night.
Club Caribe
Dance Club
1001 S. First St., San Jose; 408.297.7272
An upbeat hangout where Latin music is king, Club Caribe is a favorite spot for anyone who loves to dance. Folks are generally lined up around the corner to get into this hot little dance club where Salsa music dominates Thursday nights, and most other nights offer high-energy Latin beats from live bands. Most nights, Club Caribe is packed with a sharp-dressed Latino crowd who can be found sweating it out on the dance floor between rounds at the bar. The signature drink is the deadly Jarritos, a Cuban mixture of fruits and liquors that's deliciously sweet, deceptively potent and dangerously easy to drink.
Club Max Doubletree Hotel
Bar | Lounge
2050 Gateway Place, San Jose; 408.437.2167
Club Max is a surprisingly hopping place, especially for a hotel bar. This groovy little club draws locals and hotel guests with DJs spinning R&B and house, live music on Fridays and Saturdays, big screen TVs tuned to sports and pool tables. A hit with the after-work crowd, this place kicks out strong drinks and happy hour specials that can make anyone happy, no matter how rough their day was. Oh yeah, happy hour also boasts a nacho bar—yes, a nacho bar. How cool is that?
Consuelo Mexican Bistro
Bar | Restaurant
377 Santana Row #1125, San Jose; 408.260.7082
Consuelo Mexican Bistro is proof that the gods of tequila love us all very, very much. Sure, the authentic South American and Mexican food here is absolutely amazing, the nontequila drinks are great and the service is awesome, but it's the tequila selection that leaves us drooling. The entire wall behind the bar is covered in tequila—from blancos to añejos, from $7 shots to $120 shots—and the bartenders know what to do with all of it. Sitting pretty on a corner of swanky Santana Row, this authentic Mexican bistro packs in regularly with well-heeled shoppers and drinkers who know where to go when nothing less than the best will do—tequila, sangria, guacamole or otherwise.
Cuetopia Billiards Café
Billiards
4700 Almaden Expwy., San Jose; 408.266.7665
While arming drunk people with heavy sticks never made much sense to us, we've got to say that Cuetopia Billiards Café really rocks the all-you-need-in-one-place thing. With 25 pool tables, darts, seven TVs, foosball tables, some of the best Chicago-style hot dogs you'll find this side of the Mississippi and nearly 40 brews to chose from, sharks and novice players alike will find that there's little reason to ever leave this place. Proof that this place has a profound love for true blue beer-lovers is the Happy Days specials, which, as the name implies, means that the $3 drafts last all day Sunday through Thursday. Take that Happy Hour.
Dave & Buster's
Restaurant
940 Great Mall Drive, Milpitas; 408.957.9215
Anyone who hasn't been to Dave & Buster's is clearly missing out on one of the most entertaining and ridiculous nighttime activities. Like a giant senses-assaulting Chuck E. Cheese for adults, this place has more bells, whistles and games than a casino and an arcade combined. A full restaurant, bar and arcade combine to make this the kind of place where socialites can act like geeks and geeks can become social. Try you hand at Skee Ball when you're five shots in, or go a few rounds with your equally shameless friends on Dance Dance Revolution.
The Den at Fourth Street Bowl
Bar
1441 N. Fourth St., San Jose; 408.453.5555
In the tradition of great bowling alley bars, the Den at Fourth Street Bowl welcomes one and all with cheap drinks, killer grub from the adjoining café and the dark, aged confines that constitute the best of dives. Between, or in lieu of, rounds on the lanes, drinkers can behave like tone-deaf American Idol wannabes by joining in on the raucous nightly karaoke. And whether you're one of those folks who knocks the pins down with ease or you're the type who lands gutter balls with flawless execution, you have to admit that there are few things more fun than bowling when you're sauced.
The Derby
Bar
399 N. 13th St., San Jose; 408.294.4699
Located smack-dab in the middle of a residential neighborhood, the Derby is truly what we'd call a "neighborhood dive." It's off-the-beaten-path location makes it the stomping grounds for a set of regulars who are more comfortable here than they are in their own living rooms, and who are frequently shocked when they see new faces waltzing in through the front door. Don't worry, though—some of the regulars may look a little rough around the edges, but they're totally friendly and happy to welcome newbies; after all, this is the place "where friends meet."
Dive Bar
Bar
78 E. Santa Clara St., San Jose; 408.288.5252
With a name like "Dive Bar," one would expect to find the standard dive bar digs—a dark and seedy space with no windows, signs that are missing letters, scruffy old guys nursing whiskey at the bar—but think again. This place is anything but a dive. Low-profile couches, an antique bar and leather stools make a haven for the San Jose hipster set that flirt mercilessly over cosmos and Long Island iced teas while a DJ pumps out cool house and top 40 grooves. Every Wednesday hosts some of the funniest karaoke around—we've even seen a guy singing "It's Not Easy Being Green" by Kermit the Frog, frog voice and all.
E&O Trading Company
Restaurant
96 S. First St., San Jose; 408.938.4100
E&O Trading Company is a downtown staple offering amazing specialty cocktails and a menu that will take you from India to Thailand without the inconvenience of getting a passport first. Rocking a chic, Far East theme, this restaurant-cum-temple surrounds San Jose's well-clad business types with authentic Southeast Asian artifacts, adding a dash of the exotic to their ever-seeking-happy-hour lives.
El Jardín Tequila Bar & Restaurant
Bar | Restaurant
386 Santana Row, San Jose; 408.246.1744
If you ever find yourself questioning whether or not there's a divine being watching over us and if said being wants us to be happy, simply remember the immense selection of tequila at El Jardín Tequila Bar & Restaurant (happily brought to you by the proprietors of Consuelo Mexican Bistro). From sharp, almost peppery reposados to smooth, woody añejos, this Santana Row garden bar features a heavenly selection of 100 percent blue agave tequila and a mind-boggling list of cocktails that prove you can enjoy your tequila without the lick-sip-bite method. A tapas-style menu of flavorful treats accompanies the list of drinks.
Fairmont Lounge
Lounge
170 S. Market St., San Jose; 408.998.1900
A genius combination of a posh setting, WiFi access and two plasma screens showing sports at low volumes makes the Fairmont Lounge the kind of place where well-heeled biz types can sip pre-dinner martinis and catch up on work for the next day without missing the action of their favorite team. Located in the lobby of the posh Fairmont Hotel, this sophisticated lounge satisfies refined patrons with an extensive selection of California wines by the glass, an array of single malts and light piano entertainment.
Fahrenheit Ultra Lounge
Dance Clubs | Lounges | Restaurants
99 San Fernando St., San Jose, California; Tel. 408.998.9998
Though most of San Jose's glitterati have moved on to Santana Row, the beautiful Fahrenheit Ultra Lounge is still going strong. On weekend nights, this hotspot has line of overdressed booty waiting to get inside to nosh on exotic cuisine, sip the latest designer fru fru cocktails and mingle in a snazzy setting that makes them feel very important. Graham Kimora still heads the top-notch drink slingers who have a knack for some of the coolest fiery flair you'll ever see.
Final Score Sports Bar
Sports Bar
1126 Saratoga Ave., San Jose; 408.296.9591
You can't get more neighborhood than the Final Score—seriously, all drinkers within a six-block radius make up the fervently loyal set of friendly regulars. With a super chill atmosphere and all the trappings of a sports bar, Final Score is exactly the kind of watering hole that makes folks want to join the cast of repeat offenders for regular rounds of pool, darts and cheap brews. Though this strip mall secret has been making the most of its small but comfy digs since the '60s, it's been totally updated to include multiple flat-screen TVs that are tuned to sports on a constant basis. And if all this isn't enough, just remember that you can scarf down a $2.50 burrito while you're catching the game.
Firehouse #1 (formerly the Flying Martini Brothers)
Bar | Restaurant
69 N. San Pedro St., San Jose; 408.287.6969
Stiff drinks, tasty food and a chill atmosphere make Firehouse #1 even cooler than its predecessor, the Flying Martini Brothers. Decked out a la firehouse with hydrants, hoses, red walls and red-stemmed martini glasses, this is the kind of neighborhood joint where you can belly up to the bar after work on a Monday, have a few rounds and dig into a massive burger or a plate of their killer sliders, which are possibly the best sliders we've ever had. To really get with the theme, order the house's Big Red Drink, a sweet concoction that tastes like Koolaid and is basically a hangover in a glass. On busy nights (and trust us, this place can get very busy), the cute and charming bartenders show off their flair skills by lighting up drinks like the Flaming Dr. Pepper.
Garden City Casino
Casino | Restaurant
360 Saratoga Ave., San Jose; 408.244.4443
One part supper club and one part card room, Garden City Casino is the only place in San Jose where you can get an incredible meal, choose from one of the best wine lists around and go one on one with lady luck by topping it all off with a game of Hold-'em or Blackjack. Since it's not your traditional casino (it's actually billed as a card room), you won't hear the bells and whistles of slot machines; instead, you'll find things like Pai Gow Tiles, Bacarat Gold and various card games tempting the wallets of newcomers and old-school addicts alike. The fact that this place is open 24-hours makes it especially cool.
Gecko Grill
Bar | Restaurant
855 N. 13th St., San Jose; 408.971.1826
Going south of the border has never been so tasty and so affordable. Gecko Grill is the kind of informal neighborhood spot where you can hang out casually, indulge in massive plates of traditional Mexican fare and wash it all down with something that will have you doing the hat dance by midnight. The list of cocktails is pretty inventive, from pomegranate sangria to blackberry margaritas, and the tequila selection is solid. The prices here are totally reasonable, which is key for a place that's right near San Jose State.
Giza Hookah Lounge
Lounge
18 N. First St., San Jose; 408.998.4622
If striking languid poses on extra pillowy couches and feeling especially cool is your thing, then Giza Hookah Lounge is the place for you. Crowds who are generally too young to get into bars frequently recline in the opium-den-esque confines of this relaxing neighborhood spot, waxing philosophical and puffing away on one of more than 30 different flavors of hookah tobacco.
Glass Gecko
Dive Bar
1872 W. San Carlos St., San Jose; 408.998.3425
The Glass Gecko is a classic San Jose dive bar. Decked out with every bit of neon that a proper dive bar should have, this place packs in nightly with a solid set of regulars who like to drink hard, shoot pool, catch up on sports and enjoy a soundtrack of classic tunes from the jukebox. The drinks are just how we like 'em, strong and cheap, and the rockin' bartenders will keep 'em coming. So if you're ever seeking the sauce when in the Burbank district, come drink here if you've got the balls—oh wait, they've got the Bawls (the energy drink, that is), which they'll be happy to serve up in a variety of ways to anyone who's brave enough to order it or just lacking their own.
Goosetown Lounge
Bar
1072 Lincoln Ave., San Jose; 408.292.4835
The Goosetown Lounge has a special place in our hearts for taking better care of their patrons than almost anyplace else in San Jose; heavy pours, gaming entertainment and some of the friendliest vibes in town even bring in off-duty bartenders from all over San Jo. The cozy interior, with a big fireplace and green and brown tones, makes it look like an Irish pub that never went Irish beyond the whiskey behind the bar, and random art, an old-school cigarette machine (that doesn't actually provide smokes) and goofy cartoon geese painted on the walls gives it a lovable, if not slightly random, atmosphere for happily getting sauced. The small karaoke stage hosts a steady set of downright hysterical performances from locals on Friday and Saturday nights.
Gordon Biersch
Bar | Restaurant | Brewery
33 E. San Fernando St., San Jose; 408.294.6785
Some will say that Gordon Biersch is overrated as a restaurant, but as a brewpub, it kicks ass. The huge menu of decent, eclectic pub grub is enough to fill your stomach at just about any hour, cushioning it for the insane amount of home-brewed beer that will inevitably follow. The huge outdoor patio area is open year-round and serves as a cool spot for celebrating a birthday, enjoying dinner or just hanging out and getting plastered with friends.
Grill on the Alley
Restaurant | Bar
172 S. Market St., San Jose; 408.294.2244
The suave, Rat Pack–style of Grill on the Alley makes it the kind of place where you can impress a date with your expensive taste and your eye for superchic New York style. The lunch and dinner menus feature large portions of steaks, pastas and fresh seafood, all of which complement the extensive wine list and amazing selection of specialty cocktails. If you're not in the mood for a full sit-down dinner, you can settle into one of the cozy leather bar stools and order something from the excellent bar menu.
Hard Work Café
Bar
1620 Almaden Road, San Jose; 408.289.9675
Located off the beaten path in Willow Glen and settled into a building that's older than most of you who are reading this, the Hard Work Café is a pretension-free haven for easing the working man's blues with some of the best country breakfasts around, massive burgers and an atmosphere that feels like home. This neighborhood bar has everything a drinker could need and more: bar stools rooted into car wheels, regular live music, a mural depicting working types like carpenters and electricians, and an ingenious contraption where patrons can get their nicotine fix without missing out on the inside ambience or violating the ban on indoor smoking.
Hedley Club in the Hotel De Anza
Bar | Live Music | Lounge
233 W. Santa Clara St., San Jose; 408.286.1000
Located in the historic Hotel De Anza in downtown San Jose, the Hedley Club regularly draws in a refined set of patrons with its posh, art deco environs and stellar list of custom seasonal cocktails. Mediterranean-influenced appetizers and a fantastic selection of wines are also available to sate the cravings of discerning palates. Friday and Saturday nights feature live jazz with occasional Latin, soul, blues or R&B influences.
Henry's World Famous Hi-Life
Bar | Restaurant
301 W. St. John St., San Jose; 408.295.5414
There are few places in San Jose that are as unapologetically carnivorous as Henry's World Famous Hi-Life, and that's why we love it. If you've never been here, the deal goes like this: (1) walk in, take a number, park at a bar stool, get a cocktail or brew and wait for the server to come by to take your order. (2) Have another round while you wait for the server to come tell you your food is ready, which is when they'll take you to an actual table. (3) Have yet another round and enjoy your plate of barbecued meaty goodness. It's that simple. During football season, Henry's gets packed with gridiron junkies seeking steak, eggs and beer as early as 8:30am. This joint is also stumbling distance from HP Pavilion, so it gets equally as packed when big shows or Sharks games are going on.
Hookah Nites Café
Bar | Lounge
371 S. First St., San Jose; 408.286.0800
Hookah Nites Cafe is at the forefront of the increasingly popular Bay Area trend of the Middle Eastern–themed smokers den. Veteran smokers sidle up next to rookies on the chill out couches and spark up interesting flavored tobaccos, ranging from apple to zinnia, and listen to eclectic DJs completing the atmosphere.
Hukilau
Bar | Restaurant
230 Jackson St., San Jose; 408.279.4888
Hukilau is a little bit of the islands transported to the mainland and planted between a sushi restaurant and a Japanese market in San Jose's Japantown. Aloha Happy Hours that linger long into the night and Wahini Specials for the ladies prove that the intoxicated glory of Hawaiian drinks can be easily had when hanging out in San Jose, and an eclectic selection of Hawaii-inspired fare does a good job at arming the stomach for the addictive drinks. This is also the only place in town where you can get in on the great Hawaiian secret of spam and how it's especially tasty musubi-style. Yes, yes—we all know that spam seems a little scary; but could millions of Hawaiians really be wrong?
Hunters
Gay Bar | Dance Club
349 S. First St., San Jose; 408.947.1975 A come-one-come-all atmosphere, downright amazing drink specials, a theme for every day of the week, a sexy staff-—the list of reasons why we love Hunters goes on and on. Did we mention the amateur go-go dancer competition on Take It Off Tuesday nights? Or how about the gorgeous set of female dancers that come in to shake it on the bar for all the all the women to enjoy on Huntress Thursdays? This GLBT-centric bar is rapidly gaining popularity even among hetero folks for a seemingly endless supply of good times and cool events. A total bonus is that there's some major eye candy here—but, for the most part, unless you're of the same sex as your bar-booty candidate, you probably shouldn't bother.
Hyde Park Cocktail Lounge
Dive Bar
1070 N. Fourth St., San Jose; 408.286.8888
A low-maintenance sanctuary for folks who plan on drinking till they die, Hyde Park Cocktail Lounge is where one can wile away the hours downing brews and avoiding the hype of the nightlife scene. Old-school photos of dead celebrities from the '50s and '60s hang from the walls of this dark, bunker-esque lair that meets every inch of the criteria that constitutes a great, true neighborhood dive.
Il Fornaio
Restaurant | Lounge
302 S. Market St. in the St. Claire, San Jose; 408.271.3366
It's more of white tablecloth fine-dining establishment than a walk up and order bar, but when you're in the mood to try new wines (and want recommendations from bartenders that actually know their shit), Il Fornaio is pretty hard to beat. The bar itself features a happy hour that makes it possible for the younger crowd to play dress up and pretend to be classy without going broke.
The Improv
Comedy Club
62 S. Second St., San Jose; 408.280.7475
From big name comedians to open-mic nights, the Improv always seems to have something going on. The Improv also hosts the most exciting event in amateur standup each year—the Improv Finals, or "Cream of the Crap," as it has been lovingly dubbed. Some people may have a problem with the Improv's two-drink (or food item) minimum, but we at Metro look at it as an ante in poker—it's only there to get things started. Plus, the jokes are always funnier when judgment has been impaired.
Jack's Bar & Lounge
Dive Bar
167 E. Taylor St., San Jose California; 408.287.5225
Jack's is the perfect example of the old "don't judge a book by its cover" saying. Jack's used to be a regular-old dive bar, complete with nauseating bathrooms and a certain unidentifiable smell throughout (you know the kind, it's the one that reminds you faintly of cheese). Not to say it didn't have its own special character difficult to find outside of a neighborhood dive. The recently renovated Jack's retains this neighborhood vibe, but now has completely new bathrooms, flat-panel HDTVs and they even put in a new, sleek bar. Drinks are still cheap (happy hour lasts from 3 until 9pm) and the crowd still relaxed, but Jack's is now dive-chic, rather than dive-dingey. Oh, and the mystery smell is gone.
Jersey's Tavern (Used to be in Campbell)
Restaurant | Sports Bar
325 S. First St., San Jose; 408.971.2898
Jersey's moved from its Campbell location to a bigger and better one in downtown San Jose, featuring 16 gorgeous flat-panel HDTVs. Jersey's may be the best place in San Jose to watch sports, especially during happy hour when drinks are discounted and many appetizers are half-price. True sports fans come to Jersey's during all sports seasons, appropriately donning their team's jerseys. The restaurant also forked out the money for ESPN Gameplan and NFL Sunday Ticket, so football junkies can catch all the college and NFL games while munching on a gigantic Philly cheese steak sandwich.
JJ's Blues
Live Music | Blues Club | Bar
3439 Stevens Creek Blvd., San Jose; 408.243.6441
Boasting live entertainment every night, JJ's Blues is a cozy neighborhood blues dive with a full bar and awesome tunes. Hmm-—do you need anything else? Well just in case that didn't convince you of JJ's worthiness in the San Jose bar scene, this blues spot has over two decades of history and, though ownership changed back in '05, the new owners have proved their dedication to quality live music and ever flowing cocktails.
Johnny V's
Bar | Dance Club
31 E. Santa Clara St., San Jose; 408.947.8470
If you're over 6 feet tall, don't jump while in Johnny V's—no matter how cool the tunes are sounding. This bar feels like it's built to the scale of a dollhouse, and yet it brings in eclectic local talent like underground house DJs and indie rock bands regularly, attracting droves of local music junkies to its dark and narrow confines. Recent changes to management mean that there's a whole new set of skilled drink slingers workin' their magic at this beloved San Jose dive music club.
Koji Sake Lounge
Bar | Lounge
48 S. First St., San Jose; 408.287.7199
Bringing a hint of Zen to the downtown San Jose nightlife scene, Koji Sake Lounge is the place to go for unmatched sake selection in the South Bay. The candle lit lounge is accented with dark suede booths and down-tempo music, while knowledgeable waitstaff is eager to make spot-on sake recommendations to complement the lounge's small plate fare. Tuesdays through Fridays, Koji also boasts happy hour specials, including $5 cocktails from the lounge's impressive of infused specialty drinks.
Lido's Nightclub
Dance Club | Local Bar
30 S. First St., San Jose; 408.298.4318
In the days of yore, Lido's was a pretty popular gay club, but when it changed to become both a Vietnamese nightclub and Mexican dive bar, no one told the drag queens. So, what we have now is something you have to see to believe: a fancy Vietnamese dance club upstairs, a Mexican dive bar downstairs and a random collection of dolled-up, multicultural drag queens that flock in for karaoke when the mood strikes and give it all some serious spunk. The upstairs portion books some of the best Vietnamese live music acts in San Jose, and downstairs has a solid collection of working-class regulars who sip cold beers and listen to banda.
Linda's Light Rail Lounge
Dive Bar
1336 N. First St., San Jose; 408.453.5326
Linda's Light Rail Lounge accomplishes everything loveable about a dive bar. The small beer selection is easy on the wallet and you can grab microwaveable eats on the cheap at this unassuming no-frills joint. On a regular basis, mustachioed pot-bellied regulars and twentysomething dive bar lovers sit side by side nursing brews and passing the time chatting with Linda or anyone else on the cool and friendly staff.
Loft Bar and Bistro
Restaurant | Bar | Lounge
90 S. Second St., San Jose; 408.291.0677
If you happen to get drunk at the Loft—well, in the actual outdoor loft on the roof—be careful. There's a maze of stairs to navigate before making it back down to street level. This of course becomes more difficult after a few mojitos, which rank among the best in San Jose (several scientific tests were carried out to determine this). The Loft also has amazing bread served with some type of balsamic dipping sauce from heaven. Save some money by having cocktails and warm bread on the roof during the warm summer months and then head to a restaurant with lower prices and better entrees.
Mac's Club
Gay Bar
39 Post St., San Jose; 408.288.8221
Mac's Club is a laid-back gay bar in the heart of San Jose, loved by gays, gay-friendly straights and everyone in between. Tucked away on Post Street, Mac's Club caters to a small crowd of regulars on most nights, but also functions as a pre-party spot for drinkers wanting to sip cheap cocktails before heading to nightclubs with larger dance floors. Although the tiny spot gets crowded on busy nights, friendly bartenders and a mellow atmosphere make the hidden, no-cover bar a favorite stop for happy hour rounds.
Melting Pot
Restaurant | Lounge
72 S. First St., San Jose; 408.293.6020
If you're into the whole fondue thing, the Melting Pot is delicious and an awesome place to host large dinners. Since you have to cook your own food, awkward silences are kept to a minimum—perfect for engagement dinners or family reunions. The wine list is also helpful in this regard, featuring a seemingly endless selection of bottles. So the next time you're cornered into hosting an obligation dinner, have it at the Melting Pot, order too much wine and concentrate on cooking the perfect piece of meat.
Mexico Lindo Restaurant and Cantina
Restaurant | Bar
11 Race St., San Jose; 408.295.7765
Boasting authentic Mexican cuisine and potent margaritas, Mexico Lindo Restaurant and Cantina satisfies cravings for home-cooked south of the border fare. The restaurant's décor matches the down-home fare and although they're somewhat simple, both the atmosphere and menu please those seeking a traditional dining experience. During happy hour, which starts at 3pm, fill up for cheap—the cantina's classic and fruit-flavored margaritas are $4 and tacos are just a buck.
Mission Ale House
Bar
97 E. Santa Clara St., San Jose; 408.292.4058
Mission Ale House has a way of roping people in for much longer than expected. Seriously, we show up for one cocktail and maybe a cheap happy hour appetizer, and next thing we know it's 11pm on a Monday and we're drunkenly trying to figure out how to explain to our better halves why we missed dinner and smell like tequila. We blame this entirely on the bartenders, who know how to chat you into staying a bit longer and, more importantly, know how to pour a good drink. On busier nights, the back patio is generally packed with twentysomething crowds smoking and drinking while flirting mercilessly, and the modest dance area inside is elbow to elbow with folks grinding to DJ beats.
Moorpark Hotel
Lounge | Restaurant
4241 Moorpark Ave., San Jose; 408.864.0300
The Moorpark Hotel is earning a reputation for not only being a comfortable and accommodating place to stay in San Jose, but also for having a sophisticated bar scene. Guests of the hotel and local patrons can share drinks, shoot pool or enjoy delicious hors d'oeuvres. The best part about the Moorpark Hotel bar is that guests staying in the rooms just have to be sober enough to push an elevator button to get safely into bed.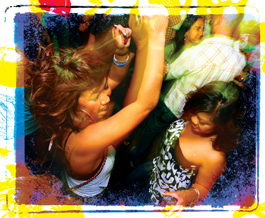 Motif
Lounge
389 S. First St., San Jose; 408.279.1888
A newer addition to the San Jose nightlife scene, Motif is a stunning two-story venue with a full restaurant, two bars, two DJs and quite possibly the coolest piece of art we've ever seen in a bar: a suspended glass installation of 7,000 pieces of black obsidian by an artist from London. The avant-garde interior is daringly modern and unique, with light tricks and cutting-edge goodies around every corner. While the wickedly artistic stylings would most certainly be appealing to bohemian types, this tragically snazzy place rocks the whole ultralounge hard with prices we can't call modest.
O'Flaherty's Irish Pub
Bar | Restaurant
25 N. San Pedro St., San Jose; 408.947.8007
O'Flaherty's is just an all-around good time—the bartenders are genuinely friendly, the car bombs always seem to be dropping and there's usually a lively crowd. The bar even has outdoor seating, which is great for people watching on warm summer nights. To get things started off right order a Mad Hatter, or two if you dare. In addition to some great knockout drinks, O'Flaherty's has delicious calamari and french fries to help soak up the booze.
Original Joe's
Restaurant | Bar
301 S. First St., San Jose; 408.292.7030
Original Joe's has been a San Jose staple for over a half-century. In restaurant years, that's almost an eternity. After a three-month closure for remodeling, OJ's reopened boasting completely new bathrooms, tables, booths and décor, along with three 47-inch flat-panel HDTVs in the upstairs bar. Original Joe's is a popular downtown SJ spot for appetizers and drinks before Sharks games, opera shows and concerts, all of which are easily walkable from the restaurant. Original Joe's kept the open kitchen, so patrons can still watch the chefs work. Drinks are delightfully old-fashioned, with a legendary Manhattan.
Paolo's
Restaurant | Lounge
333 W. San Carlos St., San Jose; 408.294.2558
Overlooking the Guadalupe riverfront, Paolo's is a favorite among San Jose locals that enjoy a fine wine in a scenic location (well, as scenic as downtown can get). Continually rotating eight wines by the glass, patrons can try something new pretty much every visit to the restaurant. Prices at Paolo's are what you'd expect from a fancy Italian joint, but Martini Nights on Thursdays from 4 to 8pm feature $4 well martinis and $6 premiums, making it easier on the conscience to have a few extra drinks.
Paragon
Restaurant | Lounge
211 S. First St., San Jose; 408.282.8888
Although Paragon is located inside the Hotel Montgomery, don't expect a typical hotel bar with mediocre food and overpriced drinks. Paragon is celebrated by San Jose foodies for its innovative new American cuisine. Locals that enjoy fine cocktails also have a special place in their hearts for Paragon and its selection of over 100 premium vodkas, wide variety of fine wines and large choice of beers, both domestic and imported.
Patty's Inn
Bar
102 S. Montgomery St., San Jose; 408.998.4566
Patty's Inn is a lively dive with PBR on tap, free peanuts, a pool table and plenty of scruffy locals. Located within stumbling distance of HP Pavilion, this bar gets packed with a lively crowd of Sharks fans before and after games. It's also nearby the San Jose Caltrain station, making it a popular bar to grab a notoriously strong cocktail for train commuters before the ride home.
The Place
Bar
1058 S. First St., San Jose; 408.297.3473
The Place caters to the drinker without shame, featuring a happy hour from 6am to 3pm. Yes happy hour at The Place starts before most people even brush their teeth, which is perfect for special occasions like difficult breakups, birthdays and curing a case of the Mondays. The longest bar in downtown San Jose, The Place stretches an entire block from First to Second and although the bar may not always be packed, a bartender or patron on the next stool will tell stories that make the trip worth every dime. Cocktails are also just $2.75 before 10am, so drinkers looking for a fix after stumbling home from a late night can find others of their rare breed.
Plaza Inn
Restaurant | Bar
1182 Lincoln Ave., San Jose; 408.292.0132
A tiny, no-frills cantina, the Plaza Inn is a neighborhood hangout for drinkers seeking traditional Mexican fare and an after-work cocktail. The unpretentious atmosphere is perfect for sipping a beer and watching a soccer match and although the menu is somewhat predictable, dishes are well made, satisfying a taste for favorite dishes like menudo or enchiladas. After dinner, relax with a margarita or shoot pool at this favorite hangout of neighborhood locals.
Poor House Bistro
Live Music | Restaurants
91 S. Autumn St., San Jose; 408.29.BLUES (25837)
Poor House Bistro is a favorite before and after Sharks games watering hole with tasty New Orleans–inspired food. Crawfish pasta, blackened chicken wings, barbecue shrimp and of course po' boys are favs at the Poor House Bistro. PHB also continually wins accolades for being an awesome music venue for live blues throughout the year. Its hard to find a more relaxing San Jose bar to kick back, soak in some live blues and sip on a fine cocktail.
Red Stag Lounge
Bar
1711 W. San Carlos St., San Jose; 408.292.6777
The Red Stag Lounge has pretty much everything going for it besides its location. This dive is squeezed into a strip mall with a neighboring video rental store and Cash & Carry. It's a good thing that the Red Stag has a pool table, cool red lighting, strong drinks and karaoke every night. The friendly bartenders and owners only add to the appeal of this oddly placed bar on San Carlos.
Rosie McCann's Irish Pub
Restaurant | Bar
355 Santana Row #1060, San Jose; 408.247.1706
We don't know if we'll ever get over Rosie McCann's being an Irish pub that has the nerve to charge a cover. That goes against the whole idea of a public house in the first place. All right, it's not that bad—the whiskey and Guinness are always flowing and (as seasoned cougar hunters can attest to) there's plenty of eye candy. This being a Santana Row drink-and-eatery, you'll have to put up with Santana Row douchebags (every town has 'em). Going to Rosie's for lunch or happy hour is a totally different experience. You don't have to crowd surf to get to the bar, service is prompt and you can enjoy a meal without Top 40 jams making your brain vibrate. It's all about the little things.
Roux Louisiana Kitchen
Restaurant | Bar
3055 Olin Ave. #1005, San Jose; 408.249.8000
Two words (well, kind of): Po' Boys. Get 'em filled with pulled pork or fried oysters. And there's plenty of other traditional Cajun food to choose from at the Louisiana Kitchen, which also cranks out some damn fine brunch action—try the pain perdue and get your grits fix. But with its outdoor patio and live jazz on Thursdays–Sundays, Roux is a great place to relax in the evenings, Big Easy–style.
Sabor Tapas Bar & Lounge
Restaurant | Lounge
72 N. Almaden Ave, San Jose; 408.287.1737
In the end of April 2008, Taste Ultra Lounge was forced to leave its location at 87 N. San Pedro, even as its owners celebrate openings in Scottsdale, Ariz., and Stockton. Hardly missing a beat, they've already opened another ultralounge at 72 N. Almaden Ave. at the former Cuccini's site. Sabor Tapas Bar & Lounge carries the Taste torch, upping the Tastey ante with plenty of Spanish-themed small plates.
Saddle Rack
Dance Club | Live Music | Bar
42011 Boscell Road, Fremont; 510.979.0477
The Saddle Rack is part dance club and live music club, but whatever you want to classify it as, this bar is a whole lot of fun. To help get the party started without any messing around, bar-goers can recline in the barbershop chairs while bartenders pour the booze straight down the hatch. Delicious. After a few rounds of that, try the mechanical bull—while vision may be impaired, falling off is sure to feel better than attempting it while sober. The Saddle Rack also features live country and rock bands, from the local garage variety to well-known national touring acts.
San Jose Bar and Grill
Sports Bar | Dance Club
85 S. Second St., San Jose; 408.286.2397
With perhaps the most celebrated sliders (mini burgers) in the South Bay, San Jose Bar and Grill offers tasty food, an awesome happy hour and a central downtown location. This bar is many things to many different people—during the week older regulars consider it their neighborhood watering hole, while the younger twentysomethings turn it into a rocking dance club on weekend nights. It's also a sports bar with plenty of high-definition TVs so patrons can see big games from nearly everywhere in the bar.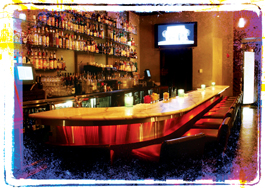 Seven Restaurant and Lounge
Restaurant | Lounge
754 The Alameda, San Jose; 408.280.1644
Definitely a reservations-recommended restaurant, Seven gets packed with food savvy locals whether or not there's an event at the nearby HP Pavilion. The creative cocktails are expertly mixed and the menu turns out some excellent preparations of both traditional and worldly cuisine; they make a burger here that all but proves the existence of heaven. Seven has a snazzy lounge area where pre-dinner revelers can gather for a martini or two, and we've always found the bartenders to be fun and pleasant enough that we've skipped out on the table service altogether and just enjoyed dinner at the bar on more than one occasion.
Sino Restaurant and Lounge
Restaurant | Lounge | Bar
377 Santana Row, San Jose; 408.247.8880
Even for someone who isn't a Santana Row person, Sino is definitely a guilty pleasure. Draped in billowing crimson and layers of gossamer, the sexy, provocative and überchic Far East stylings offer a knockout setting for sampling house cocktails and the menu of dim sum and Chinese fusion cuisine. The lounge fills in nightly with patrons equally as sexy as their chosen digs, making this the kind of destination that you can't help but feel sensual lounging in.
Smoke Tiki Lounge
Bar | Restaurant
152 Post St., San Jose; 408.292.4266
There's no denying that a tiki lounge in downtown San Jose is a beautiful thing. Though it's seemingly out of place, especially with a giant backlit tiki god looming over the corner on which the bar sits, we love Smoke Tiki Lounge. Skilled bartenders who pour strong and flirt just the right amount, food that's tasty and cheap, happy hour specials that prove the existence of heaven and a killer year-round patio where live bands entertain regularly are just a few of the reasons why this bar serves as a frequent watering for more than one member of our staff. Brought to you by the guys from Mission Ale House, this tribute to all things kitschy retro-Polynesian packs in a shamelessly playful lot of San Jose bar-goers who want to escape the standard bar scene.
South First Billiards and Elixir Lounge
Billiards Bar | Lounge | Live Music
420 S. First St., San Jose; 408.294.7800
With a full restaurant, a chill lounge, 29 pool tables and musical entertainment, South First Billiards has raised the proverbial bar on pool halls. Between shooting a few decently priced games, patrons can wander into the dimly lit lounge area to grab a few brews or cocktails and to check out whoever happens to be on the stage that night, be it a DJ, a live local rock band or some yahoo belting out karaoke tunes. A continual art show rotates unique collections from local artists throughout this 14,000-square-foot venue, adding a bit of trippy eye candy for drinkers and sharks to gaze at when not planning their next shot.
South Side Café
Bar | Live Music
7028 Santa Teresa Blvd., San Jose; 408.226.5424
Way out on the edges of San Jose, the South Side Café is a true neighborhood watering hole awash in sleazed up dive bar glory. Old-school boozers who feel a sense of entitlement to their chosen stools pass the time sipping industrial strength drinks while young, aspiring alkies flit about the joint reveling in rotating activities like live music, karaoke and lingerie shows. Yeah, lingerie shows in a dive bar—how deliciously wrong is that?
Splash Bar & Grill
Gay Bar | Dance Club | Restaurant
65 Post St., San Jose; 408.993.0861
In response to a desperate need for cool gay bars in San Jose, Splash opened up with all the rainbow-friendly excellence that any place needs to become the leading venue for GLBT awesomeness. With two dance floors, two bars, a killer patio and DJs who truly know their shit, this place packs in Thursday through Sunday with lively crowds who dance the night away and down drink after delicious drink. Splash also has a better than average happy hour which carries on till a blessed 10pm.
Straits Restaurant
Restaurant | Bar | Lounge
333 Santana Row #100, San Jose; 408.246.6320
A bastion of hipper-than-thou Santana Row socialites, Straits Restaurant is on the list of places to stop when the pain from high-end shopping in your Prada shoes is making it difficult to focus on which piece of over-the-top jewelry you plan on purchasing next. Sitting at the bar sipping specialty cocktails and noshing on tasty Singaporean cuisine, one can ogle the young, hip and potentially wealthy masses of Row-ites as they filter in to listen to a cosmopolitan mix of DJs and chat on their cell phones about how good they all look.
Temple Bar & Lounge
Lounge | Live Music
52 S. First St., San Jose; 408.288.8518
Temple Bar & Lounge's commitment to providing something different for the downtown scene is exactly what makes it so incredibly cool. Instead of offering the standard DJ entertainment on weekends, this chill cover-free nighttime destination welcomes crowds in to appreciate live music—usually in the jazz, blues or world music vein—with an accompaniment of stiff drinks and a stylish, down-tempo setting. The only drawback is the tiny dance floor; but, come on—if it's really all about the dancing for you, then go to some typical DJ-run meat market where you can dance for the price of your dignity.
Teske's
Restaurant
255 N. First St., San Jose; 408.292.0291
Stepping into Teske's is like being transported straight into a neighborhood drinking hole in Germany. Well, a nice drinking hole. The bartenders know the regulars, but newcomers are immediately welcomed in with a friendly hello. Teske's features a selection of German beer on tap difficult to find elsewhere, along with a long list of schnapps and a tasty menu full of German appetizers and entrees. First timers: going to Teske's without trying a shot of Jagertee is simply not allowed.
Thea Mediterranean
Restaurant | Lounge
3090 Olsen Drive, San Jose; 408.260.1444
Thea Mediterranean is Santana Row's stop for a chic setting and what is arguably some of the best Greek food around. Located next to the Cinéarts Theater, this gorgeous hot spot offers a primo setting for wining and dining, and late night on the weekend brings out the crowds who want to chill out to relaxing beats and watch gyrating belly dancers work their stuff. The bar maintains the standard of excellence, pouring expertly mixed drinks that range from signature cocktails to classic ouzo creations. The typical Row crowd and prices may seem unfortunate, but the quality of food and skill behind the bar are enough to make it all worth it—trust us.
Tied House
Restaurant | Brewery
65 N. San Pedro St., San Jose; 408.295.2739
We dare you to find a better beer deal than Tied House's 89-cent half-pint night on Thursdays. This isn't crappy beer either—Tied House brews its own on-site and rotates seasonal varieties along with its always flowing originals. For a few bucks, the average person can get a healthy buzz going before moving on to the 50 something bars in a five-block radius, or munching on some Tied House pub grub.
Toons
Dance Club | Live Music
52 E. Santa Clara St., San Jose; 408.292.7464
A perennially packed party spot in downtown, Toons has been catering to San Jose State students and local clubbers for what seems like eons. Toons showcases some local rock talent on Tuesday nights, but other than that is dedicated to the kind of hip-hop, reggae and pop beats that result in bumpin' and grindin' as far as the eye can see. Girls dolled up in tight pants, revealing tops and heels a bit too high for a dance joint mingle with boys sporting baggy pants and grill pieces. The bar and stage dominate the front room of this downtown San Jose hot spot, and there's a pool room for anyone who isn't feeling the need to show off their groove skills on the dance floor.
Touchdown Tommy's
Sports Bar
5837 Camden Ave., San Jose; 408.723.9981
In case the name of the joint didn't give it away, Touchdown Tommy's is a sports bar where the gridiron is considered God's country. Decked out in football memorabilia and the occasional smattering of nods to other sports, this neighborhood joint has a massive following of regulars who know that Tommy's will treat 'em like family. This place gets especially packed during times of high profile sports action like March Madness, providing a boozed up haven for folks playing hooky from work to keep up on the stats. As an extra cool bonus, Tommy's keeps a bottle of tequila in the freezer, pulling it out frequently for anyone who wants a shot of icy cold liquid courage.
Tres Gringos
Bar
83 S. Second St., San Jose; 408.278.9888
Tres Gringos mixes the flair of a Mexican cantina with the shamelessly reckless crowd of a typical college bar. Scantily clad girls in lifeguard seats oversee sloppy beer pong matches, while some of the South Bay's hottest up-and-coming reggae acts are showcased other nights. Drink specials get the crowd sauced at prices that still leave room for stopping at the taco stand outside—yeah, a taco stand. It's a godsend for anyone who's ever had too many margaritas.
Trials Pub
Restaurant
265 N. First St., San Jose; 408.947.0497
Trials is a true pub—cozy atmosphere, quality food and nearly 20 beers on tap. The fish and chips are the flagship menu item, and rightly so. The fish is lightly breaded, crispy and oh so tasty. Order some curry on the side to dip the chips in. And of course, nothing goes better with pub grub than hand-pumped pints and good conversation (there aren't any TVs at Trials to hinder chatting). Trials also boasts a quiz night on Mondays and some of the friendliest staff in town.
The Vault Ultra Lounge
Dance Club | Lounge
81 W. Santa Clara St., San Jose; 408.298.1112
With spotlights beaming up regularly, San Jose's glitterati should have no trouble finding The Vault Ultra Lounge. The posh atmosphere of this morphed old savings and loan building is decked out for an ultraswanky ambience, complete with the kind of sexy subdued lighting that makes everyone appear easy on the eyes, even those who would easily fail the daylight test the next morning. Some of the South Bay's hottest DJs provide a Top 40 soundtrack for the barely clad go-go girls to dance to and the well-dressed patrons to enjoy as they order their overpriced, expertly mixed cocktails from sexy bartenders.
The V-Bar
Lounge
355 Santana Row inside the Hotel Valencia, San Jose; 408.551.0010
Located on swanky Santana Row, Hotel Valencia's V-Bar definitely acts the part—men loosen the ties on their expensive dress shirts after a day at the office and ladies are dressed to the nines sipping overpriced appletinis. Although it aims to attract a more mature crowd, nighttime at the V-Bar is filled with younger trend-a-holics spending their fresh-out-of-grad-school dough. Sadly, this place shuts down before midnight most nights; but the central Santana Row location means that there are plenty of other snazzy places within stumbling distance.
Vintage Wine Bar
Wine Bar | Lounge
368 Santana Row, San Jose; 408.985.9463
Dionysian treats are served up in style at this chic Santana Row garden bar. Vintage Wine Bar tempts trend-conscious Row shoppers and bar-goers with 25 wines by the glass, including several champagnes, and a chichi selection of artisanal cheese and charcuterie plates. The central garden setting lends to primo people watching and offers a place to wind down with a chilled white on a hot summer afternoon. Evenings at this San Jose wine bar see bigger crowds of highbrow folks sipping pre- and post-dinner vintages.
Vivid
Dance Club
8 S. First St., San Jose; 408.279.4444
Even during the wintertime, downtown megaclub Vivid is defined by a lengthy line of overdressed guys who are wearing too much cologne and shivering girls who are wearing so little clothing that they might as well be naked. The crowds pour in to this amazing 22,000 square foot venue for nights of drinking and dancing to DJ beats that thump out over the killer sound system. The atmosphere is big city raver, with seizure inducing lighting, fog machines, VIP areas and I'm-so-industrial-I'm-chic catwalks.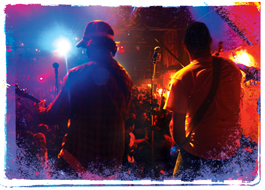 Photograph by Felipe Buitrago
Voodoo Lounge
Dance Club | Lounge
14 S. Second St., San Jose; 408.286.8636
Much to our delight, the Voodoo Lounge has the ability to cast a spell over clubgoers without unsettlingly large women with skull necklaces and freaky potions uttering cryptic Haitian chants. Kitschy glowing cocktails, lava lamps throughout and a strange melding of low-key hipster and rap-superstar vibes give the Voodoo Lounge the proud reputation of having something for almost everyone. The roster of this two-story club includes everything from art shows and reggae to hip-hop showcases and kick-ass rock bands, giving poetry-writers and iced grill-wearers some strangely common ground.
Send a letter to the editor about this story.