06.18.08
home | metro silicon valley index | features | silicon valley | feature story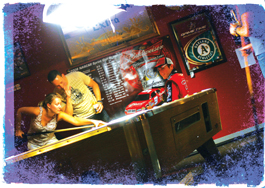 Photograph by Nicole Luchino
Bars & Clubs
Santa Clara
Avalon
Dance Club | Live Music
777 Lawrence Expwy., Santa Clara; 408.241.0777
Just off the expressway to the 'burbs sits the Avalon, the type of club where anything goes and you'll witness entirely different crowds depending on the night. Some nights the dance floor's packed with hundreds of local coeds grinding away to DJs bumping house, techno or hip-hop; other nights scores of mustachioed hair-metal aficionados decked out in their Sunday faded-jean-jacket best proudly throw the devil horns for the club's mostly past-their-prime live band offerings. Butt-rockers Winger, rapper Sir Mix-a-Lot and Russian faux-lesbian one-hit-wonders Tatu are just some of the artists that have held court on the Avalon stage, but no matter the night, count on a young Silicon Valley crowd ready to party.
Baltimore Bullet
Bar
1992 Lafayette St., Santa Clara; 408.988.1482
Not quite a weapon accessory plunked in a populous Maryland urban hub, the Baltimore Bullet dive bar in Santa Clara serves up drinks so strong it continues to draw a flock of regulars—even if its doors close at a decidedly early 9pm. Though the bar has shuttered its karaoke nights and it caters to a not exactly hip crowd, it's worth a visit if you're in the area and looking for a safe haven from the Silicon Valley heat to partake in an icy brew.
Blinky's Can't Say
Bar | Lounge
1031 Monroe St., Santa Clara; 408.980.4600
Blinky's Can't Say is everybody's neighborhood bar, and could very well be the only Santa Clara bar with a claw machine full of stuffed animals. "Look sweetie, I got you an adios motherfucker AND won you an adorable teddy bear." Blinky's hosts a crowd of 40-and-over regulars, but Santa Clara University students tend to show up later and stay until closing. This bar isn't just about stuffed animals and heavy-handed drinks—the regulars at Blinky's take their karaoke seriously and some of the best amateur singers in the Santa Clara/San Jose dive bar circuit can be found there behind the mic.
By-Th-Bucket
Sports Bar | Restaurant
4565 Stevens Creek Blvd., Santa Clara; 408.248.6244
Regulars have counted on this Santa Clara bar and grill for more than 50 years for the ideal neighborhood joint to catch the 49ers demolish their latest opponent on the tube while sipping on a brew and noshing on stellar American cuisine that's admirably notches above standard pub grub. The restaurant specializes in seafood dishes and hearty comfort food—ideal fare to fill up your stomach as you sip on one of Th-Bucket's signature cocktails.
C & J's Sports Bar
Sports Bar
1550 Lafayette St., Santa Clara; 423.9013
C&J's Sports Bar is yet another dive close enough to Santa Clara University to have that special mix of stumbling drunk coeds and stumbling drunk drunks, with varying ratios of the two depending on the night. When SCU students flock to C&J's the place gets packed wall to wall with people dancing and sloshing drinks around—the crowd is actually dense enough for crowd surfing. On Sundays during football season, C&J's looks like a normal neighborhood bar with about a 10:1 male to female ratio. All of the TVs and projector screen play the day's games.
Club Savoy
Gay Club | Dance Clubs
3546 Flora Vista Ave., Santa Clara; 408.244.6909
One of the nation's first lesbian nightclubs, the Savoy has been holding down the fort for South Bay girls for over 30 years. Hot bartenders, pool tables and an age-diverse crowd of women seeking women make this a hot hangout for dancing, jumping in on Wednesday night karaoke or just throwing back a few beers most nights of the week. On Tuesdays and Thursdays, the doors sadly close at 9pm—but don't worry, ladies, Wednesdays, Fridays and Saturdays rock the 2am closing schedule.
Da Silvas Broncos (Formerly "The Claran")
Dive Bar
1251 Franklin Mall, Santa Clara; 408.296.9558
Despite being named the Claran in a previous life, Da Silvas Broncos hasn't changed much. It still offers a wonky pool table, rowdy karaoke and a random cross section of Santa Clara University students and older regulars. This may be the best spot in Santa Clara for newbies to sing karaoke, and with the always-stiff drinks you'll be able to down plenty of liquid courage before taking the mic.
Hops Bar
Bar | Lounge
2151 Laurelwood Road, Santa Clara; 408.988.8411
The mirrored ceiling, velour and raised lounge seating may scream Vegas, but Hops Bar, set inside Santa Clara's Biltmore Hotel, caters to more of the Silicon Valley professional type than the let's-blow-this-month's-rent playing blackjack sort. No matter that live music only surfaces on the last Friday of the month, the droolworthy list of microbrews offers enough entertainment value to keep the regulars coming back.
The Hut
Dive Bar
3200 The Alameda, Santa Clara; 408.296.6024
The bar of choice for a Santa Clara University college crowd in noble pursuit of a night of drunken shenanigans, the Hut is that close-to-campus corner dive where you'll find all the action, school in session or not. Cheap beer, blasting music and a perennial party ambience fill the bar with coeds on a quest to stumble back to the dorms and local regulars in search of a stiff drink and good company.
Smoke This
Lounge
2271 The Alameda, Santa Clara; 408.247.6653
Smoke This is an all-around solid hookah lounge if you're into booze-free "bars." There are enough hookahs and flavors of shisha to cure even the fiercest nicotine withdrawals. Huge flat-panel TVs and an eclectic Arabic music selection keep things lively. During off-peak times, Some This is one of the more relaxing places around Santa Clara University to sip on some tea and get extra work done via free wireless internet. Plus a little tobacco buzz never hurt anybody's studies, so there's really nothing to lose.
A Tinker's Damn
Gay Club | Gay Bar | Dance Club
46 N. Saratoga Ave., Santa Clara; 408.243.4595
The oldest gay bar in Santa Clara County, A Tinker's Damn is probably also the busiest. From the outside, this neighborhood joint may look like the seediest dive of all dives (it certainly doesn't help that it's adjacent to a sex shop—or does it?), but inside it has a certain charm with plenty of heavy-handed drinks and a constant supply of friendly patrons. While the jukebox gets a steady workout during the day and early evening, DJs keep the floor packed with a mixed age crowd of well-manicured guys who dance with each other in shirtless glory nearly every night. Friday and Saturday nights, TD's lounge, bar, outdoor patio and dance floor are almost wall-to-wall all the way up until the sad reality of last call sends revelers looking for an afterparty.
Woodham Lounge
Bar
4475 Stevens Creek Blvd., Santa Clara; 408.296.9810
Boasting darts, foosball, karaoke and pool, the Woodham Sports Lounge has plenty to do besides drink, but with such low prices, why would you? An eclectic crowd of locals ranging from twentysomethings to old curmudgeonly bar flies frequents this local watering hole. The karaoke equipment is higher quality than you'd expect from a funky dive, as is the song selection. This is an all-around great bar for a relaxing night out with friends when the busy San Jose bars feel like too much of a crowd-battling chore.
Ye Olde Royal Oak
Bar
1240 Coleman Ave, Santa Clara; 408.588.1111
What Ye Olde Royal Oak lacks in location, it more than makes up for in awesomeness—especially for Liar's Dice aficionados. The fish and chips are always crispy, the beers cold and staff consistently friendly, but for some reason you can't buy pitchers. Offering karaoke, trivia nights, live Celtic music and British breakfast Sundays, the lack of pitchers is quickly forgotten. The walls have thoughtful touches reminding patrons that this is indeed a British pub, including a sign for Ye Olde ATM. Ladies, don't miss out on live Celtic music Thursdays. You'll get a chance to see some kilted gentlemen playing with their bagpipes.
Send a letter to the editor about this story.