06.18.08
home | metro silicon valley index | features | silicon valley | feature story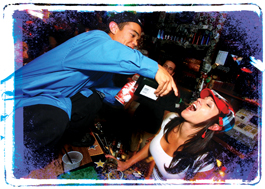 Photograph by Nicole Luchino
Bars & Clubs
Saratoga
The Bank
Dive Bar
14421 Big Basin Way, Saratoga; 408.867.5155
Even affluent Saratoga needs a good blue-collar bar where the drinks are cheap and the vibe is decidedly mellow. Though we're baffled at the amount of regular folks who choose to seek cheap drinks in far-from-cheap downtown Saratoga, we have to admit that The Bank is a godsend. Decked out in a quirky Old-West-meets-Irish-pub fashion, the interior looks like it hasn't seen the light since it was an actual financial institution over 30 years ago. Surrounded by bric a brac collections of various drinking paraphernalia and bordello-esque lamps, drinkers happily plop themselves on mismatched couches to booze the hours away on a regular basis, keeping this little Saratoga dive rockin' nearly every night.
The Basin
Restaurant| Bar
14572 Big Basin Way, Saratoga; 408.867.1906
The Basin is the best kind of upscale neighborhood spot you could hope for. Chic and snazzy from tip to toe, this is the kind of place where you can grab a seat at the bar, order an expertly poured martini or a fantastic bottle of wine from their impressive list, indulge in a meal that would make Bon Appétit proud and spend the night chatting with Los Gatos and Saratoga socialites. Despite the blue-blooded downtown Saratoga surroundings, The Basin remains a warm and welcoming neighborhood bistro with a down-tempo attitude and a chatty, friendly staff.
Blue Rock Shoot
Bar | Live Music
14523 Big Basin Way, Saratoga; 408.741.5180
One part coffee shop, one part cafe and one part live music venue, Blue Rock Shoot is every bohemian's dream. Occasional local live music in the folk and bluegrass vein vibes perfectly with the log-cabin setting of this downtown Saratoga hangout. A word to the wise though: when you walk in the place, be sure to watch where your going or you might just plummet down the frighteningly inviting stairs to the lower level patio.
Crazy Horse Lounge and Bistro at the Plumed Horse
Dance Club | Live Music | Lounge
14555 Big Basin Way, Saratoga; 408.867.4711
A cozy hangout in downtown Saratoga's posh Plumed Horse restaurant, the Plumed Horse Lounge serves as a stylish Saratoga watering hole for happy hour specials and occasional live music. This also remains the only place in town with a dance floor, and one of the only places around where you can enjoy your drinks with some of the best mountain views.
Send a letter to the editor about this story.