06.18.08
home | metro silicon valley index | features | silicon valley | feature story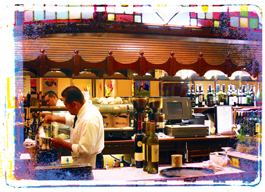 Photograph by Nicole Luchino
Bars & Clubs
Sunnyvale
Blue Bonnet Bar
Bar
203 S. Fair Oaks Ave., Sunnyvale; 408.245.6651
A classic dive bar in every sense of the word, the Blue Bonnet is often described as a biker bar sans the bikers. During the week, random tunes from bands like AC/DC rock out from the jukebox, old-school regulars who prefer their days with a Jack chaser hang at the bar and an assortment of locals kill time throwing darts, pumping quarters into the pinball machines, shooting pool and drinking PBR. A younger set ups the tempo of this Sunnyvale hangout on the weekends. The bar also supplies a nifty array of free snacks for those chance moments when the drunken munchies strike.
Blue Max
Sports Bar
828 W. El Camino Real, Sunnyvale; 408.746.9500
Between hysterical karaoke performances and equally funny comedy shows, the Blue Max runs the gamut of local bar activities. Dirt-cheap drinks keep folks coming back again and again, no matter how big of an ass they made out of themselves belting out "It's Raining Men" (or something equally as painful) the night before. A truly random hangout for everyone from high-functioning alcoholics to video game junkies, this Sunnyvale sports bar is a blast even if there isn't a game being broadcasted.
Club Monaco Barcelona
Dance Club | Live Music
767 N. Mathilda Ave., Sunnyvale; 408.245.8777
Club Monaco Barcelona is an all ages venue catering to Sunnyvale's Latin dance party scene. DJs keep the dancing crowds sweaty with the latest in reggaeton, salsa, merengue, Spanish rock and hip-hop on a regular basis; the weekends boast some of the hottest live acts around. With three dance floors, two main rooms and three full bars, this place has enough room to welcome just about every South Bay resident with a penchant for dancing.
Faultline Brewery
Brewery | Restaurant
1235 Oakmead Pkwy., Sunnyvale; 408.736.2739
Beer lovers unite! Faultline Brewery sports an impressive selection of over 25 ales and lagers, and caters to a variety of palates with a decent offering of cigars and a top-notch wine list. The menu features a creative collection of food that's south of gourmet but still palatable, especially when paired with any of the home-brewed happiness in a pint glass. One of Faultline's highlights is the massive outdoor patio, a killer spot to chill out with a cold one on warm summer nights.
Fibbar Magee's
Bar | Restaurant
156 S. Murphy Ave., Sunnyvale; 408.749.8373
Sunnyvale's tribute to Irish heritage and Guinness consumption, Fibbar Magee's offers a cool neighborhood pub setting for a diverse and upbeat crowd of beer-swilling locals and whiskey-slamming partiers. The menu nails the whole Irish thing without missing a step. Dartboards, live music and TVs airing soccer (er, football) games both inside and out on the patio further sweeten the pot.
Lion and Compass Restaurant
Restaurant | Lounge | Local Bar
1023 N. Fair Oaks Ave., Sunnyvale; 408.745.1260
An elegant retreat for refined businessmen and their office crushes, the Lion and Compass Restaurant is where post-workday woes can be nursed with expertly mixed martinis, a glass of wine from their impressive list and contemporary American cuisine. And if the stock ticker relentlessly spewing forth its data above the bar isn't enough to clue you into the business professional status of this polished Sunnyvale restaurant, then you're completely oblivious and should try reading a book once in awhile.
Murphy's Law
Bar | Live Music
135 S. Murphy Ave., Sunnyvale; 408.736.3822
Though the annoying adage of "anything that can go wrong, will go wrong" is certainly not on our list of favorite things, Murphy's Law (the bar) definitely is. Whoever is responsible for creating a place that's both an Irish pub and a sports bar needs to go down in history as both a genius and a madman. Seriously, no one drinks harder than the Irish (or the wannabes in Irish pubs), and few crowds are livelier and more entertaining than avid sports fans. So you certainly don't need to be a member of Mensa to figure out what happens when you add those beautiful facts together and factor in the killer happy hour specials and live shows every weekend.
Paul and Harvey's
Dive Bar
130 S. Murphy Ave., Sunnyvale; 408.736.5770
Paul and Harvey's is a chill neighborhood dive catering to blue-collar whiskey sippers, local Budweiser fans and the occasional writer who likes their Coors to be nice and cold ... not that we'd know from personal experience or anything. There aren't too many taps to speak of, but the full supply of booze behind the bar and whatever brews they do have to share all go for some pretty reasonable prices. In the bar distractions department, this Sunnyvale neighborhood bar features three pool tables, two dart lanes and random video games, as well as local musicians who jam on Thursdays and the occasional Saturday.
Pebble Roppongi Karaoke Lounge
Lounge
160 S. Frances St., Sunnyvale; 408.738.0392
Pebble Roppongi Karaoke Lounge in Sunnyvale is just getting started when they open up at 8pm for a night of traditional karaoke sung by their mostly Asian clientele. But if you're thinking that this place is nice and mellow, you're sorely mistaken. This karaoke lounge in Sunnyvale is exclusively a shot bar, meaning that they don't mix 'em and they don't tap 'em, they just pour 'em straight. In short, if you're a newbie, go easy on your first venture to this place and remember the key shot bar rule of "sip, don't slam," or you'll be having your stomach pumped by morning.
Quarter Note Bar and Grill
Live Music | Restaurant
1214 Apollo Way, Sunnyvale; 408.732.2110
One of the few remaining places to make such efforts, the Quarter Note Bar and Grill seems determined to supply patrons with live music nightly come hell or high water. It's the very tenacity of this plucky little local bar that we love so much. Or maybe it's the food; or is it the slew of distractions like shuffleboard, pool, pinball or sports-drenched TVs? Whatever it is, the fact remains the same—we love this joint. Go Quarter Note!
Rooster T. Feathers Comedy Club
Comedy Club
157 W. El Camino Real, Sunnyvale; 408.736.0921
If you're looking for something to do that will have you laughing all night, stop standing at the bar and watching your friend's lame attempts to score with the hottie they've been drooling over since you walked in and head to Rooster T. Feathers Comedy Club. The impressive roster of this Sunnyvale comedy spot has included some big names, like Robin Williams and Ellen DeGeneres, and regularly supports both local and national talent. As an added bonus, tickets to shows are usually only $12 with a two drink minimum, which if you're anything like us means that you'll be shooting way under your typical bar tab.
Scruffy Murphy's Irish Pub
Bar
187 S. Murphy Ave., Sunnyvale; 408.735.7394
If you're hanging out in Sunnyvale and jonesing for a fix that only the Emerald Isle can provide, Scruffy Murphy's might just be your answer. This place reels in Irish expats and pub-lovers alike with all the heart-stopping cuisine and all the libations that a proper Irish pub should have. Wednesdays are the designated Irish nights here, often complete with live music, and weekend crowds up the decibel when they hit the dance floor to groove to DJ beats.
Shooters Bar and Grill
Sports Bar
769 N. Mathilda Ave., Sunnyvale; 408.738.2787
A no-frills neighborhood hangout for local sports fans and drinkers, Shooters Sports Bar and Grill is one of the most chilled out places in Sunnyvale to catch up on the game. Even if your favorite sport isn't being broadcasted, this place welcomes anyone with a desire to relax among friendly faces, and darts, pool and video games are perfectly acceptable distractions for overworked brains. If you're feeling especially goofy, you can hit up Shooters on Thursday nights for karaoke.
Tarragon Restaurant and Bar
Restaurant | Lounge
140 S. Murphy Ave., Sunnyvale; 408.737.8003
Striking both inside and out, Tarragon is a destination not to be missed. With a 50-selection strong martini list, a wine assortment that would make Dionysus proud, excellent Pacific Rim–influenced Mediterranean fare and a happy hour menu that offers expertly poured $5 cocktails, there are few (if any) things lacking in this Sunnyvale restaurant and bar. While we could sing its praises for a ridiculously long amount of time, it would be far easier on all involved if you'd have a little faith in us and visit Tarragon yourself. You and your date will thank us.
Send a letter to the editor about this story.