06.18.08
home | metro silicon valley index | features | silicon valley | feature story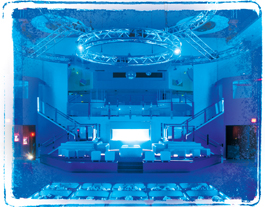 Photograph by Felipe Buitrago

New & Blue
Club Wet brings sharks, waterfalls and a new pool of talent to the old Studio Theater
By Mike Connor
THERE'S been a lot of speculation about what's going to happen with the old Studio Theater on South First Street in downtown San Jose, the former site of both Polly Esther's and Club Glo. Lately, rumors have been swirling around about sharks and waterfalls inside—both of which turn out to be true. Look for a grand opening celebration in the coming weeks.
Owner Mike Hamod says he's been remodeling the 15,000 square foot club for the past 13 months, and it shows. Done up in whites and Aqua Velva blues, the spacious club has a clean, ultramodern feel like some futuristic, multitiered club Atlantis.
While all three tiers are visible to each other from almost anywhere in the club, Hamod says he's installing a huge curtain that will split the club in two to accommodate simultaneous performances. He says the club has already been nominated for design awards, but insists it's his talent roster that's really going to set a new standard for San Jose. He's working with the L.A.-based talent agency Deckstar which represents artists like DJ AM, DJ Spider, DJ Jazzy Jeff, Steve Aoki, Stretch Armstrong and DJ Morse Code. Hamod also alludes to appearances by Rhianna, ChrBob Sinclair and Carmen Electra, among others.
Formatwise, Hamod says, "Vegas, Vegas, Vegas," which means that almost half of the club is VIP areas, with bottle service and private security available. He says they'll have videographers every Friday and Saturday running a live feed on 24 plasma screens throughout the club and on the website, live, which means that eventually you'll be able to get an online peek at what's going on in the club in real time. Two 50-foot waterfalls, flame throwers and snow machines, superstar DJs—in San Jose? Ambitious, yes—some even say "crazy," but Hamod has a simpler description for it: "It's gonna be fun."
CLUB WET is located at 396 S. First St., San Jose. (408.282.8938)
Send a letter to the editor about this story.