06.18.08
home | metro silicon valley index | sports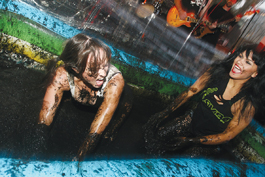 ROLL HER DERBY: Lipstick Bandita (right) is laughing now, but will soon be getting her dunk in the mud from Booty Licious (left).
Bar Wars
By Felipe Buitrago
WE'VE ALL heard about dirty money. But no one earns it like the Silicon Valley Roller Girls at their fundraiser Saturday at Smoke Tiki Lounge. Limbs and mud flew as 10 of the toughest girls on skates traded their wheels for a one on one sludge smack down in an inflatable kiddie pool. The three-round fights were ultimately decided by the crowd, unless infractions occurred. And with a live soundtrack from the Obsessors and Touch My Rash, a few of those were bound to happen. Booty Licious donated a bloody nose to the fundraising efforts, collected by Lipstick Bandita's elbow. Sadly, Terrible Demise was set to fight, but had to bow out due to an injured shoulder. In the end it was ex-rugby player, Death By Dollface, who took the title.
Needless to say, this little scrimmage was good practice for the girls' next bout in Reno on June 28. The Silicon Valley Roller Derby League is still young and is preparing more fundraisers as well as league bouts. The next event will be June 26 from 4 to 9pm at Chili's on Santana Row. This event is just a dinner event, with part of the night's proceeds going to the team. So unless you're a messy eater, you won't need a hose-down for this one.
SILICON VALLEY ROLLER GIRLS' next bout is June 28 in Reno. THE SILICON VALLEY ROLLER DERBY LEAGUE's next fundraiser will be June 26, 4–9pm, at Chili's on Santana Row.
Send a letter to the editor about this story.