June 20-26, 2007
home | metro silicon valley index | features | silicon valley | sports news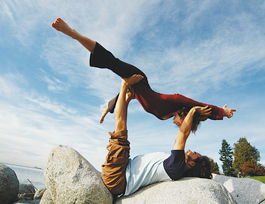 Cape optional: But you probably will need an outfit made of stretchy material to perform the Lifted Super Yogi pose.
You'll Believe You Can Fly
By Vrinda Normand
ACROYOGA enthusiasts say they reconnect with the divine through a physical practice that blends yoga, acrobatics and Thai massage. That may be true for the limber pros (who put Gumby to shame) but the only revelation that came to this reporter during a beginner's workshop in San Francisco was "Yikes!" I had no idea I could bend like a pretzel three feet in the air on top of my partner's size 14 feet. Or hover like Super Woman while his toes curled around my hips and his wobbly arms lifted my torso. If you think that sounds cool, imagine this: we switched places. My 5-foot-5, 120-pound body supported his 6-foot, 185-pound frame as he "flew" above our sticky mats. That's the beauty of acroyoga—it turns normal people into circus freaks. The teachers guided us with step-by-step instructions that anyone who's ever gotten through a yoga class can follow. A little flexibility and balance help, but you don't need to be burly to end up in daring contortions you never thought possible. Take it as a meditation, a chance to connect with your partner, a workout, a hobby—whatever. Acroyoga is seriously fun. It's the playful, dynamic child of regular yoga that's sure to stir things up in Om land.
Acroyoga is coming to the South Bay this Saturday, June 23, at the Avalon Art and Yoga Center, 370 S. California Ave., Palo Alto. Two-Part Acroyoga Series: $50 one workshop, $90 both. 650.324.2517; www.avalonyoga.com.
Send a letter to the editor about this story.