June 20-26, 2007
home | metro silicon valley index | features | silicon valley | column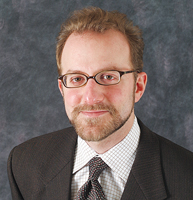 I confess: Even our columnist needs a style gut-check now and then.
Confessions of An Image Consultant
By Joseph Rosenfeld
I HAVE a confession. Call it a very dark, painful secret. It's about just how and why it has taken so long to be contented with myself. What does this have to do with fashion and style? Bear with me as I bare my soul.
I confess that it has taken 30 years of hard work for my own self-image to align with reality. Despite psychological barriers that transcend their trigger points, it is possible to get naturally better looking and feeling with age.
It's amazing what we do when we are fearless, and even more amazing to work through fears and lots of tears. My proposition to clients is to help build confidence by developing a stronger outward appearance. Ironically, the professional who they engage to help them become more fully actualized has long suffered from self-image issues. How else could one become such an expert? Call it a case of "image professional, heal thyself," along with a heaping amount of help from professionals such as a therapist and a dentist.
After a childhood of being the brunt of aggression by the brutish brood in my neighborhood, I was more emotionally wounded than any physical scar could show. Those wounds were picked at by succumbing to and even believing the negativity that others had expressed about me. Someone else's abuse had become self-abuse.
Reclaiming my self-image began when I decided to fight back against my biggest childhood bully, and by facing my fear of physical fighting. Then, as a teen, I was smitten by the art of fashion, and my early sense of style was born. This became my greatest defense mechanism against the intolerant teens who still had it in for me for no known reason. Fighting back—standing up for myself and caring for what's on the outside—is as transformational as it is to work with a professional who can help turn sadness into sunshine.
Also during childhood was the experience of dental abuse. At 5 years of age, I sat in a dentist's chair and agonized as he drilled into a tooth that was perfectly healthy. I never felt such physical agony and never disregarded the dental torment. After having 18 teeth pulled and many oral surgeries, I swore off dentistry. Dying seemed a better alternative to the threat of terror on my teeth, palpable pain and insufferable suffering. That was honestly how I felt until I met my new dentist. Her sense of ease and urgency blended to help me turn a 180 about my greatest fear, and about reversing my biggest physical self-image issue.
So I dedicate this confessional to anyone else that has been abused, taunted, attacked, teased, discriminated against and ostracized, to anyone that has struggled to get clear of such haunting troubles. Silicon Valley is full of professionals who care about people like us, and is full of friends-to-be. Sharing this confessional and manifesto demonstrates a core confidence that is meant for each of us to possess.
It's fitting to write about self-image in this column because sometimes the act of scoping out what's available at our favorite stores or in our favorite magazines serves as an escape from our mundane realities. At other times, our search for style is more deeply a search for ourselves. Ultimately, when we make decisions and take on responsibilities that power our growth, we are feeding the kind of style that is intrinsic and could never be store bought.
Thank you to Batya and to Dr. J.
Joseph Rosenfeld, AICI, CIP, the nation's only male certified image professional, polishes the appearances of professional men and businesses and is based in downtown San Jose. Contact him at: [email protected]
Send a letter to the editor about this story.