June 21-27, 2006
home | metro silicon valley index | features | silicon valley | sports news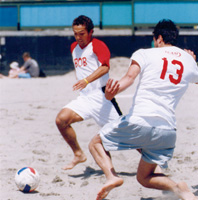 No Cleats Here: Alan Grady of Team BoB proves how soccer can be played anywhere.
Sand Storm
BRAZIL has made many a contribution to the world in the form of samba, bossa nova, and of course, soccer—sand soccer to be exact. Now it's California's turn. For more than 30 years, soccer has been played on the famous beaches of Rio, and now it will be played alongside the popular boardwalk of Santa Cruz on June 24 and 25. Originating more as a pickup version of the official game and played with fewer people, it soon expanded, and rules of play were added. Quickly, the game became a popular Brazilian export. Beach Soccer hit Los Angeles back in 1992 when an experimental event was held by the BSWW (Beach Soccer World Wide) and became a complete success. The organization now includes a series of pro beach soccer events that cover Europe, North America, South America and Asia along with a legion of loyal spectators numbered in the thousands. The popularity of the sport and its growth has surpassed all expectations; from pickup matches to pro tour series, it is aiming to be part of the 2008 summer Olympics. Now with more than 1,000 participants and more than 15 tournaments in North America, sand soccer will take Vancouver, Cape Cod, Newport and Virginia Beach—just to name a few—by storm.
For more information on the tournament and registration to play visit www.ussandsoccer.com.
Send a letter to the editor about this story.