06.24.09
home | metro silicon valley index | news | silicon valley | news article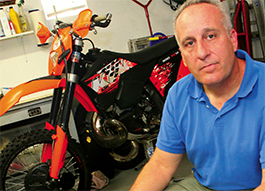 Photograph by Felipe Buitrago
Fenced Out Michael Zesiger rode at Clear Creek for more than a decade, and donated time and money to help improve its campgrounds. He is irked that the BLM would close it to riders.
End of the Trail
Dirt bikers want access to an off-road paradise--even if the place is made of poisonous asbestos
Stephanie Pappas
THE HILL rises out of the barrens, steep gray-green slopes standing in stark contrast to the surrounding scrublands. Even the stubborn pines that populate these mountains shun this patch of dirt. But the approaching rider doesn't hesitate. He accelerates and leans into the hill, body balanced over the front wheel of his dirt bike, single-cylinder engine grinding as knobby tires chew up the soil into clouds of fine white dust.
This scene was once commonplace in the Clear Creek management area, a stretch of public land 60 miles southeast of Hollister nationally known as a dirt-bikers' heaven. Hundreds of miles of trails wove through thousands of acres of hills, a departure from many bike parks, where riders are often packed nose-to-tailpipe. And at just a two-hour drive from the South Bay, where hundreds of bikers live, Clear Creek made for a convenient slice of off-road paradise.
"It was the best place to ride, maybe ever," says Michael Zesiger, a San Jose computer consultant and vice president of the Timekeepers Motorcycle Club.
But now, the trails are silent, closed to hikers, hunters, rock collectors, botanists, archeologists and off-road vehicle users like Zesiger. The reason? The very dirt beneath their wheels.
Asbestos, a fibrous mineral known for its propensity to cause lung cancer when inhaled, occurs naturally all over California. Clear Creek is home to one of the largest deposits of asbestos-containing rock in the United States--an outcrop slightly larger than San Francisco.
In May 2008, the Bureau of Land Management (BLM) closed Clear Creek after an Environmental Protection Agency study found dangerously high levels of a particular type of asbestos--known as chrysotile--in the area's air.
The emergency closure was necessary to protect public health, says BLM environmental specialist Sky Murphy of Hollister. But in this case, the public wasn't keen on being protected.
"Rick Copper [sic], I hope you wake up every morning knowing that the 35,000+ CCMA riders Hate You!!!!" a biker who goes by "treerider" wrote on southbayriders.com, a forum for motorcyclists in the Bay Area, referring to BLM Hollister field manager Rick Cooper. The BLM estimates that Clear Creek once got 35,000 visits each year, but says the number of riders is far smaller, as many are repeat visitors.
"It felt like a death in the family," says Zesiger, who rode at "the Creek" for more than a decade. Such strong emotions boiled over at the public meetings held by the BLM immediately after the closure; one gathering in San Jose ended with an attendee yelling at Murphy. "Lies!" he shouted. "It's all lies!"
Some riders irked by the closure see these "lies" everywhere they looks--from the EPA's data collection methods to the BLM's motives for closing the land. But as the bureaucratic tangle of environmental impact statements and resource management plans drags into its second year, those who would keep Clear Creek open have focused on what they see as the biggest lie of all: Chrysotile asbestos, they say, is not dangerous.
Fiber Toxic
In the mid-1900s, as industry clamored for heat-resistant asbestos to use as insulation, Clear Creek became a center for chrysotile asbestos mining. Chrysotile, which makes up 95 percent of asbestos used in the United States, falls into a separate family from other asbestos minerals, which are collectively known as amphiboles. It was an amphibole asbestos that sickened and killed hundreds in the mining town of Libby, Mont.
As part of an effort to clean up a now-defunct asbestos mine, the EPA began air tests around Clear Creek in 2004. The initial asbestos levels were alarmingly high, prompting the BLM to close the area during the summer. Officials reopened the land in the fall, hoping the rainy season moisture would keep the dust down.
In May 2008, the final report came out. The conclusion: Visiting Clear Creek could be hazardous to your health--regardless of season. Even hiking in the area once a year over 30 years increased the lifetime risk to more than one in a million, a level the EPA considers risky but "acceptable." Visitors who kicked up dust on motorcycles or all-terrain vehicles quickly veered out of the acceptable range with increased cancer risks of one in 10,000. Thirty years of riding in Clear Creek for 12 weekends a year bumped the risk close to 1 in 100.
The report sent the BLM scrambling to close Clear Creek year-round. But despite the numbers, a mass illness like that in Libby has yet to arise in the area.
"Show me the bodies," says Ed Tobin, a Marina salesman who has ridden extensively in Clear Creek for 30 years
In an attempt to discredit the EPA study, the bikers hired Ed Ilgren, a pathologist from Pennsylvania, to testify that the chrysotile at Clear Creek is nontoxic. Ilgren argues that chrysotile is short-fibered and does not cling to lung tissue the same way as its needlelike amphibole cousins. But that's a dangerous misconception, says EPA Region 9 toxicologist Arnold Den of San Francisco. The EPA only tested for fibers longer than five microns at Clear Creek, and those lengths are closely associated with disease.
And as for the bodies? Asbestos kills slowly, says Jere Johnson, an EPA Region 9 project manager, and tracking the medical records of everyone who's been to Clear Creek would be impossible.
"If we'd have waited for the bodies, we haven't done our job," she says. "We're working the prevention end."
But that doesn't mean there isn't science behind the EPA's assessment, Den says.
"We have maybe up to 40 human epidemiological studies that demonstrate that all forms of asbestos causes disease," he says, including a case where workers at a South Carolina textile mill were sickened from pure chrysotile, and a UC-Davis study that found increased rates of mesothelioma in people who lived near naturally occurring asbestos. "It's just powerful evidence that chrysotile is a potent lung carcinogen."
Researchers do disagree about whether chrysotile is more or less dangerous than other types of asbestos, says Jean Pfau, an immunologist at Idaho State University who has studied the effects of asbestos in Libby. That's because human studies on the subject are difficult. You can't expose people to asbestos in a perfectly controlled environment and wait around to see what happens in 20 years.
Instead, scientists rely on epidemiology, and animal studies, Pfau says. But those studies aren't perfect because animals may not react exactly the same way as humans. Still, Pfau says, there is plenty of evidence that regardless of whether other types of asbestos are worse, exposure to chrysotile causes cancer.
"To say that it is safe would be absolutely untrue," she says.
These answers doesn't satisfy Tobin or many other Clear Creek users, who alternately call the EPA's conclusions "gobbledygook" and "bullshit."
Until they see the bodies, they're sticking by Ilgren's results, though Johnson and Den dismiss him as a nonmainstream industry hire.
Ilgren, who is reportedly on a consulting trip to Brazil, could not be reached for comment.
Bad Blood on The Tracks
While the EPA provides the data, the BLM makes the final decision on whether Clear Creek stays closed. The local office of the agency has drawn up a management plan that is now being sent to the national BLM offices in Washington, D.C., for review. Murphy hopes to release a draft of that plan to the public on Aug. 14. Then, he'll schedule another series of public meetings so Clear Creek users can respond.
The BLM hopes to leave open a county road through Clear Creek so visitors can reach several remote, uncontaminated areas. But no one would be able to stop or leave the road. And that makes everyone from bikers to botanists unhappy.
In the end, the debate may be about politics as much as science. Clear Creek has a messy history, including a lawsuit by the California Native Plant Society alleging that the BLM wasn't doing enough to protect endangered plants from bikers' tires. The conflict was settled with stricter riding rules, but it left a lot of bad feelings in its wake. To this day, some bikers are convinced that asbestos is just a convenient excuse for "eco-freaks" to shut them out of yet another riding spot.
Others argue that it isn't the government's place to protect them from themselves. You've told us about the asbestos, they say. Now let us make our own decisions on whether or not we risk our health.
"This is a classic land-use battle," Murphy says. "It has a lot to do with questions about what is government's role in protecting health and safety and what is public land intended for."
To riders like Zesiger, public land is for public use. Bikers are taxpayers, he says, and local riding clubs worked hard at Clear Creek, contributing money and labor to put up fences and improve campgrounds.
"We feel on the short end of the stick like 99 percent of the time," he says. The government's closure of his rugged riding spot hasn't helped, he says: "They've lost a lot of my trust."
90,000 Number of people worldwide who die from asbestos-related diseases each year
181 Cumulative world production of asbestos (in millions of metric tons ) between 1900 and 2003
1990 Year worldwide asbestos production peaked  
2002 Year last U.S. asbestos mine was closed
Send a letter to the editor about this story.