06.25.08
home | metro silicon valley index | features | silicon valley | column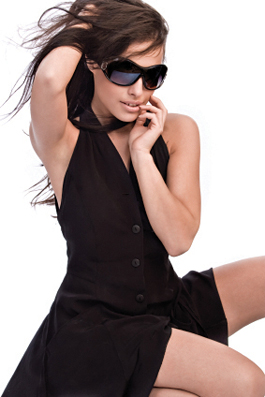 Shades of Cool
By Joseph Rosenfeld
WHAT is the most stylish accessory equally enjoyed by women and men? Sunglasses, of course. As much, if not more, form than function, hardly any other accoutrement conveys more about one's personal style than sunglasses. And, oh yes, they cover the practical side of protecting us in a global-warming era.
Darkening the communication center by wearing sunglasses, we have the ability to temporarily transform our appearance. I consider it to be the least invasive form of plastic surgery. Behind the sunglass industry's alluring veil are the few manufacturers that actually produce the numerous designer sunglass brands through licensing agreements. Each designer brand maintains its signature look, so each has its own point of view. But when it comes to trends, two currently remain constant among most high fashion designs: big and bling. Oversize sunglasses have been au courant for some time now, and the trend is predicted to remain popular for the foreseeable future. Bling, on the other hand, while still popular, is giving way to more subtle forms of luxury design. Designer shades with Swarovski crystals and huge logos are still popular, but the more fashion-forward are seeing the future through glasses where the style is more subtle, where the design is in the details.
Duy Nguyen, manager at Sunglass on the Row in Santana Row, gave me the grand tour of the shop's up-to-the-moment and exclusive styles and opened my eyes to how sexy the functional aspect is to sunglass design. He showed me an extensive selection of eyewear from Kaenon, a brand specializing in polarized lenses. Kaenon will even fill its eyewear with polarized prescription lenses. Designed with performance function in mind, Duy says these glasses are "great for people who have had Lasik surgery. Once someone has Lasik surgery, vision and sensitivity increase. The key to polarized lenses is to minimize glare and maximize light." Did I mention the glasses look cool, too?
Next he showed me a selection of Maui Jim shades. My friend Kathy made a big deal out of hers the day before I visited Duy, and now I know why. Maui Jim frames are made from nickel and titanium, producing a material with "memory" to maintain their original shape. They're great for people who tend to be just a tad careless with their glasses. They're also super lightweight and great for golfers, according to Duy. I tried on several pair and forgot I was wearing them. Not known for their style, they teamed up with Chanel to make some sexy designs.
Then our attention turned to Tag Heuer. Duy explained their frames "are made of an aluminum, magnesium and titanium alloy used on the tip of the nose of the return shuttle of NASA." The lenses are made of a polycarbonate material, intended for high-impact wear, and are nonbreakable under normal wearing circumstances. Surprisingly lightweight, they also offer different polarized lenses for different uses. Cooler color lenses are better for our typical brighter days and are very soothing on the eyes. Special in many ways, it is one of the only brands entirely produced in France.
The coterie of brands available at Sunglass on the Row and stores of its caliber is moving from producing mere items of luxurious status to producing elite designs of uncompromising quality. Brands like Chanel are focusing on narrower distribution and on designs with the highest standards in craftsmanship. Eyewear crafted by Roberto Cavalli feature exotic designs with nary a logo in sight, perfect for the person who has it all and has no reason to advertise it. So if you're looking for something new to disguise your eyes, take a queue from the likes of Jean Paul Gautier and Dolce & Gabanna, and forget the flash.
Joseph Rosenfeld, the nation's only male Certified Image Professional, helps men, women and corporate sales, training and service organizations build professional images. Visit www.JRImageMentor.com for more information.
Send a letter to the editor about this story.