June 27-July 3, 2007
home | metro silicon valley index | features | silicon valley | feature story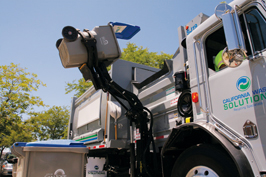 Photograph by Felipe Buitrago
Curb your enthusiasm: These new $300,000 garbage trucks hit the streets next week as San Jose switches to new garbage companies in the wake of the Norcal scandal.
Overhaul
A rate hike now, a costly future of trash outsourcing by 2020? What's the alternative? Forget Gonzo's deals. This is how garbage really works in the South Bay.
By Diane Solomon
  'ALL I've been thinking about all week is garbage. I mean, I just can't stop thinking about it," says Andie MacDowell at the beginning of Sex, Lies, and Videotape. "I've just gotten real concerned over what's gonna happen." That film came out in 1989, but she could very well have been talking about 21st-century San Jose. Former Mayor Ron Gonzales looks like he's beaten the criminal charges that came out of his Norcal garbage deal, but his former constituents haven't—because of that contract residents are going to see new haulers and a 28 percent rate increase beginning July 1.
So garbage is headline news around here when it involves political scandal. But the real scandal is how little Silicon Valley residents know about what gets thrown away, what it costs to do that and where it goes.
Nor do they see the ecological cost—recycling isn't the cure-all most people think it is, and illegal dumping only adds to the problem.
Here's how garbage really works around here: Over the next year, it will cost the city about $84,350,000 for San Jose residents to throw away their trash and get their streets swept. This price tag covers weekly garbage and yard trimmings collection, comprehensive recycling, low cost bulky item pickups, composting classes, a household hazardous waste program and 50 neighborhood cleanup  days a year—five for each City Council district—where residents can drop off large items like old mattresses and appliances free.
 Even with this array of services, San Jose residents aren't thrilled with the July 1 rate increase that will take many of them from $20.15 a month to $25.80. The affaire Norcal is the cause—it cost the city about $16 million to replace Norcal with three new garbage haulers.
The city says multifamily rates will still be lower than the countywide average, but the new rate is higher than the $23.98 county average for single families with 32-gallon garbage carts. San Jose environmental services staffer Kristina Gallegos says the new rate isn't out of line with what folks are paying elsewhere. Beginning this summer, Oakland residents will pay $25.84 and Sacramento's will pay $31.86.
"Every city offers different services," says Gallegos, "and cities offering lower rates could be subsidized by their general fund."
Where It Goes
On San Jose's garbage collection days, hundreds of trucks operated by four haulers circulate through 2,310 miles of streets picking up garbage, recyclables and yard trimmings. Recyclables and yard trimmings are taken to the haulers' processing centers. Garbage is taken to Newby Island Landfill on Dixon Landing Road where it's compacted and buried. This landfill is a 342-acre island surrounded by pristine bay land, so well run that, environmentally, it doesn't mar the shorebirds' habitat or the postcard-perfect views of the bay.
 Most Bay Area landfills are owned by private companies, with cities and businesses contracting to use them. San Jose scored in 1985 when they negotiated a favorable long-term disposal contract with Newby Island through 2020.
 Gil Cheso is Newby Island's general manager. He says they receive about 52,000 tons of garbage per month from San Jose, Santa Clara, Milpitas, Cupertino, Los Altos, Los Altos Hills, Stanford and other haulers. That weighs as much as 23 space shuttles packed and ready for takeoff, "We average about 700 to 800 trucks per day from all sources," Cheso says. "This number has been as high as 1,200 per day when the Santa Clara Valley Water District cleans their creeks for flood control." Every month, Newby Island receives 110,000 to 120,000 total tons, which includes the garbage, concrete, dirt, construction stuff, appliances and recyclables that go to their Recyclery. Because they're able to recycle and redirect most of what they receive, there's plenty of room to get them to 2020.
That's OK for the short term, but Waste Services staffer Paul Ledesma thinks that as Silicon Valley fills up, dumping sites will have to be much farther away and it will cost a lot to get it there. The European Union is already wrestling with landfill limitations by imposing high dumping taxes and stringent recycling, producer take-back and garbage diversion targets.
"We've got to start looking now as to what San Jose will do with its garbage in 2020," he says. "There will come a time when people will have a very rude awakening as to what it will cost to throw away their garbage."
What We're Tossing
Donna Perala, who manages the city of San Jose's residential waste and recycling programs, says the city provides services to 293,000 households every week that are annually throwing about 510,000 tons of trash into their garbage and recycle carts. This yearly pile weighs as much as six cruise ships.
 Since A.B. 939 was enacted in 1989, California cities follow a mandate to recycle, or divert, at least 50 percent of their trash away from landfill by recycling it. Perala says 51 percent of residents' trash is diverted from landfill. About half is yard trimmings; the rest comes from what's thrown into recycle carts.
Tom Rudy, an analyst at the California Integrated Waste Management Board, says, "Statewide we are diverting 50 percent of what we waste. There are bills floating around to push it to 75 percent. San Francisco's established goal is 75 percent. Everyone's goal is zero waste, but it's unrealistic."
 CIWMB is tracking by city and county exactly what we're throwing in our trash cans, and Rudy knows what isn't winding up in our recycling bins. If Silicon Valley residents are typical, says Rudy, about 40 percent of what winds up in our garbage carts is organic materials like food waste, yard trimmings and carpets. Because people ignore their recycling carts, about 25 percent is tossed recyclables.
Nudged by A.B. 939, however, this area is committed to recycling. Latest figures from the Proposed Operating Budget show San Jose projected to recycle 105,648 tons during 2007–2008. Of these recyclables, 60 percent will likely be paper, 22 percent glass and 4 percent plastic.
The Myths of Recycling
This seems like a lot, but Mark Buntjer says recycling is easier said than done because not everything that we throw in recycling carts is recycled. He manages Newby Island's Recyclery, and says that 83 percent to 85 percent of the recyclables they receive are marketed, which means they are either sold or the Recyclery has to pay for them to be taken away for recycling. What can't be recycled goes into the landfill.
 "People see the recycle symbol on something and throw it in their cart," he says. "You really have to check what your provider says you can throw in because not everything that has the symbol is recycled." He says even though there's a great market for plastic beverage bottles with a number one or two inside the recycling symbol, not all of them can be recycled because of variations in their chemical makeup. Some items like polystyrene, Styrofoam, plastic plates and cups aren't recycled because there is no market for them.
 Buntjer says that it costs $1,000 a ton to recycle plastic grocery bags because they're labor intensive to pull and collect. He asks people to put their plastic bags into one bag and tie it off before putting them inside recycling carts to make sure they're recycled. He says since discounters like Costco have started selling megapackages of small water bottles, they're getting tons of packaging they can't recycle because cardboard is wrapped in plastic. "People still have to do something to make sure their recyclables are recycled," he says, "like bag-in-a-bag and making sure packaging is clean or separated with plastics pulled away from cardboard."
Trash Bandits
     In spite of dozens of city and county waste management programs that will take our stuff, people are illegally dumping their crap all over the valley, especially in the dead of night at unattended Goodwill and Salvation Army drop-off centers. It's costing them millions a year to deal with it, diverting money from their charitable work, and they've even had to close centers because of it. They both say that police patrols should do a better job of keeping an eye out and enforcing trespassing laws.
 Salvation Army Capt. Howard Bennett says, "Some are dumping on our property just because they don't want to pay to go to the dump. It used to be a minor inconvenience; now it's become a major expense category and it's limited our ability to support our programs."
 Stephen Dovenmuehle, Goodwill's director of operations, says every night people are dumping 8 to 10 tons of garbage at their centers. They have four crews dedicated to dealing with it. "When people dump old paint, propane tanks and car batteries, we have to take these hazardous materials to a certified collection site which costs money. We have a huge dumping of old unsellable mattresses. One morning we found 12. It costs almost $6 each to dispose of them. Just in labor we can spend $800 a day. Each day we fill one large 40-yard compactor with what's been illegally dumped. That load costs $650 for us to take to the dump. This goes on 365 days per year and affects our bottom line. If we weren't spending money on illegal dumping we could be using it to help more people."
The Trash Alternative
Valley people are minimizing the downside of our consumer culture's impact on landfill and the environment by pre-cycling, recycling, buying less, using things longer and freecycling their stuff instead of throwing it away or dumping it.
 Like Craigslist.org, Freecycle.org is an online urban community. What's different is there's no buying or selling. Organized by city, members sign up for a Yahoo! Group which connects givers with takers. Freecycle.org says it has 3,540,995 members in 4,041 communities worldwide.
There are freecycle groups for every Silicon Valley city. San Jose Freecycle has 5,712 members, four moderators and saw almost 10,000 postings last year.
 Members post offers and takers send them emails asking for the goods. Members use Freecycle to find their stuff a new home and it saves them from having to buy something new if they can find what they want on Freecycle. Members exchange goods using home or work location pickups and drop-offs. There are plenty of rules, and the San Jose group is heavily moderated to minimize freeloading and to ensure that freecyclings are useful, legal and appropriate for all ages. "I've used freecycle for giving or getting kitchenware, clothes and almost anything with a plug," says Glen Murray, who signed up three years ago.
 Freecycle isn't just for bargain hunters or die-hard freegans. San Jose Freecycle members like Asim Zia, professor of environmental studies at SJSU, and his wife, Caitlin Waddick, freecycle to protect the environment. Zia says they freecycle their three young children's clothing and toys and have used freecycle to furnish their home and to give and get small appliances and electronic gadgets.
 Zia says we need to reduce our consumption of goods in order to become more environmentally sustainable and we can do that by freecycling. "Buying new stuff generates more pollution than using things secondhand because production contributes to global warming and air quality problems," he says. "Freecycling is the most cost-effective way to reduce these problems."
"Freecycle is about keeping things out of the landfill," says one San Jose Freecycle moderator. "It's about giving away something that has no use in our life anymore to someone who can extend its usefulness a little longer. It's about giving gifts to people while clearing out our own clutter, and it's about creating, building, and sustaining an environmentally aware community." 
Send a letter to the editor about this story.