June 27-July 3, 2007
home | metro silicon valley index | news | silicon valley | news article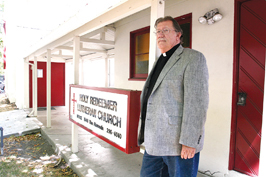 Photograph by Felipe Buitrago
Church reformer: Rev. John Freesemann is part of the immigration reform movement locally. He's critical of Mayor Chuck Reed's refusal to adopt the 'Sanctuary City' mantle for San Jose.
Selling Sanctuary
The mayor is taking heat for declaring San Jose is not a 'sanctuary city' for immigrants. But the very concept is little more than PR for feel-good politicians.
By Vrinda Normand
EARLIER this month, Mayor Chuck Reed veered sharply from liberal mayors in San Francisco and Oakland when he declared that San Jose is not a "Sanctuary City."
"We are going to follow federal and state laws," he told Metro. "We don't need to be a sanctuary city as other cities have done."
Reed's curt, seemingly unsympathetic approach to the mounting fear among undocumented immigrants, spurred by a recent increase in deportation arrests around the Bay Area by the federal Immigration and Customs Enforcement (ICE), has some shaking their heads in disapproval.
"He's burying his head in the sand," says Lutheran Rev. John Freesemann, who's part of a new movement to spur immigration reform. "I think it's reprehensible, because he's saying to a whole section of our citizens: You don't matter."
But is he? Reed says San Jose does want its undocumented residents to feel safe. In March, the City Council voted on a resolution affirming the Police Department's longstanding policy not to arrest people solely for being in the United States illegally.
"No otherwise law-abiding undocumented immigrant should fear arrest for coming forward or contacting the city to express concerns," Reed says.
Other city officials echo this assurance: "As a policy, we do not enforce immigration laws," says City Attorney Rick Doyle. "We have affirmatively said that we are not going to participate in ICE raids."
The Truth About Sanctuary
Sound familiar? That's basically the same thing San Francisco Mayor Gavin Newsom has been saying. Newsom, however, has turned his position into a PR gold mine by standing behind the slogan "Sanctuary City."
But the word sanctuary, literally defined as a sacred place or refuge where fugitives can find immunity, isn't all it's cracked up to be when it comes from the lips of some outspoken politicians.
Consider how one Newsom representative explained the supposed perks: "The mayor and the Board of Supervisors have ordered that San Francisco will receive people of illegal immigrant status and provide the same quality of life. They should feel free to live their lives to the fullest in San Francisco."
Strip away the sugar and here's what he's really saying: Local law enforcement won't bust people solely on immigration violations. In essence, it's the same pledge San Jose has made, along with many other cities in the Bay Area.
"I think the word sanctuary implies more than it really is," says Richard Hobbs, an immigration attorney and head of the county's Human Relations Commission. "San Francisco is playing it up, but it's the same thing."
All the Same To the Feds
The truth is, a promise of sanctuary means nothing to federal ICE agents who have been beefing up their operations around the country: In 2006, the agency arrested 4,385 people nationwide, nearly four times more than in the previous year. In the first half of 2007 alone, 3,290 people have been caught by the ICE.
A big chunk of those arrests happened right here in the Bay Area—in the past year, the agency's San Francisco field office pulled in 1,811 people from around Northern California. Large-scale raids (which ICE spokeswoman Lori Haley calls "targeted enforcements") have happened in San Francisco, Oakland, Richmond, Redwood City and San Rafael.
The ICE's burgeoning ranks have been fueled by a 40 percent increase in resources over the past few years, according to public affairs director Jamie Zuieback. The agency replaced the former Immigration and Naturalization Service (INS) in 2003.
Hobbs says city governments aren't obligated to help the ICE, so refusing to do so isn't going to change much. "I don't know how you can protect against federal officials enforcing their law," says Doyle.
'Not a Mission Of the Police'
There's also no escaping state law—something San Jose leaders discovered in February when an Orange County attorney named David Klehm sued them for failing to report noncitizen drug offenders to the ICE. Apparently, the police department is required to notify immigration officials when they arrest people on drug charges whom they believe aren't U.S. citizens.
SJPD Lt. Laurence Ryan says they weren't complying with that state law because [immigration enforcement] is "the job of the federal government. It's not a mission of the police department."
In response to the lawsuit, however, city leaders gave the cops a little more paperwork to do at their processing center. Throughout March, April and May, the San Jose Police Department has reported 322 noncitizens to the ICE.
Still, officers seem to be following this command begrudgingly. SJPD spokesman Enrique Garcia wants to remind immigrants that they only report people who are arrested on drug charges and, even then, only if they admit they're not from this country. In other words, the officers don't verify residency.
"We were forced to start using the form," Ryan confirms, "not because we wanted to."
Despite San Francisco's defiant public image, its sheriff has been following state law and wasn't named in the Klehm lawsuit. Spokeswoman Eileen Hirst first told Metro, "We have a sanctuary ordinance, so our processes are going to be a little different than yours."
However, upon further investigation, she came back with the less remarkable truth: "When someone comes into custody for a felony, if they show a deportation order, an immigration hold or a birth place in another country, the fact of their booking is reported to ICE."
Ironically, considering San Jose's "nonsanctuary" status, no major ICE operations have gone down in Santa Clara County, although spokeswoman Haley says arrests are being made in the area.
Zoe Lofgren, who represents most of San Jose, chairs the Judiciary Subcommittee on Immigration, Citizenship, Refugees, Border Security and International Law. The congressional body broadly oversees the ICE but has no authority over its day-to-do operations. Lofgren says the lack of raids has nothing to do with her influence.
"It is not possible for members of Congress to arrange for their districts to be immune from Immigration and Customs Enforcement actions," she says.
Local immigrant communities don't seem to be expecting any special breaks. Many are still shaken up by the highly publicized raids happening around the Bay Area. During a sweep at an Oakland packing plant in April, federal agents arrested 13 people for working illegally and found that over 47 employees were using counterfeit immigration documents. Just last week, the ICE zeroed in on a pizza restaurant owner in San Francisco who had been employing undocumented workers from Brazil.
"They're afraid to drive their cars, and take their children to and from school," says San Jose immigration attorney Ricardo Cavallera about the South Bay's undocumented. He adds that many are too afraid to go to the hospital, report landlord violations or go to the police because they feel like a "targeted population."
Hobbs also noticed a shift in the community since the ICE started flexing its muscles. This year's May Day immigration march in San Jose drew significantly fewer participants (an estimated 12,000) than last year, when nearly 200,000 people poured into the streets.
"I think it's been intimidating," Hobbs says. "People are more fearful of making a public statement."
Mistaken Identity
That fear is compounded when ICE agents show up at front doors wearing jackets that say "Police." The agency says it's the most universally recognizable term for law enforcement, but some immigrant rights proponents say using it is downright misleading and undermines the trust residents may have in their local police departments. Even the San Jose City Council frowned upon the practice in their March resolution.
Hobbs points out that in many South American cultures, "Police" doesn't mean "La Migra" (immigration official). In effect, creating confusion between cops and ICE agents could be the surest way to sabotage any perception of "sanctuary."
But Cavallera believes the federal agency risks its own effectiveness by freaking people out and interfering with local police departments. "ICE is shooting itself in the foot," he says. "It will not get cooperation from the community to catch criminals, and it's going to close avenues of communication that should remain open."
Send a letter to the editor about this story.