June 27-July 3, 2007
home | metro silicon valley index | features | silicon valley | sports news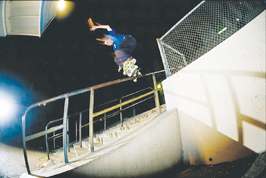 courtesy of emerica
Feeble as all get out: Ed Templeton's gap ollie to feeble grind is just one sample from his big bag of tricks.
Couch Skating
By Felipe Buitrago
SINCE the closing of the Vans Skatepark in Milpitas, finding terrain to shred hasn't been easy. "Local" skateparks are few and far in between, so having pro skaters come out for a demo isn't common. Fortunately, this year we got lucky, as the Zumiez Couch Tour is back in town. After a last-minute change, the tour's final leg goes from San Bruno to Milpitas. Those who made it out to last year's event know that filling Geoff Rowley's and the Flip Team's shoes is going to be no easy task. It will take the wisdom of longtime pro skaters like Ed Templeton to do the job. Templeton started skating professionally back in 1990 for New Deal skateboards, and now has his own company Toy Machine. Also on the bill is Andrew Reynolds, who made his mark turning pro for Birdhouse 12 years ago and is known for his ability to go huge with the most technical tricks. And for younger fans, Matt Allen, Marquis Preston and Aaron Suski will be there to represent the new generation of skating, along with a long list of sponsored ams that will tackle the Best Foot Forward Contest. This invite-only jam style contest is the place to be to get your foot in the door to become a pro skateboarder.
And what's the Couch Tour without music? Kandi Coded who rocked last year's Warped Tour will be performing at the mall along with Saves the Day.
For more info on free sure-fire skateboarding excitement at the Great Mall in Milpitas this Saturday June 30 go to www.zumiez.com.
Send a letter to the editor about this story.