July 5-11, 2006
home | metro silicon valley index | features | silicon valley | sports news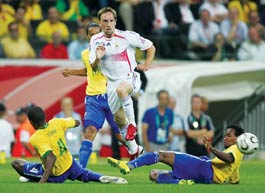 There's No Place Like Home: France longs to relive its 1998 World Cup victory at home and Franck Ribery is clicking his heels to get it back.
Goodbye, Yellow Card Road
By Gary Singh
THE greatest show on earth winds down this Sunday with the World Cup Final in Berlin. The entire country is a madhouse right now. It's been a wild ride so far, and with the Cup, one learns to always expect the unexpected. Who thought the United States would put in such an embarrassing performance? Who thought the aging Zinedine Zidane would lead France to knock out the defending champs Brazil? Who thought Portuguese keeper Ricardo would stop a record three penalty kicks and knock the Brits out of the whole thing? Who thought that so many yellow cards in one tournament would make a difference? And don't even get me started on that civil war in Togo. None of that matters now. At presstime, the semifinals hadn't happened yet, but right now, Europe really is sitting on top of the world, as all four semifinalists hailed from that continent, and three former champions were among them. Of those, only Portugal has never won at all, and this year was the first time since 1966 that they made it to the semis. After the tournament, losing coaches who haven't already resigned will throw in the towel. Some will take up the reins for other countries and some will go back to league teams. It's another four years after this weekend, and we have only South Africa in 2010 at which to expect more of the unexpected.
Send a letter to the editor about this story.