07.08.09
home | metro silicon valley index | features | silicon valley | feature story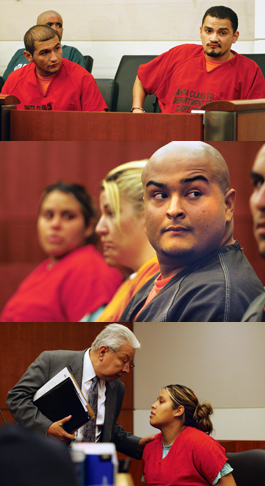 Photograph by Felipe Buitrago
AGGRESSIVE PROSECUTION:In a trial based on a rarely invoked 'provocative act' clause in California law, alleged gang members and associates from both sides of a conflict that resulted in the death of 18-year-old Larry Martinez appeared in court on Tuesday, June 30. (Top) Angel Solorzano, 19, and Robert Henry Barrios, 20, sit next to each other at their plea hearing at South County Courthouse. (Center) Alleged shooter Cristian Jimenez, 21, glances over his shoulder at Solorzano and Barrios. (Bottom) Heather Marie Ashford, 18, talks to her lawyer Alfredo Morales during a plea hearing at South County Courthouse.
War on War
After years of neglect, law enforcement officials are turning up the heat on Gilroy street gangs
By Jessica Fromm
A WOMAN in a white T-shirt gently rocks a tiny, peach-fuzz-haired baby swaddled in a light pink blanket. The infant and its caretaker sit among some 40-odd spectators packed into Courtroom 109 at South County Court House on June 30. The newborn stays remarkably quiet, barely stirring though the half-hour court proceeding. They are all there to observe the second hearing of the most controversial murder case to come out of Gilroy in years.
The child's mother, 18-year-old Heather Marie Ashford, sits across the room in baggy orange prison garb, a heavy-duty chain around her waist and her hands in cuffs. Her hair in a bun and her eyes red, Ashford wipes away tears when Judge Theresa Guerrero-Daley calls her name to stand.
Ashford gave birth to her baby in jail at the beginning of June, just a few days after she was arrested and charged with the gang-related murder of her cousin Larry Martinez. The child's birth also coincided with Santa Clara County District Attorney Dolores Carr's unprecedented decision to bring homicide charges against Ashford and her friends Angel Solorzano, 19, and Robert Henry Barrios, 20, as well as the two rival gang members, Cristian Giovanni Jimenez, 21,  and Edgardo Centeno, believed to have gunned down Martinez.
On June 9, Carr and Gilroy Police Chief Denise Turner announced that in their efforts to take a strong stance against gang violence in South County, they would invoke a rarely used "provocative act" clause in California law. That meant they would prosecute all of the alleged gang members and associates from both sides involved in the conflict that led to Martinez's death.
The slaying of Larry Martinez was the outcome of an afternoon clash between Norteņo and Sureņo gang members just a few blocks away from the Gilroy Police Department.
"We are sending the message today, by prosecuting this case, that our community and our law enforcement agencies do not and will not tolerate gang violence," Carr said at a press conference in front of the new South County Courthouse in Morgan Hill early last month.
The provocative act clause operates under the reasoning that though Ashford, Solorzano and Barrios did not shoot their friend that afternoon, they set in motion a chain of events that they should have known would result in someone's death. This case is the first time that Carr has used the rule.
"The people of Santa Clara County deserve protection from these menaces," said Carr on June 9. "People need to understand that if they choose to become involved in gang violence ... they can be expected to be prosecuted by our office."
Carr said that when her team of district attorneys, lead by Santa Clara County prosecutor Troy Benson, approached her about the case, they went through extensive talks and investigation before deciding to go forward with prosecuting under the provocative act clause. Though the Santa Clara County DA has never used the unusual legal theory, the act has been used in gang-related cases in other California counties.
"When we look at something like this that is not utilized on a regular basis, we want to make sure that we understand it, that we evaluate it appropriately and that we affirm that we have the evidence to support that theory so we can move forward," says Carr. "This is just taking another step in that, by seeing a case that comes under this unusual doctrine. It does take a somewhat unique set of facts to bring it under this doctrine. So, I think it is just using all the tools that the law provides us."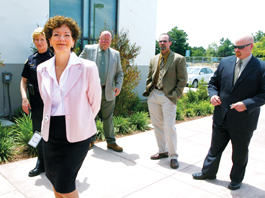 THE ENFORCERS: Santa Clara County District Attorney Dolores Carr, with Gilroy Chief of Police Denise Turner, smiles in front of South County Courthouse afer a June 9 press conference..
Picking the Wrong Fight
The police believe that the deadly Nov. 11, 2008, gang dispute began with a rock being thrown at Ashford's car. Jimenez, an admitted member of the Gilroy/Morgan Hill–based "Varrio Sur Rifa" Sureņo criminal street gang, entered a known Gilroy Norteņo neighborhood that day, along with Centeno and a juvenile suspect.
According to police reports, the Sureņo group threw a rock at a car containing Solorzano and Martinez. The vehicle was being driven by Ashford, Martinez's cousin, who was about a month pregnant at the time. Ashford is not a known gang member, though police consider her a gang associate through blood ties.
Police say Martinez and Solorzano are both known members of the Gilroy-based "East Side Gilas" Norteņo criminal street gang. After the altercation, according to police reports, Ashford and the two men proceeded to drive to another location to pick up Barrios, before heading back to confront the rock throwers.
While Ashford waited in the car around the corner, the three men allegedly sneaked up on the Sureņo gang members, Martinez brandishing a small baseball bat. When Jimenez, Centeno and the third suspect saw the group approach, they pulled out two handguns and fired on the group, hitting Martinez.
Larry Martinez died on the pavement between Sixth and Church streets from a gunshot wound to the chest. He was 18 years old. Having just completed a three-year jail sentence, he had only been out of police custody for a week.
After Martinez was shot, Solorzano and Barrios reportedly fled the scene in the car driven by Ashford, Solorzano dropping his cell phone as they ran. The Sureņo group left their handguns on the ground and escaped before police arrived and found Martinez's body lying on the street.
"We've reviewed carefully the evidence that has been developed so far in this case, and we determined that all of the gang members from both sides should be charged with the murder of Larry Martinez," Carr said on June 9.
"Obviously, we are prosecuting the people who pulled the trigger. But in addition to those, California law allows us to prosecute persons who commit an act that is likely to provoke a deadly response. This legal theory really allows us to hold accountable all parties, no matter who dies."
At the time of Carr's June 9 announce-ment, only Ashford, Solorzano and Jimenez were in custody. Since then, Barrios was arrested on an outstanding murder warrant in Porterville, a town 70 miles south of Fresno, while accused shooter Edgardo Centeno remains on the lam.
Jimenez had been taken into custody on June 4 during an ICE-lead sweep of South County, while both Solorzano and Ashford were arrested on June 8. All four co-defendants are currently being held in Santa Clara County Jail.
Though Ashford was not an identified gang member at the time of the shooting, by associating with and assisting known gang members, she is subject to the same prosecution as known Norteņo and Surteņo gang members, according to the California Penal Code.
Martinez's murder reportedly lead to a nonfatal retaliation gang shooting in Gilroy on Nov. 13, for which two subjects have been arrested, prosecuted and pled guilty.
There have been several incidents of gang-related violence reported in Gilroy since Carr's announcement. At 10pm on the night of June 9, a 19-year-old cousin of a Sureņo gang member was shot by suspected Norteņo gang members east of downtown Gilroy. Then, a 25-year-old man was beat up and robbed near Chestnut Street and Murray Avenue on June 14. On June 24, another 25-year-old man was shot with a large-caliber handgun in a drive by shooting at the intersection of First Street and Wren Avenue in Gilroy.
Turner says that this level of gang-related violence has become typical for Gilroy.
"Apart from this particular case, we have seen ongoing violence," Turner says. "I think we've had a couple of stabbings, a drive-by shooting ... but that I think was unrelated."
Turner estimates that almost 2 percent of Gilroy's population is made up of documented gang members and affiliates, specifying that 900 out of the 51,000 people currently living in the city are involved in gangs.
"Our community has been in fear," she said at the June 9 press conference. Martinez's family has defended his actions in the media.
"It's the culture, it's respect," Turner says. "If an individual is disrespected or someone is in their territory or is causing them trouble, then they are inclined to retaliate."
Martinez's family has told the Gilroy Dispatch that Martinez and his friends felt they had to confront Jimenez and the other Sureņos to defend his pregnant cousin, but they denied that they knew his actions would result in Martinez's death.
"I don't know if people will be sympathetic to her [Ashford] or not. We do have multigenerational groups of gangsters in our city, so this is not uncommon," Turner says. "We see it in the schools when dealing with the parents. For many children, it is something they are born into, that they have no control over."
Perp or Victim?
At the June 30 hearing at the South County Courthouse, the four co-defendants delayed entering their pleas until July 28 to allow their four separate attorneys to sift through hundreds of pages of discovery documents. All four co-defendants also waived their right for a preliminary hearing.
Solorzano and Barrios were seated next to each other in matching orange correctional facility garb. Barrios appeared relaxed, frequently glancing at his sister among the spectators and even whispering to Solorzano and laughing at one point before the hearing began.
Solorzano's eyes, however, were on his lawyer, Joseph Barrera, who frequently rose from the plaintiff's table to speak to him throughout the proceedings.
Though they are all currently denied bail, Ashford's lawyer, Alfredo Morales, made a motion to reduce her bail at the next hearing, presumably so that Ashford could spend time with her baby. Solorzano and Barrios also joined in the motion. But,  Judge Guerrero-Daley made no indication to any of them before officially delaying their pleas until the end of next month.
"My client is a victim, not a perpetrator," said Barrios' lawyer Edward Sousa, while walking out of the courthouse after the hearing. "He didn't shoot anybody or provoke anybody."
Seated decidedly away from the three in court was Jimenez, who talked sporadically with his lawyer, Jessica Delgado, but showed little emotion.
At the July 28 hearing, the co-defendants are expected to enter their pleas, after which they will be arraigned. The case could go to trial within 49 days of their next arraignment, according to Assistant District Attorney David Howe.
The day before the hearing, Delgado indicated that she would be pursuing a self-defense angle for her client. She is counting on the fact that the DA would not have perused the case against Martinez's friends if they had not incited the situation.
"Certainly, the fact that they have charged three individuals under the provocative murder theory logically makes me believe that we will have a relatively strong self-defense claim," Delgado says. "In order to show it was a provocative act, they had to have shown they were provoking that situation. So, I think this is going to be a very interesting and compelling situation."
Delgado, who is hoping for a jury trial, said that Jimenez's claim to self-defense should be just as important as Carr's aim to make a statement about prosecuting gang violence.
"These kind of situations are difficult, because I understand that there is a policy interest on the part of the DA's office," Delgado says. Chief Turner said that she was happy that the Gilroy Police Department has brought its investigation into Larry Martinez's death to a close, but that the district attorney's office has a long road ahead as it moves toward prosecuting under the provocative act.
"We don't want to tolerate that in our back yard any longer, so we are taking a tough stance," Turner said. "I appreciate the DA's efforts in going out on a limb."
Send a letter to the editor about this story.