07.09.08
home | metro silicon valley index | features | silicon valley | feature story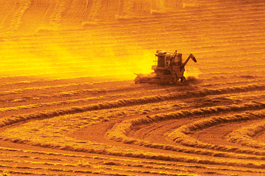 Fueling a Controversy
Truth-vs.-myth in the food-vs.-biodiesel debate
By Molly Zapp
HE SELLS fuel for a living and speaks in terms of sustainability and social responsibility, but Shaz Nawaz is neither Big Oil businessman nor hippie. A Hooter's calendar hangs on the wall in his office, just to the right of the recycling bin. With gelled hair, a stud in a piercing just below his lower lip and a wide smile, Nawaz is a former circuit-race driver and manager of Good Guys Biodiesel.
Nawaz says that during his career driving racecars, he saw several people he cared about get sick from exposure to the fuel used in racing engines. When he stopped driving, Nawaz opened a mechanics shop, where he developed vegetable oil conversion kits for his own car and the vehicles of some of his customers.
Seven years later, he is still dedicated to changing the way the South Bay fuels up.
"Petroleum diesel is causing quite a bit of soot in our atmosphere," Nawaz says. "If we can reduce those carbons, our carbon footprint, it's a great thing, especially for the Bay Area. We're like a hole—you can see it from over on Highway 9."
Nawaz now sells biodiesel at a nonprofit cooperative that he opened in San Jose two years ago, which relocated to Campbell in February.
And he finds himself in the middle of a controversy. Though most commonly made from virgin soy, biodiesel is a renewable fuel that can also be produced from recycled fryer oil, palm oil and other sources.
Any vehicle that can run on ordinary diesel fuel can run on biodiesel without any need for a conversion kit. The non-petroleum-based fuel is nontoxic and is safe enough to even be tasted in its pure form. But the cleaner-burning biofuel is not without its potential critics.
Recently, renewable fuels such as biodiesel and ethanol have come under scrutiny in light of the so-called food-vs.-fuel debate, which questions the ultimate environmental impact of using biodiesel or ethanol at all.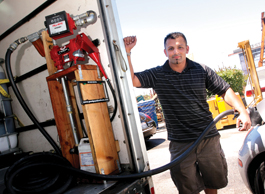 Photograph by Felipe Buitrago
Veggie Burner: Shaz Nawaz of Good Guys BioDiesel in Campbell uses a new fuel pump to fill the tank of a diesel Beetle.
No Blood for Biodiesel
Many concerns and factors motivate Nawaz and others who seek fuel sources that are more stable than strictly petroleum-based options, including environmental sustainability, economical stability and national security.
Barbara Heydorn, director of Menlo Park's Center of Excellence in Energy, says she's encouraged by the renewed interest in energy efficiency.
"We're made very little progress on being less dependent on foreign oil," Heydorn says. "To my knowledge, we don't have the reserves in place to become independent. I'm not convinced that it's important to have energy independence, but we need energy security."
But the path to energy security is neither quick nor clearly marked, and different regions of the world and of the country are looking to different sources. Discussion about the options and viability of types of fuel and renewable energy abound, from biodiesel to plug-in hybrids, hydrogen cells to ethanol, solar power and more—all of which are still developing as technologies. Slowly.
"We're got 100-plus years invested in developing today's transportation infrastructure, and it's too big to just wipe out overnight," Heydorn says. Though she sees the variety of energy sources as potentially positive, she also cautions that there is no singular solution.
"The message that I would really like to convey is that how you decide on the best fuel is going to be dependent on what issue you want to address, and you're probably not going to be able to address them all in one fuel," Heydorn says. "Something that works locally may not work globally."
Nawaz, for his part, is not looking to supply biodiesel to the whole world, or even the whole state. His primary focus is on making biodiesel available to residents of Santa Clara and Santa Cruz counties. "I don't believe biodiesel is the only answer to energy; I believe it's one addition to the solution," he says.
Though Nawaz is trying to think locally, it's biodiesel's global impact that has fired up the food-vs.-fuel debate. Biodiesel has been blamed for contributing to global food shortages and increased food prices and, yes, killing the rainforest.
Where the biodiesel industry has received the most criticism is from obtaining raw material from palm oil grown in Indonesia and Borneo. Unlike soy oil, which has only a small market for food usage, palm oil is used for food sources, a demand that has increased in the United States as palm oil is replacing trans fats in packaged goods like cookies and crackers.
Palm oil is an important source of calories for people who commonly use it as a cooking oil in the regions where it is produced.
Ripudaman Malhotra, associate director of SRI International's Chemical Science and Technology Laboratory, says palm oil is four times more efficient in terms of land use in producing fuel than is soy oil. But the environmental damage caused by cutting down trees in tropical rainforests to produce the nonpetroleum fuel offsets its immediate benefits.
"When you cut down the rainforest, you release a certain amount of CO2 in the air," Malhotra explains. "You say, let's try to recoup that by growing biodiesel, that's better than using petroleum. But these savings that you'd incur for year after year would take almost a hundred years of savings before you can equal out," he says.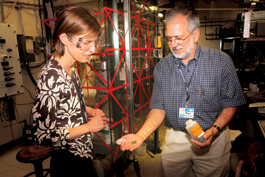 Photograph by Felipe Buitrago
Sea Clearly: Ripudaman Malhorta of SRI International shows Barabara Heydorn of Menlo Park's Center of Excellence in Energy the results from an experiment in making fuel from algae.
A Drop in the Barrel
Palm oil is one of the smaller sources from which biodiesel is made, and 90 percent of biodiesel sold in the United States comes from virgin soy oil sources, not palm oil.
Biodiesel can also be made from recycled vegetable oil, often obtained from restaurant fryers. Bob Brown, who works at Western States Oil, a San Jose biodiesel distributor that primarily sells petroleum-based fuels, says he buys most of his biodiesel from a producer in Las Vegas, and that about 80 percent of it comes from virgin soy sources. With some seasonal variance, the other 20 percent comes from reclaimed yellow grease and yellow fat. To contrast, Nawaz says that his biodiesel is about 80 percent recycled, with the rest of the it from non-food-grade soy oil.
"I don't think it's a food-vs.-fuel race right now, mainly because we're getting it from recycled and nonfood sources," Nawaz says. "It's the responsibility of the biodiesel station where they want to support, and what they want to purchase with."
Suzie Woolhouse, an environmental studies major at San Jose State U., says that she switched from filling up her Volkswagen at Western States Oil to Good Guys, largely because she wanted to use biodiesel that was sourced primarily from recycled sources. "They seem to be a lot more environmentally minded," Woolhouse says.
But the supply of waste vegetable oil is far from infinite. Tallow companies already collect used vegetable oil to make animal feed and cosmetics, so obtaining recycled oil can mean tapping into materials with an already established market. According to Malhotra, the global production of vegetable oils is less than 100 million tons, but fuel consumption runs on the order of billions of tons.
Estimates of how much biodiesel may be produced from waste oils are in the range of 200 million gallons, less than 1 percent of the nation's total diesel consumption of about 300 billion gallons. There may be some places where the supply of waste oil may make a significant contribution to the diesel consumption, but they will be rare, Malhotra says.
Heydorn shares similar view about the impossibility of fryer grease replacing other sources of fuel on a grand scale.
"The restaurant industry wasn't set up to supply fuel," Heydorn says simply. "It's challenging to find the volume of fuel that that's going to replace transportation fuel on the large scale. There are going to be dozens of products, and better use of waste fuels is good, but you need a fuel that works."
Brown says he supports using more recycled oil, but finds that the quality and consistency of waste oil–derived fuel can be "iffy." Perhaps because he is also a distributor of petroleum products, he does not hesitate to criticize the idea of biofuels.
"I think it's pretty damn arrogant that we take food off the table and put it in our cars," Brown says. "Obviously, it's caused the beef prices to go through the roof."
He also expresses concern about biodiesel underground storage tanks and pumps.
According to Brown, there are no storage containers for biodiesel that meet government requirements, including the tanks that Western States Oil uses. While some manufacturers have issued statements saying that they believe their containers are compatible, none are approved, and Brown is concerned that the state Fire Marshall will shut down some distributors and prevent new stations from opening.
Green Money
Biodiesel is renewable, safer, potentially domestic and cleaner-burning than petroleum-based diesel. Yet its price continues to exceed that of petrol diesel.
In 2002, the average national price was about $1.75 per gallon. In September 2004, it was $2.95. A couple months ago, biodiesel was about $4.29. As of July 2, a gallon of the fuel at Good Guys sold for a hefty $5.69. The B99 blend—99 percent biodiesel, 1 percent petrol diesel—sold for $5.49 at Western States, while a gallon of straight petroleum diesel sold there for $4.96.
"Earlier this year, I was 10 to 15 cents cheaper than petroleum diesel," says Nawaz, noting that he's consistently been 40 cents more expensive per gallon in the past few months.
An explanation as to why the cost of the non-petroleum-based fuel now exceeds the price of petroleum is difficult to ascertain, but both Brown and Nawaz point to biodiesel producers.
"The producers see that the demand is there, and the price has risen with the demand," Nawaz says. "The retail stations are not making the profit margins like the producers, definitely. Producers have full control on pricing, so for a retail station or even a wholesaler, the producers have raised the cost."
Nawaz says that he has asked the producers why the costs have been rising, and that he was told it's because of the rising price of everything, including waste vegetable oil.
(Bay Biodiesel, a biodiesel producer based in Martinez, did not return multiple requests for an interview.)
Significantly, the costs to produce biodiesel have risen across the board; both the price of methanol and waste vegetable oil have sharply risen, especially within the last six months.
"The price on the commodities market for used vegetable oil has gone up fourfold," Nawaz says. "It's absolutely amazing that something that was once a waste product has become something that they're calling 'black gold.'"
The escalating price of gasoline contributes to the cost of biodiesel's production across the board: The petroleum-based fertilizer used on the soybeans is more expensive, which makes the virgin soy oil prices rise. Since most biodiesel is shipped on trucks that run on petroleum, biodiesel's shipping costs have also soared. Biodiesel producers do receive federal tax breaks through the Biodiesel Blenders Credit of $1 per gallon for biodiesel made from virgin sources, and 50 cents per gallon from recycled sources. However, one of the stipulations is that biodiesel must be blended with petroleum-based diesel in order to qualify for the tax credit. Brown says that Western States usually buys pure biodiesel, and that he passes on the tax credit to the consumers when he blends the fuel himself.
Racing Fuels
Conscious of the economic realities that help determine consumers' fuel choices, Nawaz says that the best way to ensure economic accessibility for biodiesel is to open up his own biodiesel production plant. He says that he is currently looking into buying a ready-to-go biodiesel facility to produce fuel for the South Bay, and hopes to open within one year. At maximum capacity, he estimates that the plant will be able to produce 183,000 gallons of biodiesel per month—a huge jump from the 1,000 to 2,000 gallons he sells per month at his coop. Nawaz says that the fuel will be made from 80 percent recycled sources, and will have a higher recycled percentage if it can pass ASTM standards.
He declined to reveal which area restaurants he was planning on obtaining waste oil from.
Producing biodiesel from algae technology is another option. This is a technology that Malhotra finds promising. But Malhotra points out that algae-based production is still developing, and it may be "three to five years" before it is ready to be marketed.
In addition to biodiesel, Nawaz says that he hopes to sell straight waste-vegetable oil (WVO) fuel at his station. Vehicles that can run on diesel can have a conversion system installed that allows them to run on a combination of WVO and either biodiesel or diesel. Such kits are available from the retail side of Good Guys, and range from $650 to $1,250.
Nawaz says that he is now waiting for the permit to sell straight vegetable oil fuel. In an interview in May, he said that he was selling two grades of the straight vegetable oil for $2.25 and $2.49, and both the Good Guys' website and multiple user reviews on Yelp.com report that he has been selling WVO as fuel.
Certainly, the lower cost of using WVO is a strong incentive to use it, and Nawaz wants renewable energy to be economically accessible for people from a variety of incomes. "You do need to have money to be able to be environmentally friendly, and now it's becoming more economically friendly because these parts are becoming cheaper, people are coming up with better ideas," he says.
Woolhouse says that her decision to use biodiesel, not petroleum, is just one part of her attempt to be more environmentally and socially conscious. She tries to eat local food, shops at the farmers market, recycles and sometimes composts. But what she doesn't do might be just as significant. Though she gets 40 miles per gallon using biodiesel, "I don't drive very often," she says.
Indeed, the rising price of fuel—be it biodiesel, petrol diesel or everyone's favorite scapegoat, gasoline—has helped alter the fuel consumption habits of many Americans.
For her part, Heydorn says that she likes the idea that "higher fuel prices means consumers saying, 'We want to buy things that are more energy efficient."
Nawaz says that the rising cost of fuel and heightened environmental awareness have widened the variety of people interested in alternative energy. His customers are people from different backgrounds and political ideologies, from progressives and radicals to conservatives. "With the price of fuel going up, I think everybody's kind of coming together," he says. "Some of us are more economic-minded, some of us are more environment-minded. But there's definitely a cross, and everybody's starting to come together and starting to put their ideas together to make this more of a feasible idea."
Securing energy sources that are accessible, affordable and renewable is neither simple or speedy, but a multifaceted and sometimes tedious necessity.
"You have to give up a little bit on trying to rush solutions," says Malhotra. "These things take time."
Send a letter to the editor about this story.