07.09.08
home | metro silicon valley index | features | silicon valley | feature story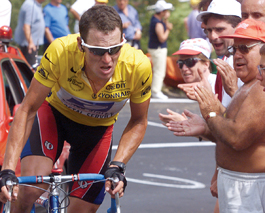 AFP PHOTO/PATRICK KOVARIK
LANCE IN FRANCE: Lance Armstrong makes his breakaway in the 15th stage of the 1999 Tour de France.
Living Strong
By Felipe Buitrago
AFTER seven consecutive Tour de France wins and participation in the New York City Marathon, Lance Armstrong continues to face new challenges. But one in particular that has been his personal vendetta since 1996 is his fight against cancer. In 1997, the Livestrong foundation honed its uncanny strength from its founder to spearhead a battle against cancer. On July 13, the Livestrong Foundation will bring the battleground to San Jose in the form of a charity walk, run or bike event to raise funds against cancer.
The event, which is taking place in San Jose for the first time, uses a course with its start and finish line at Almaden and Park. It will consist of a 5-kilometer run or walk and bike rides of 10, 50, 65 or 100 miles. Both events start at 7:30am sharp, with the 100-mile bike ride leaving first and in waves. The run will take participants through the downtown San Jose; cyclists venturing to the 100-mile mark will ride as far as San Martin and back and go more than 1,200 feet in elevation. But whichever level participants choose, there will be power stops along the way and a post-event party for everyone waiting at the finish. For more information, go to www.livestrongchallenge.org.
Send a letter to the editor about this story.