July 11-17, 2007
home | metro silicon valley index | features | silicon valley | sports news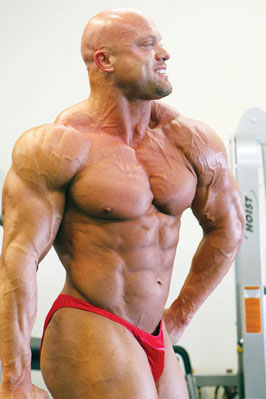 A hard man is good to find: After 16 years and lots of bad breaks, he's back—Mark Byers returns to the NPC 2007 Bodybuilding Championships in San Jose on July 14.
Thems The Breaks
By Felipe Buitrago
H
OW many times have you signed a friend's cast for a broken leg or arm? If you're a friend of Mark Byers, chances are you've cramped up a wrist from jotting down that ol' John Hancock—he's broken his left shoulder four times and had eight surgeries. Byers got his first break while in high school—his left shoulder snapped after falling 15 feet. One could say it was a blessing in disguise, since he began weightlifting in his garage, and soon after healing he went on to take the Santa Clara Teenage Bodybuilding Championship and then the Teenage Overall Winner of 1991 Mr. San Jose Bodybuilding Championship Show. Always an athlete, Byers pursued a career in pro football. After earning a scholarship at UNLV and a year in the Canadian Football League, he was picked up by the Detroit Lions. Three months into the gig, he re-injured that old wound and broke the same shoulder. Byers finally hung up his cleats after giving it one more try, this time with the 49ers, where he broke the same shoulder one last time. Now, after a 16-year absence from competitive bodybuilding, Mark is back—in the best shape he's ever been. This July 14, he will be flexing arms that can bench 540lbs and legs that can pull off a 700lb squat at the 2007 Bodybuilding, Fitness and Figure Championships at the Parkside Hall in San Jose.
Send a letter to the editor about this story.