July 11-17, 2007
home | metro silicon valley index | news | silicon valley | news article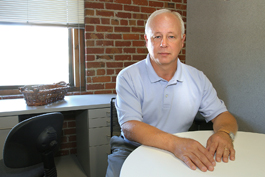 Photograph by Felipe Buitrago
Fed up: San Jose's John Bowman, a former editor for the San Mateo County Times, has made himself a MediaNews watchdog.
Singled Out
Is the MediaNews strategy doomed to fail at the Merc?
By Erin Sherbert
HE WASN'T out to set an example or be a newspaper martyr. John Bowman was just fed up.
The former San Mateo County Times editor was tired of having to put out a daily newspaper under the MediaNews Group philosophy: get the job done with a handful of reporters, lean resources and a newsroom underbudgeted far beyond anything he'd experienced in his 31-year career.
Bowman, 53, wasn't going to stick around to watch what many believe to be a demise of daily news in the Bay Area under Dean Singleton's MediaNews Group.
Instead, he typed up an email to MediaNews executives letting them know he was resigning. Immediately.
Afterward, he rounded up his staff, announced his departure and walked out after nearly five years as an editor with MediaNews Group, which now owns 26 newspapers in Northern California, including the San Jose Mercury News and the Contra Costa Times, both of which Singleton bought last year.
Bowman's abrupt departure reflects a growing sentiment of frustration and discontent among Bay Area journalists as conglomerates continue to strip away layer after layer of their newsrooms, most recently at the Mercury News.
On the surface, the cuts mean fewer reporters and limited resources. At the core, it cheapens the news product that communities rely on as their information source.
But in Bowman's view, Singleton's notorious cost-cutting model may be doomed to fail in San Jose, an area filled with innovative and educated readers who want more from their newspaper than city hall reports and police stories.
They want in-depth investigations and news analysis, something readers are starting to lose in the wake of newsroom cuts.
"I think San Jose is a market where we will have a real test of whether the readers will put up with just anything," said Bowman, a San Jose resident himself. "Maybe this is the one market where Dean Singleton can't get away with being Dean Singleton."
Deep Cuts
The San Jose Mercury News staff has shrunk by almost 50 percent over the last seven years to offset declining advertising revenues.
The most recent hit came last week, when editors told their reporting staff to stay home and wait by the phone while they called 31 newsroom employees to let them know they no longer had jobs.
It's the second round of cuts in the San Jose newsroom since December, when MediaNews announced it would layoff roughly 100 employees.
At that time, the union made concessions to save several of the newsroom jobs, forgoing vacation accruals and agreeing to pay into health plans, union representatives said.
"At this point, people are leaving here without jobs," said Sylvia Ulloa, a features designer and president of the San Jose Newspaper Guild. "They are sick of uncertainty, they are sick of the cheapness, and they are sick of the way they run the operation."
But staffers aren't just worried about their jobs. They are distressed as newsroom cuts contribute to the downfall of quality news and the credibility of the paper.
With fewer beat reporters, there's less time for investigations and enterprise stories. Also, a cutback at the copydesk means there will be fewer copy editors to catch mistakes before they go to print, Ulloa said.
San Jose Mercury News Executive Editor Carole Leigh Hutton and Publisher George Riggs did not return phone calls seeking comment for this story, nor did Singleton himself.
Same News, Different City
The effects of these cuts are clear: Mercury News readers are getting less news and more stories written by a collection of reporters within the chain.
They aren't getting as much enterprise or investigative stories. Instead, readers are seeing more wire stories and sensational features, said John McManus, director for gradethenews.com, a San Jose–based media research website. He points to a much-discussed recent edition in which the Merc devoted a chunk of its front page to a story about a hot-dog-eating contest that took place across the country. Even with a local angle, that's the sort of news that readers could live without, he said.
"I think we are seeing fewer stories that are relevant to people in the South Bay," agreed William Briggs, director of the School of Journalism and Mass Communications at San Jose State University. "This has happened in other markets where Singleton has acquired papers and we are likely to see it here, too."
But it's harder to take note of what's not being covered, reported and investigated.
For that reason, the public will likely be slow to notice the shift in news coverage at the Mercury News, said McManus.
"I think we will painfully realize what these cuts mean, but it will be too late to save a lot of good journalists from Dean Singleton's axe," he said.
For journalists like Bowman, getting a fresh start at another local paper is seemingly impossible as Singleton has a near monopoly over print news in the Bay Area.
Meanwhile, Bowman has created his own blog tracking the downshifts occurring at Singleton's Bay Area newspapers.
"Every newspaper is hurting, every newspaper is cutting," Bowman said. "So you can't point at Dean Singleton and say he's the reason, but he certainly is the poster boy for the idea that newspapers can cut themselves back into prosperity."
Send a letter to the editor about this story.