July 11-17, 2007
home | metro silicon valley index | features | silicon valley | column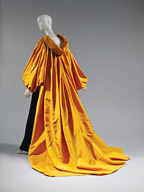 Nan shall pass: Kempner fashion on display.
Style, Bar Nan
By Joseph Rosenfeld
NAN KEMPNER was a New York City socialite with Bay Area beginnings. Her father was a successful San Francisco car dealer; Kempner's mother, whom she seemingly modeled herself after, was a natural beauty and socialite. Born Nan Field Schlesinger, a life of privilege led her right into the arms of Thomas Kempner, an investment banker who became her husband. During their life and marriage, Mrs. Kempner emerged as one of the world's most fashionable women, wearing haute couture gowns and get-ups to more than 100 parties a year.
Standing a willowy five-feet-nine-inches tall, Kempner had an unparalleled appetite for designer samples. She smoked heavily and was even known to substitute lettuce for bread so she could fit into the clothing of designers with minimal alterations. Kempner's considerable collection of well chosen couture was donated by her husband to the Metropolitan Museum of Art in New York and to the Fine Arts Museum of San Francisco. Nan Kempner: American Chic is now on exhibit at the de Young Museum in San Francisco through Nov. 11.
Kempner's taste and the breadth of her collections are astounding. She played with couture clothes, creating a style all her own by wearing more than one designer at the same time. The first item in her gown collection is her debutante gown, a creation in pink and of ostrich feathers, suggestive that her insight into style was a part of her early life. The gowns on display intimate the wearer's desire for designer comfort. It's easy to envision a preened Kempner prancing at parties in mostly pleated jersey fabrics with natural ease during one period in her life.
Other highlights of the collection include examples of her many furs, a recent retro swimsuit by Missoni that shows how shapely her body remained even as she aged, and a series of tailored suits that she would wear as comfortably as anyone else would wear a pair of jeans. Not to be outdone, however, are Kempner's coats and cloaks, especially a yellow silk faille cape created by favorite designer Yves Saint Laurent for Mrs. Kempner to wear to the opening of his own fashion retrospective in the early 1980s—a real showstopper.
Kempner's style was definitely and defiantly dramatic. She wore simple yet sophisticated shapes, accented with a variety of volume, elaborate lace, embroideries and confident costume jewelry. Her ability to mix and match couture clothes, like Americans do sportswear items, culminated in combinations that ultimately define her more than any singular piece of clothing. Though Nan Kempner could want for nothing, the exhibit is a terrific example of how a strong commitment to one's personal style triumphs over one's purchasing power.
Nan Kempner's iconic American Chic style will water the mouths of many museum-goers whose wells of resources are not as deep as were hers. But if you take your time viewing the exhibit and photo montage of her chock-full closet, it's possible to benefit from her own visual insights. Nan Kempner was a careful clotheshorse. It is said that she preferred to look "artificially relaxed," which makes sense for a Grande Dame of American society who came to define the modern woman.
Joseph Rosenfeld, AICI, CIP, the nation's only male certified image professional, polishes the appearances of professional men and businesses and is based in downtown San Jose. Contact him at: [email protected]
Send a letter to the editor about this story.