07.16.08
home | metro silicon valley index | features | silicon valley | feature story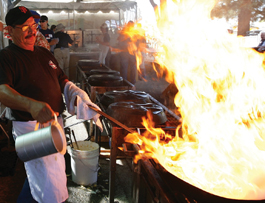 Photograph by Bill Strange
Gilroy Garlic Festival : The festival celebrates its 30th year with food, live music, cook-offs, a children's area and more. It runs July 25–27 at Christmas Hill Park, 7050 Miller Ave., Gilroy.
One Nation Under Garlic
How Gilroy turned a potent Italian bulb into a culinary staple and the country's biggest and smelliest food festival
By Stett Holbrook
THIRTY YEARS AGO, a group of American food writers trooped into a packing shed at Gilroy's Christopher Ranch off Highway 101. Greeted by the pungent aroma of millions of garlic cloves being processed in the building, the journalists sat down for a garlic-laced lunch that included scampi, calamari, pasta and pepper steak.
Together with the Fresh Garlic Producers Association, an industry trade group, Christopher Ranch founder and former president Don Christopher hosted the journalists to showcase Gilroy garlic. Gilroy was then the world's largest producer and processor of the odiferous vegetable.
The event proved to be more than another press junket. The luncheon set Gilroy on a course no one could have imagined. Along the way, it helped solidify a culinary revolution already bubbling in the kitchens of America.
Today, garlic is as common in food as salt and pepper, but it wasn't always that way. That a half-dozen food writers would travel to Gilroy for a garlic tasting reveals how different American tastes were just 30 years ago. Back then the "stinking rose" was still regarded with suspicion, a foreign ingredient that carried a powerful whiff of exoticism that made some white-bread Americans nervous.
"Garlic really needed some PR," remembers Christopher.
The food writers loved what they ate and encouraged their hosts to put on a larger event to show off what would become Gilroy's claim to fame. The idea for a garlic festival had already been floated by Dr. Rudy Melone, then president of Gilroy's Gavilan Community College. The enthusiastic response from the journalists helped convince Melone, Christopher and others to make the festival a reality. The next year, the Gilroy Garlic Festival made its debut.
The event is now arguably the best-known food festival in America. Next week (July 25–27), Gilroy will host the 30th annual garlic festival. Since its inception, the festival has attracted more than 3 million people and has become an important fundraiser for Gilroy nonprofit groups. Some 4,000 volunteers work together to put on the festival, a huge community effort that has returned nearly $8 million to local charities and nonprofits over the past three decades. The event raises money for schools, athletic teams, the Rotary and Elks clubs, a local orphanage and scores of other groups.
"If you live in Gilroy, you've benefited from the garlic festival," says Ed Struzik, president of the 2008 Gilroy Garlic Festival Association. "It's a critical fundraiser."
It is fitting that Melone, an Italian-American who passed away in 1998, was the prime mover behind the festival. After hearing about a garlic festival in Arleaux, France, and the city's boast that it was the garlic capital of the world, Melone hit on the idea of a garlic festival in Gilroy as a benefit for the local Rotary Club. The city was then the largest producer and processor of garlic in the world, a claim that's now only half true.
Photograph by Felipe Buitrago
HEAD SHRINK: Garlic crops at Christopher Ranch, which has reduced its farming acreage by almost half since its peak.
Wink, and drink, and stink
Unlike other ethnic groups that immigrated to America during the wave of immigration from 1880 to 1921, Italians, the largest immigrant group of that period, resisted assimilation and managed to keep their "Old World" food preferences and style of eating largely intact, wrote Harvey Levenstein, a former professor of history at McMaster University in Ontario, Canada, in his article "The American Response to Italian Food, 1880–1930" published in the book Food in the USA: A Reader.
"Indeed, Italian food was the first major foreign cuisine to find widespread acceptance among native-born Americans," wrote Levenstein.
Garlic is a key ingredient of Italian cuisine, especially food from southern Italy, where most U.S. immigrants from that era came from. Melone, who grew up eating garlic, saw Gilroy's local crop as a source of pride even if others didn't.
"There was a general air of embarrassment about garlic, an absence of pride," Melone told festival volunteer Jenny Midtgaard in an article she wrote shortly before his death. "But to me, garlic was everything to be proud about."
Ed Struzik believes that embarrassment came in part from residents who didn't want to perpetuate Gilroy's image as Santa Clara County's farm town. Somehow, being known as garlic town didn't appeal to them.
"The perception of Gilroy being 'bumpkin' still exists today," Struzik says. "But we've turned garlic into an image positive."
Garlic's hold on the American psyche goes deep. Because garlic was once associated with poor immigrants and the lower classes, genteel Americans, mainly those of Northern European descent, frowned upon it.
"It's not an Anglo food at all, so when Italian immigrants show up, the image is exotic or worse," says Kenneth Albala, a food historian at the University of the Pacific and author of Beans: A History. "Remember the scene in It's a Wonderful Life where Potter calls the people George Bailey lends money to 'garlic-eating rabble'?"
In The Best Thing I Ever Tasted: The Secret of Food, author Sallie Tisdale explains that the eating habits of ethnic groups were sometimes seen as a threat to the established social order.
"Certain ethic foodways have been cast in a suspicious light by both nutrition scientists and social workers from the beginning of the [20th] century," Tisdale writes. "Hot foods such as chiles were associated with 'hot' ideas, like anarchy. All kinds of spices were thought to make people crave alcohol and sex. Garlic, too, was an object of suspicion, a mark of social inferiority."
According to the "Salerno regimen," a proscriptive diet that grew out of a medical school in Salerno, Italy, in the Middle Ages, garlic was good for what ailed you. In spite of garlic's health benefits, even as far back as the Middle Ages people believed garlic drove men to sexual indiscretion and the bottle. Some of Salerno's dietary advice was converted into verse to make it easier to member. Here's some pro-garlic advice quoted in The Englishman's Doctor published in 1608 that illustrates the twin perceptions of garlic:
For they that it devour may drink, and care not who their drink do brew; may walk in airs infected every hour.
Since garlic then hath powers to save from death,
Bear with it though it make unsavoury breath,
And scorn not garlic, like to some that think
It only makes men wink, and drink, and stink.
Bright Bulbs
So how did garlic go from being reviled to revered, as it is today? According to the U.S. Department of Agriculture, no other vegetable has exhibited such strong sustained demand. Per-capita consumption of garlic increased in the 1980s and 1990s, rising from 1.3 pounds in 1990 to 3.3 in 1999. Consumption tapered off in the 2000s with 2004 estimates at 2.6 pounds per capita, but today Americans eat about 3 pounds per year. That's a lot of garlic breath.
Immigration from Italy and other countries of the Mediterranean and intermarriage helped erode Americans' fear of garlic. As garlic-loving immigrants from Latin America and Asia entered the United States in the 20th century, they too helped change the way America ate.
Garlic's bold and powerful flavor may also help explain its popularity, particularly among men.
"There is a level of masculinity and bravado to garlic," says Gabriella Petrick, an associate professor of nutrition, food studies and public health at New York University. "It's strong. It makes you stink."
Indeed, men who might not otherwise cook lord over their propane grills because working with fire and big slabs of meat is seen as more socially acceptable than, say, baking an apple tart. Men might stay out of the kitchen, but when it comes to laying on the garlic for a spaghetti sauce or garlic bread, there's a sudden willingness to step behind the stove.
For garlic bravado in action, check out the flame-slinging men tossing huge pans of scampi at the garlic festival's "gourmet alley," a showcase for the manly art of cooking with garlic.
But of course women love garlic, too.
Sandra Curcio was out from Long Island visiting her son and daughter-in-law last week, and they made a beeline for Gilroy so they could stock up on garlic products she couldn't get at home. She was wine-tasting with her family at Rapazzini Winery, which is owned by the same folks who own Gilroy's two Garlic Shoppe locations.
The Garlic Shoppe sells garlic in every form imaginable and a few that are unimaginable, such as garlic peanut butter cups and garlic lollipops with a slice of garlic inside. You can also buy garlic barbecue sauce, pickled garlic, garlic tortillas chips, garlic jelly and even garlic wine.
What's so great about garlic, I ask Curcio.
"The smell. The taste. It's good for the heart, too. The only problem is the smell. The day after I eat it, the guy I sit next to at work says, 'You ate garlic, didn't you?'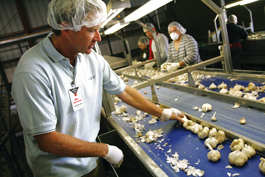 Photograph by Felipe Buitrago
CLOVE TOPS: Bill Christopher at work: Left, checking out the harvest; right, on the selection line. Christopher believes both the quality control and overall taste of garlic grown here is superior to Chinese crops.
Gateway Drug
The rise of celebrity and TV chefs like Julia Child, James Beard and Wolfgang Puck, progenitors of Rachael Ray and Emeril, helped coax a flavor-shy nation to embrace garlic along with other unfamiliar ingredients.
I'd argue that garlic served as a gateway drug for timid American eaters. Once you start eating fresh garlic, it's a slippery slope to garlic-laced dishes like pesto and hummus. Get used to the big flavor of garlic and fiery salsas and piquant curries aren't too far behind.
While it's hard to quantify, the garlic festival elevated garlic's image as well.
"I think the garlic festival helped to raise awareness about garlic," says Petrick. "What we like changes over time. Our cultural tastes have changed. We don't have the baggage of what garlic meant," i.e., being lower class and ethnic."
That change is well described by Los Angeles Magazine food critic Patric Kuh in The Last Days of Haute Cuisine, a book that chronicles the rise and fall of stuffy, velvet-draped French restaurants in favor of those that serve the simple and rustic cuisines of Italy and Provence, France, two regions that happen to go heavy on the garlic.
James Beard championed American regional food and hearty, down-home cooking during the transitional period Kuh describes. His recipe for chicken with 40 cloves of garlic was audacious at the time and credited with helping make garlic safe for middle America.
"Were 40 cloves of garlic necessary?" Kuh writes. "Probably not, but it was more than a recipe, it was a challenge, a confrontation with pretensions and, as the burp, the fart and garlic breath were the actual genteel objections to garlic, a vote for pleasure over status. In the land of garlic powder [the processed, industrialized, tame version of garlic most Americans were used to], it was a testament to authenticity."
I think garlic has played a key role in defining what constitutes American cuisine. America is a populist nation at heart that has never been fond of elitism. Many Americans voted for President George W. Bush over that egghead Al Gore because they somehow believed Bush was a "regular guy" they could imagine having a beer with (even though his blood is as blue as it comes, and he doesn't drink anymore). Similarly, Barack Obama has been faulted for his lack of bowling skills and air of intellectual superiority.
Garlic is beloved in America because of its lack of pretension. If garlic were a guy at a picnic, he'd be the one talking loudly and grabbing a cold Budweiser from the ice chest. Garlic helped uptight, WASPy Americans loosen up and live a little.
"Garlic makes people laugh and have fun," says Don Christopher. "I don't know where it comes from, but it makes people feel good."
The China Syndrome
While Gilroy's Garlic Festival continues to thrive, the same can't be said of Gilroy's garlic industry. Because of housing development's encroachment on farmland and a garlic disease called white rot, most of Gilroy's garlic production moved to the Central Valley, but now water shortages are moving some production back to the city.
But those problems are nothing compared to the threat posed by China. Over the past dozen years, China has emerged as the world's biggest garlic producer.
Gilroy can still claim to be the "garlic capital of the world" because of all the garlic it processes and ships, but China, which happens to be near where garlic is believed to have originated, is the largest garlic grower by far.
China now supplies 75 percent of the world's supply of garlic, and garlic is the United States' biggest fresh vegetable import from that country. Last year, Chinese growers shipped more than 138 million pounds of garlic worth more than $70 million. And Chinese garlic is a lot cheaper than California-grown garlic.
Bill Christopher, Don Christopher's son, is now president of Christopher Ranch, and he is working to keep the family business alive in the face of Chinese competition. A 30-pound box of garlic costs him $20 to $25 to produce. That same box costs Chinese growers $6, he says.
Currently, Christopher Ranch farms about 300 acres locally. Ten years ago, Christopher Ranch produced about 90 million pounds of garlic on ag land around the state. That figure is now down to about 60 million per year. Total land in production at Christopher Ranch farms has dropped to 3,000 acres from a high of 5,000 acres. California's garlic crop as a whole peaked in 1999 with 41,000 acres. It's been in decline ever since. In 2006, the last year records are available, total production had fallen to less than 25,000 acres.
To compete with China, Bill Christopher explains to customers that his garlic is produced with quality control that doesn't exist in that country. He says there are few restraints on the use of pesticides, fertilizers and other chemicals in China.
"You really don't know what they're doing over there," he says. "There's no record keeping."
He says California garlic tastes better, too. California garlic takes nine months to mature, the same as a baby, he likes to tell people. As a result, the garlic cloves have a lower water content and pack more flavor than Chinese garlic. So while Chinese garlic is cheaper, you have to use more of it to get the same flavor, he says.
China's cheap garlic led Christopher Ranch and other U.S. growers to complain that China's growers were hurting them by dumping garlic for less than the cost of production.
As a result, in 1994 growers succeeded in getting the United States to impose a 377 percent tariff on fresh garlic imports from China. The tariff slowed Chinese imports for a few years, but Bill Christopher says Chinese growers found loopholes in the anti-dumping legislation and use sleight of hand to get their garlic into the United States.
"It's a good law, but it needs to be enforced," he says.
Some of Christopher Ranch's customers just want the cheapest garlic they can get. Garlic with the company's label is California grown, but to satisfy those customers who want cut-rate garlic, the company imports and sells them Chinese garlic, a product that does not carry the Christopher Ranch name.
To distinguish U.S. garlic from Chinese or other imports, look for the root plate, the bristle-tipped end on a head of garlic. The USDA requires that Chinese growers remove the root plate to guard against any soil-borne pests lurking within.
Bill Christopher jokes that in the days before China entered the market his father had it easy. But he says he enjoys the challenge.
"I think I would have been bored if I didn't have anything to deal with."
Stett's best garlic recipe
Babaghanouj
Ingredients:
1 large eggplant
2 cloves garlic
1/4 cup tahini
Juice of half a lemon
1/2 teaspoon cumin
Pinch of black pepper
1/2 teaspoon salt
1/4 cup extra virgin olive oil
1 tablesoon Italian parlsey
Preparation:
Preheat oven to 350 degrees. Split eggplant in half, rub with olive oil and place sliced side down on baking sheet. Bake for approximately 40 mintues or until eggplant is soft and charred in places. Let eggplant cool, then scoop out the flesh, discarding the skin. Mash garlic with a pinch of salt in a mortar and pestle and add it to the eggplant along with the tahini, lemon juice, cumin, pepper, salt and olive oil. Blend in a food processor until creamy and smooth. Adjust seasonings and sprinkle with parsley.
Send a letter to the editor about this story.