July 19-25, 2006
home | metro silicon valley index | features | silicon valley | sports preview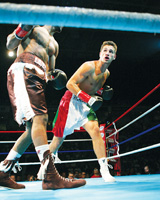 Is There a Doctor in the House?: Ricardo Cortes takes on Damon Franklin, winning in the second round by TKO. Damon's doctor stopped the match.
El Guerrero Returns
FIGHT Night at the Tank takes off once again, with Ricardo "El Guerrero" Cortes headlining the main event in the Super Middleweight bout on Thursday, July 20, at the HP Pavilion. In his last appearance at the Arena, El Guerrero ended the fight in the second round, taking down his opponent Keith Clevenger by KO. This San Jose native with a current record of 18-1-1 and 13 KOs will be taking on Paulino Avitia in his third fight at the Pavilion. Also on the bill: 5-foot-5-inch, 145-pound Eliza Olson from Fresno will be reminding everyone that women don't just announce the rounds. For Eliza boxing is in the blood—her grandfather was Carl "Bobo" Olson, who retired with a record of 99-16-2, 49 of those wins by KO. Carl, a middleweight champ in his class, was inducted to the International Boxing Hall of Fame in June of 2000. Eliza will be making her father and grandfather proud in her first appearance at the Tank. Other fighters on the bill include Arturo Quintero (14-4 and 9 KOs), who took on and won by six-round majority Pedro Mora in April '05, and Teke Oruh (10-0-1 with 5 KOs), who represented Nigeria in the 1999 World Championships. Fighting starts at 7:30pm at the HP Pavilion in San Jose. For more information visit: preview.fightnightatthetank.com.
Send a letter to the editor about this story.