07.23.08
home | metro silicon valley index | news | silicon valley | news article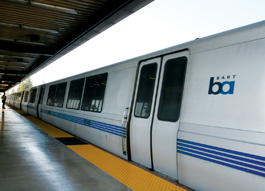 Photograph by Felipe Buitrago
Train a-Comin'? VTA officials say the proposed BART tax will allow them to pay for the project in Silicon Valley, but not all of the numbers add up.
BART or Bust
Fuzzy math and fear of public opinion are making the BART tax seem like a faith-based initiative
By Erin Sherbert
IN a recent San Jose Mercury News article, Santa Clara Valley Transportation Authority officials said that a BART tax would get them "close enough" to the dollar amount they need to run BART trains through Silicon Valley. But what that proposed one-eighth-cent sales tax would really get them is an estimated $42 million annually, which is still $8 million short of what it's expected to cost to operate BART—$50 million.
So maybe if voters accept that tax, it will get the region closer to having the long-awaited BART trains from Fremont south to Santa Clara. But where would the VTA get the remaining funds to pay for the trains? Even the general manager for VTA says the cost to run BART through the South Bay is a moving target.
"That could go up, that could go down," said Michael Burns, general manager of VTA.
But Burns isn't too worried about coming up with the money to cover the remainder of the cost. He believes he's already got it worked out: The agency will begin collecting the tax several years before the trains are actually in service, which technically gives them a surplus to get them started. There's also talk about deferring other transportation projects and shuffling dollars around to make it work, transit officials say. On top of that, they are banking on a good economy down the road and strong VTA ridership to help make up that difference.
"As I sit here today I'm very comfortable with the statement that we would be able to cover the operating cost," Burns says. Let's hope.
Otherwise, will the VTA go back to voters again asking for money to help pay for BART, which was supposed to start construction in 2006 and again in 2009. Now, the official line is construction will start in 2010, but even that feels optimistic, Burns says.
It's hard to find any policymaker against bringing BART to San Jose and south to Santa Clara. The 16-mile line would be a huge relief for commuters who are forced into traffic jams along the Bay Area's southern routes. BART is projected to carry more than 100,000 passengers daily from Fremont to Santa Clara by 2030.
But some local lawmakers have their concerns about how this project will be delivered. Next week, the state's joint legislative audit committee is expected to release an independent audit of the VTA. Part of that audit will include reviewing the financing and governance of the agency and its delivery of projects, including BART.
After lawmakers called for the audit, Assemblyman Jim Beall (D–San Jose) told Metro: "The agency doesn't have a good track record when it comes to estimating project costs. I'm worried about promises we can't keep. Is BART going to be full of surprises, including additional costs unexpected? I'm concerned about that."
Exhibit A
In 2000, voters passed Measure A, a $1 billion sales tax measure to pay for transportation projects, with BART at the top of the list. But the economy fell out and sales taxes weren't keeping pace with transportation needs.
"I think it became very obvious that we weren't going to be able to [cover the BART operating cost] with the 2000 measure," Burns says.
This is exactly why the Santa Clara VTA Riders Union is opposing the one-eighth-cent tax proposal. Riders say the cost of the project keeps increasing, making the group more skeptical about whether VTA's math is right, says Eugene Bradley, founder of the Riders Union, which now has more than 100 members.
"To put it mildly, it is scandalous," Bradley says. "VTA has said it is over $6 billion—the cost of this has increased 60 percent and we have not had the groundbreaking."
But Burns says that Measure A was never meant to fully cover BART operations. So on 2006, Santa Clara County went back to voters asking them to pass a sales tax measure to help pay for a long list of transportation projects, among them BART. Voters said no.
There's no doubt this proposed one-eighth-cent tax measure is the missing link to make BART run through Silicon Valley. The federal government has said it would not even consider putting a dollar toward building the $6 billion BART line until the VTA could show it had the money to run the trains.
There seemed to be no other choice but to ask voters again to help pay for the project. But this time, BART proponents say they are doing it right. They have put together a proposal that they believe is sure to pass. Instead of asking for a tax to fund general transportation projects, this tax money would exclusively pay for BART. Also, VTA would only collect the tax money after the federal and state governments put their money up for the BART project. The state has already pledged more than $500 million.
No Sure Thing
But that still doesn't guarantee us a BART project. Even if voters pass the BART tax, it only means that the VTA can apply for the federal funds. The VTA needs roughly $750 million from the federal government. The remaining funds will come from the state and Measure A.
The competition for mass-transit projects across the country is stiff, especially as transportation agencies look to provide more public transportation as a commuting alternative.
"It's very competitive," Burns says. "I think if we are successful with finding a way of covering the operating cost, that has been the most significant obstacle, I think our chances increase substantially."
But the VTA hasn't conducted any polls or surveys to gauge whether voters would support a BART tax. (Burns says a poll like that would publicly expose the VTA's weaknesses.)
So the agency is relying on private groups like the Silicon Valley Leadership Group to take the public's temperature. Carl Guardino, CEO of the SVLG, says besides the fact that his board has enthusiastically thrown its support behind the proposed tax, he's also open to helping put together a broad-based coalition for the BART tax campaign.
He's already polled as many as 900 likely voters—twice, once in January and again in June. Although he won't share the results of the polls (he also doesn't want to reveal weaknesses), Guardino said the group wouldn't be as enthusiastic about moving forward on a tax measure if there wasn't strong support to back it.
The VTA is expected to sign off on this proposal at its Aug.7 meeting, the day before the deadline to get it to qualify for the November ballot. Guardino knows that this November is a busy ballot, with other massive transportation bonds going before voters, including the nearly $10 billion bond for high speed rail.
But as far as he is concerned, now is the best time to go after voters with transportation taxes, particularly ones that will pay for projects giving drivers more transit options.
"We are sitting in a time where gas prices are on the way to $5 and people want an alternative to the automobile," Guardino said. "That's the reason why we are doing this."
Send a letter to the editor about this story.