July 25-31, 2007
home | metro silicon valley index | features | silicon valley | feature story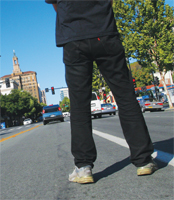 The Streets Where I'm From
Beyond the flash of the Grand Prix with a Silicon Alleys walking tour of one man's alternative guide to San Jose
By Gary Singh
Photos by Felipe Buitrago
You can't wait for inspiration. You have to go after it with a club.
—Jack London
San Jose and all of Silicon Valley are vast, sprawling places, and many people never get a chance to explore the majority of it. People spend years in one particular neighborhood and barely ever leave it. Since I didn't want to wind up that way, I decided last year to seek out what's in-between the cracks of it all.
Right or wrong, a lot of people consider San Jose to be nothing but a suburban wasteland, but underneath, there are gems. They may be gems that are tarnished and cracked, but they are there. There's a story in every single rock and pebble of this place. No human being could possibly find the time to discover it all.
Whenever I travel anywhere on foot—and all of these treks are made on foot—I'm more interested in the off-the-beaten-path stuff. And in San Jose, there is much of it. In fact, whole chunks of the city can pretty much be called "off the beaten path."
Since I probably have oppositional defiant disorder anyway, I developed a keen disregard for any locale that people would normally want to go see. I wanted the real stuff beyond the pale.
For example, we don't have the Golden Gate Bridge, but we do have the abandoned Westinghouse plant on Julian. It is a masterpiece of urban decay. If people are in town for the Grand Prix, they need to go beyond the race while they're here, and if you're local, you definitely need to see this stuff. I'm not going to direct you to the art museum or the best Asian fusion restaurant. That's someone else's job. I'll give you the mean stuff—the circus variety show from the sewer.
That's how I grew into this wacko zonked-out explorer of urban blight recently. Maybe it was just boredom, I don't know. I just gradually developed a growing interest in peeling off the surface of random things that nobody usually notices. A dive bar that's been around for decades. The rundown motels from times past. A sheet metal factory. The railroad tracks. It's all here as your alternative guide to San Jose. So go walk around and explore. It's our town. Know the way to it.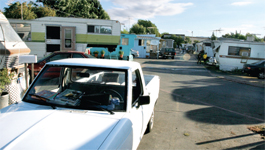 Click here to see a full-size version of the above image.
24th Street & McLaughlin
The stretch of McLaughlin Avenue that becomes 24th Street going north from 280 to Santa Clara Street should be in every brochure of the San Jose Convention and Visitors Bureau, as there exists a hodgepodge variety of morsels to feed on. Begin your voyage at 527 McLaughlin: a place called San Jose Trailer Park, which dates back to 1937. Run-down mobile homes dot the landscape, trash overflows out of the dumpsters and beat-up '80s minivans abound. Since placards inside warn that the locale is monitored by electronic surveillance, you might not want to engage in any questionable shenanigans.
After more car repair shops, Punjabi liquor stores, a dive car wash and a few taquerias, you find Clean Carts Sales and Service, an industrial yard filled with nothing but hundreds of shopping carts, all painstakingly organized in tidy rows—a beautiful sight. Continuing north toward Santa Clara Street takes you through a more residential neighborhood where neatly restored Victorian homes are juxtaposed with dive apartments. And then, like a diamond in the rough, as you approach Santa Clara, you find brand spanking-new cookie cutter condos right across the street from an old shack that houses an ice cream vendor operation—you know, those Hispanic guys who push the carts around with bells ringing. All in all, 24th Street is a wonderful local getaway.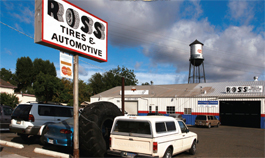 Auzerais
A strip of road that adequately represents a microcosm of all things San Jose is the entire length of Auzerais Avenue, from the Children's Discovery Museum straight over to Meridian. This is one of the oldest neighborhoods in the city and a crazed stretch of road on which to gawk at run-down stuff right alongside newfangled monuments of urban growth. The first few blocks of Auzerais are highlighted by a few run-down trailers, a panel wagon from the '40s, a slew of dilapidated houses, the San Jose Fire Station No. 30 and a handful of auto repair shops. Continuing, you can stop and gawk at a beautiful local market from the old days. The sign above the place says this: Mi Rancho Grocery Beer Wine Vegetables. Someone should do a photography exhibit of dive corner markets in San Jose before they're all gone. Across the street, feast your eyes upon Janco Welding Supplies, housed in a building that is God knows how old. And at 525 Auzerais, there's an unidentifiable building with three blue awnings and a "closed" sign on the door. A glaring red sign on the black iron gate says: Herman's New Location.
Eventually you'll get to Hitchcock's Construction Lawn and Garden Equipment and the bags of mulch that occupy a section of Orchard Supply Hardware across the street. The water tower from the old Del Monte Cannery stands above it all, beaming down like an ancient relic from the past that just refuses to die. Then AJ's, the dancing girlie place, and Rossetta's Rain Gutters and Sheet Metal before you dead-end into a minicity of homogeneous condos. Finally, you can escape through the other side and wind up on Meridian at Paramount Imports, a head shop that turns 40 years old this year. The sign on front of the building in the back says "Lost Horizon," a phrase that sums up this entire guide.
Almaden Expressway & Foxworthy
Lincoln Glen Center is a masterpiece combo of oddball stuff—the quintessential wasteland strip mall that looks like it's been thrown away like yesterday's newspaper. The Sherwood Inn sits right there and it's not an inn, it's a restaurant. But the best thing is the large green-and-white cow that sits on top of the restaurant, overlooking the expressway. The cow has been there for decades and it wasn't always green. It used to be black. Nevertheless, the cow is a San Jose landmark.
In that same shopping center, one finds a few other peculiarities worth mentioning. Just the sign for the center itself looks like it's a thousand years old. On one side of the mall, you find the Gun Exchange right next to a State Farm insurance shop. Then you have Uncle B's Pizza, Carburetor Pros and a place called Dance Studio B. There's no Dance Studio A, just B.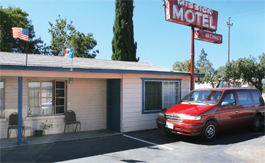 Monterey Highway
Parts of Monterey Highway, from downtown San Jose going all the way south to Blossom Hill, look like neighborhoods that have been discarded from society all together. There are run-down hotels, trailer parks and mobile homes that time has simply forgot. Back in the 1920s, long before highway 101 was around, the rise of the automobile eventually led to the paving of El Camino Real from Daly City all the way down to San Jose and the Monterey Highway end of it. Technically, it was called state Route 82 for decades. This led to the massive growth of roadside motels, some of which still exist today in however dilapidated forms.
For example, on Monterey just south of Senter Road, you find a place called Mission Hotel. The sign looks like it hasn't been maintained since the '50s. We won't philosophize on the clientele who would stay in a place such as this, but hey, as the sign says, they have fans in the rooms. The Days Inn right next door says it has wireless in the rooms. Man, what a juxtaposition. Other roadside motels on the strip include the 3A, the Casa Linda and the Whitehouse Inn, at which the buildings are not white, but pink.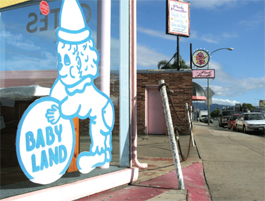 San Carlos Street
Many folks older than me have declared that the stretch of San Carlos Street between downtown San Jose and Valley Fair should be transformed into a grand promenade, not unlike Melrose or Santa Monica Boulevard in that City of Angels down south. After all, there exist long stretches of road in L.A., especially in the more nauseating parts like Carson or Torrance, that completely resemble San Carlos Street, but with just more strip clubs and adult bookstores.
At the intersection of San Carlos and Bascom, one of Silicon Valley's most beautiful junctions, you've got the Pink Poodle strip club and Alex's 49er Inn, one of San Jose's legendary cocktail lounges. You've also got Saver's thrift store and—bada bing—Babyland. And don't forget Time Deli with that renowned clock that everyone's driven by for the last two decades. Alex's also now has prime rib dinners on Tuesdays for $10. That's a smokin' deal. On a recent visit, I sauntered behind the place since dive bars are always more fun to enter through the back. Two ice machine repairmen were working on something outside, and over behind the vacant building next door, someone had dumped a broken refrigerator and an old mattress.
San Carlos is also filled with several oddball antique shops and they're even calling it "antique row" these days. And don't forget the Red Stag, another legendary dive bar, which you can also enter through the back.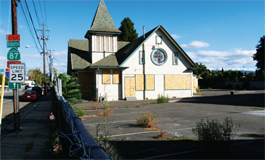 Park Avenue
Grand Prix fans hanging around downtown for the weekend don't need to stray too far to get a glimpse of quintessential San Jose neighborhoods, where brand-new condos are spouting up right alongside run-down slums and wasteland locales. At track corner number two, the intersection of Park Avenue and Almaden Boulevard, one can meander east along Park starting at the Adobe Building. After you pass underneath the freeway, you come to some lovely boarded-up old Victorians right across the street from shiny new condominiums. On that same stretch of Park, you find run-down old shacks, vacant lots and all sorts of great stuff. One of the good-looking buildings houses Sign-A-Rama, where the world goes to get its signs.
On the next block, ones finds the Eritrean Community Center. How many of you know where Eritrea is on a map? Think about that for a few seconds. The best building at that section of Park is the abandoned Police Activities Building, that pink monstrosity on the next corner.
Continuing down Park, you reach Radiator Doctor and the Montgomery Street and the firefighters' training facility across Montgomery on the other side. But it doesn't stop there. If you keep going, you'll eventually pass by LeatherMasters, a San Jose institution, and then on to the Rosicrucian Museum, another institution. Yeah!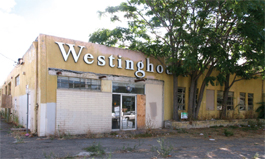 Stockton Avenue
Stockton Avenue provides one with a pleasant way to experience everything that is the great American industrial wasteland. Begin your journey where Stockton dead-ends at Emory Street, right behind Bellarmine High School and right at the College Park Caltrain Station, which was mentioned in one of Jack London's novels. It can be a beautifully desolate intersection at times. Graffiti-stained blockades warn you that as of July 2005, Stockton Avenue is permanently closed at this point. The railroad tracks disappear over the horizon and underneath the freeway. Litter from homeless adventurers completely covers the landscape. Glaring signs warned me not the cross the tracks due to high-speed trains.
And don't' miss Central Concrete Supply Company, a great place to look at a dozen cherry-red dump trucks getting their fill. The modern dump truck is a masterpiece of 20th-century automotive design, they say.
Eventually, you'll pass by the Salvation Army, San Jose Boiler Works and a few dilapidated run-down buildings that used to be gay bars. Finally, at the corner of Julian and Stockton, you will feast your eyes upon the most gorgeous eyesore of the entire neighborhood: the archaic dilapidated Westinghouse plant, a San Jose landmark if ever there was one. It is one of the most elegant examples of unoccupied falling-to-pieces urban decay anywhere in San Jose. I can't recommend it enough.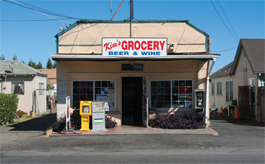 San Jose Avenue
No alternative guide to San Jose could possibly be complete without the industrial wastelands bounded by Alma Avenue to the north, Curtner to the South, Almaden Expressway to the west and Monterey Highway to the east. San Jose Avenue, right in the middle of it all is true industrial heaven. What greets you at that corner of San Jose and Almaden is Esmerelda's Tires and Wheels, and then a residential house with a sign that says Bruno's Tiling. After that, you're graced with an RV repair joint, various auto repair shops and a fenced-off yard filled with gas tanks. At 201 San Jose Ave., you'll find Bay Rag, a recycled clothing warehouse. The front door boasts a sticker that says "office" and two placards, one that says Bay Rag and the other the numerical address.
After that, you'll eventually make it to Duke & Racacho Cabinetry, a glorious warehouse that would make any carpenter proud. You can just smell the sawdust. Parallel to San Jose Avenue is Barnard Avenue, where the industrial wilderness continues. At the outset, a long stretch of light blue cookie-cutter warehouses sits across the street from a huge recycling plant. Then, smack in the middle of it all, you'll find Cottage Trailer Grove, a quintessential trailer park. Just outside is a green picket fence with a sign that says "Please don't feed the cat here thank you." Man, what an awesome street.
Other meanderings in that neighborhood will provide more discoveries: Loayza's Pools, Spas and Landscaping is yet another place to stare at pallets of every brick imaginable. At Horizon Irrigation, right near there, you can gawk at every length and size of PVC piping imaginable. When you go south, finish your journey at Oak Hill Cemetery, a perfect conclusion.
Send a letter to the editor about this story.