07.30.08
home | metro silicon valley index | news | silicon valley | news article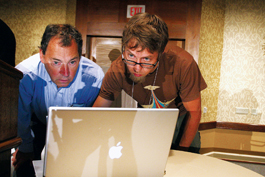 Photograph by Felipe Buitrago
HOLE TRUTH: Larry Lemke (left), with the help of Yarrow Mahko, prepares for his talk on the mysterious'hole in the cloud over O'Hare Airport in Chicago' at the Double Tree Hotel in San Jose.
Truth or Scare?
UFO researchers confront rash of new evidence regarding 'observed technology'
By Skylaire Alfvegren
UFOS have been popping up en masse over Texas and Brazil recently, grounding planes in Chicago, menacing Indiana Jones and the Energizer Bunny, and planting themselves firmly in the minds of the American public.
The spaceships arrived in San Jose this past weekend, as the floating annual symposium of the Mutual UFO Network (MUFON) was held this year at the Doubletree Inn. Co-organized by local businessman Les Valez (founder of the Organization for Paranormal Understanding and Support) MUFON '08 attracted nearly 600 registrants with presentations like "Britain's X-Files," "Resolving Current Reporting Bias of Pilots" and "Chilean Army Investigates UFOs."
Alejandro Rojas, MUFON's press agent, quoted from the ad campaign for the new X-Files movie, responding to the common perception that UFO researchers have hyperactive imaginations.
"We don't want to believe," he said. "The evidence led us to believe."
While several attendees debated the purpose of alien visitations, there was no real consensus among the collection of researchers, field investigators, interested skeptics and "experiencers." It's agreed, at the very least, that so-called "UAPs" (Unidentified Aerial Phenomena, the new, politically correct replacement for the much-maligned "UFOs"), are "an observed technology beyond our own."
Ted Roe, co-founder and executive director of NARCAP (the National Aviation Reporting Center on Anomalous Phenomena), said the Air Force coined the term "UFO" to be objective. "But just the opposite has come to be the case," he said.
Nick Pope, who investigated UFO sightings for the British Ministry of Defence, summed up the belief of many of the attendees: "It's always been my contention that this is a defense and aviation safety issue ... and the government is the only group which can do a proper investigation."
The hottest selling item at the MUFON shop, a sky blue T-shirt emblazoned with the phrase "Doing the Air Force's job since 1969," sums up the UFOlogists' sense of above-board governmental interest in the topic. But recent sightings in Texas, a number of television shows, the 2006 sighting over Chicago's O'Hare airport and astronaut Edgar Mitchell's recent statements, have all contributed to a renewed interest among the general public.
"Ultimately, this subject is events-led," Pope said, explaining that the U.K. is in the middle of the biggest wave of sightings in decades. "When they're filmed over military bases and reported by police, it's little wonder that our biggest daily newspaper has made this a front page story." To much applause, he continued: "Can you imagine that happening in the States?"
Although Texas state director Ken Cherry put MUFON on the "international map" by getting the word out about January sightings in Stephenville, Texas, the federal government has yet to release any kind of official statement—on anything UFO-related. (Cherry's report helped increase sightings reported to MUFON from 200 to 800 a month.)
While half of the attendees were local, others traveled from as far afield as Tennessee, Canada and Mexico. The international panel of speakers included a retired Belgian major general, an army pilot from Chile, an attorney from Peru and researchers from Mexico and Turkey.
Larry Lemke, a San Jose–based aerospace engineer who develops space mission projects for NASA, said he applied "the process of scientific and engineering analysis to UFO reports to uncover their cryptic aspects."
I also learned that the hot spot replacing Area 51 is on the border of Colorado and Utah, and that some "experiencers" can draw down UFOs almost at will. One conference attendee claimed that military-grade night-vision infrared glasses can make the skies "look busier than the 101 freeway."
The majority of speakers went out of their way to avoid such terms as "alien" and "extra-terrestrial." From the podium, Ted Roe practically admitted that MUFON attendees telling tales of alien abduction are deluded.
"Most of the UFO community doesn't know that there's not one proven incursion by nonhuman intelligence," Roe said.
That being said, many of the attendees claimed to have been affected or even traumatized by what they've either sighted or encountered. One Pennsylvania "experiencer" said he has been contacted and abducted by a number of different alien races.
"They're here because radiation puts holes in space time," he said, also informing me that pyramid-shaped UFOs are "evil" while pointing to his chest, the location of an alien implant.
The MUFON conference is one of the few places where he feels at home.
Researcher Leslie Kean, who organized a press conference aimed at governmental UFO disclosure, called for an honest discussion about unexplained phenomena.
"We deserve more openness and a serious pursuit of the facts," Kean said.
A number of countries—including France, Britain, Mexico, Brazil, Chile and Ecuador—have already made their UFO files available to the public. "The U.S. is holding everybody else back," she said.
"Our government doesn't mind scaring us," one attendee commented. "They do it all the time. I'd prefer some kind of recognition of this phenomenon, which is just as relevant as a terrorist alert, and less frightening."
Hopkins said during the closing panel that from his research with abductees, "We don't have much that's pleasant or benign." With that in mind, co-organizer Valez urges locals who feel they've had an experience to get in touch with OPUS. Intersecting with MUFON, the group helps "people who have had paranormal experiences."
"Paranormal," for OPUS, has mostly meant out-of-this-world. "There's no question that something is happening," said Valez, who helped get the MUFON conference held here for the first time since the 1960s. "Perhaps it's extraterrestrial in nature. Or time-travelers, or interdimensional beings."
Another notion is that there's element of UFO action that's military, and definitely terrestrial.
"It could be all of these planes that we're dealing with," Valez said. "The point is, we still don't have the tools or the terminology."
Send a letter to the editor about this story.