August 2-8, 2006
home | metro silicon valley index | news | silicon valley | news article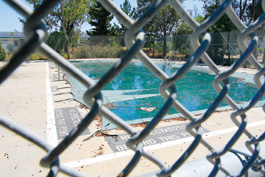 Photograph by Felipe Buitrago
How Dry I Am: No one's getting relief from the heat at the Alviso Pool on North First Street this summer.
Splashless in San Jose
Could there be any worse time for a pool shortage?
By Dan Pulcrano
HERE'S AN inconvenient factoid to consider when tooling around in a global warming-inducing Escalade while the mercury is cracking the 100 degree mark: San Jose has fewer public pools per capita than any of America's 20 largest cities. Yes, ours is the stingiest big city in America when it comes to providing aquatic recreation to its hard-working citizens.
While San Jose has found the money to build a showcase City Hall and fund a world-class auto race, it can't keep two-thirds of its public swimming pools operating, even though it has a ridiculously small number to begin with. According to the website of the city's Parks, Recreation and Neighborhood Services Department, the city only has two operating: the Camden Pool and the Fair Swim Center. The Mayfair, Ryland, Alviso and Biebrach swimming facilities are all closed.
Silicon Valley industry analysts gnashing their teeth about the loss of jobs and knowledge workers to Austin, Texas, for quality-of-life reasons need only surf a handful of websites and plug the data into a spreadsheet to come up with a simple conclusion: it's the pools. The city of Austin has 48 public swimming facilities, including 27 neighborhood pools, 12 wading pools, two water playscapes, six municipal pools, a sandy, mile-long lake waterfront and a three-acre natural pool fed by an underground spring. Maybe next time Santa Clara County voters will pass a Measure A-type half-cent sales tax increase if it includes a few dozen neighborhood swim centers, some water slides and a beach at Alviso instead of yucky stuff like freeways, subway terminals and mental health treatment facilities. It would be healthy for the city's political culture as well. The next time Ron Gonzales lies about a garbage deal, we needn't waste taxpayer money on a trial ... we'll just throw his fat ass in the nearest pool.
Even San Francisco, where it's too cold most of the time for any sane person to consider swimming, chlorinates eight pools, and one is being renovated. Los Angeles' Aquatics Division, which serves four times the population of San Jose, posts lifeguards as handsome as Frankie Avalon at 59 swimming pools, 10 lakes and a beach. Philadelphia, where it snows a lot, has 93 pools for a population that is just 50 percent larger than San Jose's. In Memphis, citizens complain about the quality of their pools in annual surveys undertaken by their local government, but at least they have a dozen pools to moisten about a third less people.
Only the failing industrial city of Detroit, which we just overtook in population, does almost as poor a job serving its citizens' hot season recreational needs. Detroit, too, has only two functioning pools, though their pool-to-people ratio is improving thanks to their declining population. And Detroit's public outreach makes our city information office look like it's run by Regis McKenna. Check out this press release, and we quote: "OPENING FIRE HYDRANTS: NOT A GOOD WAY TO BEAT SUMMER HEAT. Detroit Fire Department officials want to remind city residents not to turn on fire hydrants as a way to cool off. 'We understand the weather for some lately has been unbearable, but opening fire hydrants is not a good way to cool off,' said Detroit Fire Commissioner Tyrone Scott."
Still, when it comes our pool-o-meter, Detroit squeaks by San Jose by a hundredth of a point. Both San Jose and Motor City have approximately one pool per 500,000 residents, while there are 30 pools for each half-million Philadelphians or Austonians. And bragging about being the 10th-largest city in America is a rather hollow boast when poor kids can't swim during heat waves while the City Council just got new offices.
We Need a Refill
The city's Parks and Recreation Department certainly knows it has a problem, but years of budget cuts have literally drained their ability to cope with it. However, Jeremy Shoffner, the city's new recreation supervisor, has hope that San Jose's aquatics program will be coming up for air in the near future. Though he's just been put in charge of managing the pools, he's been in the department for over a decade and has seen a lot go on in that time, with results that clearly have made his job a challenge.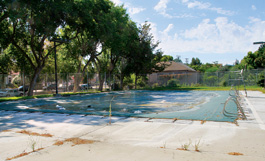 Pool Position: Bierbach is one of four closed San Jose pools whose fate will be decided by a report later this year.
"We went through some changes in the last 12 years," he says. "The city has gone through budget reductions. But I think we're really starting to turn that around."
Residents have voiced their dissatisfaction with the state of the pools, he admits. But the big question is how to please all of the pool people all of the time. To that end, the department is bringing in an outside firm to develop a master plan for the city's aquatics programs. The downside is the department won't even have recommendations to present to the City Council until December at the earliest, meaning most of the city's pools will remain offline for the rest of the summer.
But Shoffner believes it's worth the wait—he sees this as a long-term plan that will return San Jose's swimming scene to a worthy place among America's top cities.
"It's going to be a big process that everyone's involved in," he says. "We want diversity, we want the most input we can get, so we can be sure that whatever decisions we make are based on the actual needs of the community."
Treacherous waters, to be sure, but Shoffner is serious—and ambitious—about treading them: "Every single person, we want to make sure we can provide them provide them with a service."
Pools per 100,000 Residents
Austin 7.0
Philadelphia 6.4
Jacksonville 4.2
Baltimore 3.5
Indianapolis 2.8
Phoenix 2.0
Houston 1.9
Dallas 1.8
Memphis 1.8
San Antonio 1.8
Los Angeles 1.5
Columbus 1.5
Chicago 1.2
Fort Worth 1.1
San Francisco 1.1
San Diego 1.0
Charlotte .65
New York .61
Detroit .23
San Jose .22
Source: Municipal websites
Send a letter to the editor about this story.