08.06.08
home | metro silicon valley index | news | silicon valley | news article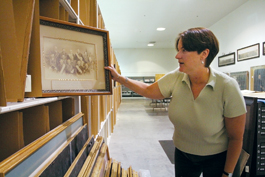 Photograph by Felipe Buitrago
HISTORY IS CATALOGED BY THE WINNERS: Alida Brady, president and CEO of History San Jose, shows some of the historical artwork waiting to be filed. A grand jury report has criticized the city's relationship with the nonprofit.
History Lesson
Grand jury schools the city on its mishandling of money for History San Jose, but that may not be its only nonprofit problem
By Erin Sherbert
IT'S NO secret that the nonprofit that contracts with the city of San Jose to run its historic preservation efforts has been hit with chronic money problems over the years. A recent report by the Santa Clara County Civil grand jury sharply criticized the city for consistently bailing the group out of the red instead of holding its managers accountable.
The grand jury released its report on History San Jose in June, just weeks before the City Council approved another $875,000 for the group. At that time, the nonprofit claimed it needed more money and fast or else it would fold.
It wasn't the first time the city had advanced History San Jose a substantial amount of money to keep the nonprofit's doors open.  In December, the council voted to give the group an extra $300,000 when it became clear it was not raising enough money through private donations. More than 200 people attended the December meeting to support History San Jose's pleas for more cash.
City officials are finishing up their response to the grand jury report, which they plan to make public this month. They weren't ready to divulge thoughts or a possible action plan to address the issue at this point. Yet city officials acknowledged that the grand jury's conclusions weren't too far from the truth.
Among other things, the report notes that History San Jose has not demonstrated it can manage a balanced budget, and that the city has failed to consider previous warnings that the nonprofit had financial problem from the start. The grand jury pointed out that the History San Jose's 14 board members have not been meeting their own fundraising goals. They are supposed to give $1,000 each and raise $3,000 each year.
"It put us on the hook," San Jose's general services manager Peter Jensen says of the grand jury report, adding, "I don't think you will find that we will disagree with it that much."
Loose Accounting
The City Council has been more willing to throw money at History San Jose when asked—rather than end its relationship with the nonprofit and run the city's extensive historical properties and collection itself.
A decade ago, the City Council had decided to create History San Jose to promote and preserve local history. The nonprofit manages and cares for the city's historical museums, as well as its massive collection of historical artifacts. Under the original contract, which is set to expire in 2017, the city agreed to give History San Jose a subsidy annually, which was supposed to decline every year with the expectation that the group would pull in private donations. But even when the contract was signed, consultants warned that the organization, with no financial track record, could have trouble being self-sufficient, according to the grand jury.
Some councilmembers have expressed frustrations and concerns that the city is coddling nonprofits like History San Jose when they ask for help.
San Jose gives $48 million annually to nonprofits citywide, with History San Jose receiving among the largest subsidies.
"At a time when we are facing a deficit of $23 million and a $44 million deficit next year, I think it's a significant number that needs to be looked at," says San Jose City Councilman Pete Constant. "The question is: Are they performing an essential city service? If not, then we need to consider whether we should be in business of charitable [giving]."
Constant says he thinks it's time for the city to revamp its process for giving to nonprofits. He wants the city to create an incubation program where groups are given a certain amount of money to get started, similar to a small-business incubator.
"I honestly feel whenever we have nonprofits and we provide them with grants it should be a incubation process to get them on their feet and be self-sufficient," Constant said. "Fundraising has got to be a priority for all our nonprofits in the city and we need to make sure their board is actively fundraising. I don't know if they are."
Free Money
Constant reluctantly voted in favor of giving History San Jose additional money this year. While the group doesn't have a strong financial track record, History San Jose shouldn't have to maintain city assets and properties without some financial help from the city, Constant said.
He grew more skeptical this summer after the Keith Kelley Club, a nonprofit group that raises money for families of officers who are hurt or killed in the line of duty, came to him saying they were having some problems getting their event booked at History Park.
One of the biggest issues, Constant says, is that History San Jose kept changing the fee rates for the club's event. He was concerned that HSJ threw out arbitrary rates that were not equitable and transparent.
Constant was also curious about how much marketing and outreach the group was doing to draw more people and potential donors to the park. Constant said he asked the city manager to look into it.
History San Jose managers say it was a misunderstanding and that they fired the person who was handling that event. 
"The prices changed several times and they felt the price was too high given what they were doing vs. what other nonprofits had gotten," Constant said of the Keith Kelley Club. "I assumed there was a regular rate and you just look at the menu."
Last year, History San Jose earned about $400,000 mostly from events held at the park. With limited space, History San Jose manages to have more than 100 events at the park every year.
But it's true the prices for each event vary, said Alida Bray, CEO and president of History San Jose.
For instance if a company wants to rent out the park for an exclusive event, that will cost them $10,000. On the other hand, affiliates get to use the park for free once a year, and other groups can hold their events at no charge if they commit nonmonetary contributions, such as volunteering, Bray said.
"There's a real consideration given to what are we really getting out of it," Bray said of allowing some groups to hold events for free. "If we get something back equivalent to what we are giving, then we do it. We don't just let people come in and do whatever they want."
In the past, councilmembers have suggested the organization do more to expand its earned income, such as charge for parking or events. But Bray says that it's difficult to attract big-name donors to sponsor events if people have to pay.
The Future of History
The last thing Bray wants is to go back to the city begging for more money. But she and her board have a big job ahead of them.
This year the group needs to raise more than $1 million to dodge a deficit. They've already trimmed back positions and hours where they could and recently they pulled in more than $75,000 from their annual fundraiser, which is double what they brought in last year, Bray said.
"It's hard to fundraise and get people to invest in something they feel is the city's responsibility," Bray says. 
To show the city she is serious, Bray is also working on an aggressive business plan that's going to target the marketing of History San Jose. "I think we really need some help with that area," Bray admits. "We need that 'got milk' thing."
Aside from raising the visibility of the group, which is an educational resource for thousands of school kids every year, Bray has already added two more members to the History San Jose board, which expands her donor pool.
But that doesn't mean the group can go without the city's help. Electricity alone is skyrocketing and Bray is already running on a bare-bones budget. In many cases, she says, she's working as both the CEO and the janitor.
The grand jury reports that the city should look at a new negotiation with HSJ, one that will consider a new subsidy amount.
"I don't want to say we will come back begging for more money because we didn't do our job," Bray says. "As long we do our job, [the city's] job is to help support the park and their property."
Send a letter to the editor about this story.