08.06.08
home | metro silicon valley index | features | silicon valley | sports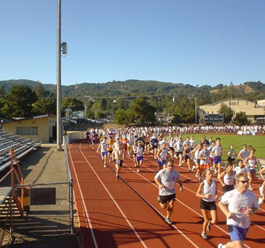 Courtesy of Los Gatos Dammit Run
AND NOW THE SWEARING STARTS: The run to the dam starts at Los Gatos High School track on Saturday, Aug. 9.
Swear Jarred
By Felipe Buitrago
WHEN I WAS in high school, saying "dammit," especially in P.E., was a sure fire way to end up writing, "I will never swear in class again," 100 times. But at Los Gatos High, signing up for  "the Dammit Run" gets you a round-trip ticket to a five-mile run from the school to Lexington Reservoir. The route takes participants through a very scenic area that for the past 34 years has consistently brought more and more athletes to participate. The starting line is located on the track at Los Gatos High School. After one solid lap around the track and around the tennis courts it's off to the Old Mill and onto the Los Gatos creek trail, and that's when the swearing starts. It's all uphill from there until you get to the reservoir dam. But the punishment isn't over until you get to the finish line back at the high school. There will be awards for the first five men and five women that cross the finish line, and all participants will receive a ribbon. If you don't make it, you may have to write 100 times, "I will try harder next year."
THE 35TH ANNUAL LOS GATOS DAMMIT RUN happens Saturday, Aug. 9, at Los Gatos High School, 20 High School Court, Los Gatos. Race-day registration begins at 6:30am; the race starts at 8:30am. Pre-registration entry fee is $15 ($30 with T-shirt), and $20 on race day ($40 with a T-shirt). Proceeds from the Dammit Run benefit the Los Gatos High School Track Repair Fund. For more information go to [ http://www.losgatosdammitrun.com/ ]www.losgatosdammitrun.com.
Send a letter to the editor about this story.