August 8-14, 2007
home | metro silicon valley index | features | silicon valley | column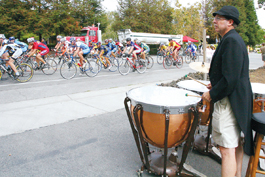 Up to our necks: Turtlenecks make a comeback this fall.
Invasion vs. Evasion
By Joseph Rosenfeld
WHAT FUN is a feature on fall fashion without examining its extremes and justifying the juxtapositions of the trends? When fashion focuses on world events with the intent to incite a reaction, it's not just attire, but an art form. One theme is inspired by invasions, bold incursions beyond our control. The other is encouraged by the desire for evasions, escapes from undesirable events. The threat of terrorism and the ravages of war remain on designers' minds, thus creating designs that are signs of the times. These notions of opposing poles propagate fall's fashion messages, but when synergized they energize the spirit of the season.
This season everything old is made new, not by mere reintroduction but by the confluence of contemporary conventions. Tailoring has been tweaked. The fit is no longer standard but snug. Sweaters are no longer limited to seniors just as trousers are no longer thought of as traditional. It's fashion: fresh and fun.
Invade
The British brigade has boldly become the dominant force in fashion this fall. Tailored silhouettes, including the debonair double-breast and fitted formal wear styles, are back and bolder than ever. Tied-up trenches, brass buttoned blazers and coats and buckled boots and britches marched down many a runway in militant revelry. British-inspired classics are made modern by slimmer lines and shorter lengths, while remaining rooted in regimented patterns like plaids. The presence of plaid has been on the rise in recent seasons, but never with more prevalence on ties, shirts, jackets, pants, suits, sweaters and accessories. The plaid power play certainly permeates the season.
The importance of sweaters is on an incline, although much of their inspiration is based on a sport that's all about the decline: skiing. Many styles, whether full or fitted, are luxe yet utilitarian, keeping the continuity of the up/down concept. Fresh shapes, patterns, colors and clever necklines and stitching will entice you to hit the slopes while wearing a stunning sweater. The cardigan continues the sweater invasion with styles for any personal comfort zone ranging from Mr. Rogers' Neighborhood to outer space. Cardigan vests, fitting close to the chest, are great for layering under jackets. Try one sans pockets but with sleeves for a modern approach, or a slim-fitting, zippered, space age one for the ultimate in escapism.
Evade
Covering up during the fall season is not a new concept, but how it's done this season renews interest in not just cardigans and ski sweaters but in the turtleneck. From fine gauge merinos perfect for stepping up your style under suits and jackets to beefy cable knits paired with patterned pants, covering up this season will uncover your keen sense of style.
The season's forecasted gray palette calls for an overcast, mellow mind-set. Gray can be protective, hiding us away from commitment, sheltering us from controversy. But it can also be rich and heathery, perfect for layering while keeping others at bay and providing shelter from the elements. Upon gray's seasonal backdrop, use passionate purples and plums, vigorous browns, verdant greens and beautiful burgundies to make powerful statements, especially when wearing plaid shirtings and ornate ties. Use metallic and iridescent fabrics to add space age sensibility to your autumnal attire.
Joseph Rosenfeld, AICI, CIP, the nation's only male certified image professional, polishes the appearances of professional men and businesses and is based in downtown San Jose. Contact him at: [email protected]
Send a letter to the editor about this story.