August 9-15, 2006
home | metro silicon valley index | features | silicon valley | sports news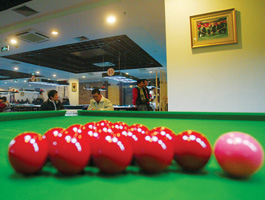 Balls Out: This is what it's going to look like on the tables at the Double Tree during the Snooker Team World Championship next week.
Get Snookered
By Felipe Buitrago
PAUL NEWMAN made a pit stop in San Jose earlier this month with his racing team, but I'm sure he would have stuck around a bit longer if he'd known the first major snooker competition this country has seen was being held at the Double Tree Hotel this Aug. 16-26.
Sure, Fast Eddie's game may not have included 22 balls on the table, and wasn't invented by British troops serving in India two centuries ago, but it is a well-respected billiards game played primarily in the Far East and in the Commonwealth countries. Since billiards is primarily a two-player game, variations were developed to form teams. And 16 international teams representing Sweden, England, Australia, South Africa, Japan, New Zealand and the Netherlands, to name a few, will be competing at the Snooker Team World Championships right here in San Jose. The game is played on a table similar to that of pool and the objective is to pot determined balls by striking them with the cue ball. The balls are differentiated by color and have no numbers or stripes. Each color designates the point value of the ball, and they are to be hit in a particular order. The match is divided into a predetermined odd number of frames and the player/team with the most points is declared the winner.
The Snooker Team World Championships will be held Aug. 16-26 at the Double Tree Hotel, San Jose. See the schedule at www.sanjosesnooker2006.us.
Send a letter to the editor about this story.