August 15-21, 2007
home | metro silicon valley index | features | silicon valley | feature story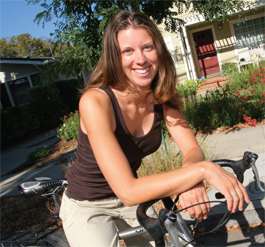 Photograph by Felipe Buitrago
The lion in winter: Corinne Winter, executive director of the Silicon Valley Bike Coalition, is leading the Silicon Valley effort toward a reduced reliance on cars.
Why You Should Reduce Your Carbon Footprint
An introduction to watching where you step in Silicon Valley's ecosystem
By Diane Solomon
IF YOU ARE a typical Silicon Valley resident, you're living with an inconvenient truth of your own: if everyone in the world lived like we do, it would take five planet Earths to support our consumption of natural resources. The United States has only 5 percent of the world's population, but emits more than 25 percent of the world's carbon dioxide (CO2), the greenhouse gas (GHG) largely responsible for global warming. Some say we're emitting the most GHGs worldwide. The first step is to test your own carbon footprint at www.myfootprint.org.
There's no doubt that the weather-changing increases in GHGs are caused by human activities like fossil-fuel burning, deforestation, agricultural and industrial emissions, and our production and transportation of coal, natural gas, oil and livestock. GHGs are also released in huge amounts from the growing world population's garbage dumps.
Here's how it works: These gases collect in the atmosphere and trap heat. Like glass in a greenhouse, they prevent the sun's heat from radiating back into space after it reaches the surface of the earth. This natural process gives us habitable temperatures, but because these gases are increasing and remain in the atmosphere for decades or even centuries, our atmosphere and oceans are warming up, causing climate change worldwide.
Here's why it matters to you: Unchecked, scientists at the ecological think tank Redefining Progress say climate change's higher temperatures will alter our coastlines and bays, create conditions favorable for infectious diseases like malaria and bring us more droughts, fires and floods. They say we'll see shorter ski seasons, coastal properties damaged by severe storms, and trashed vineyards in wine country.
More extreme heat waves mean more heat-related deaths and water shortages. Both will play havoc with California agriculture, food prices and food's availability, while the adverse health impacts from increased air and water pollution and higher prices for food, water and energy creates new burdens for low income households.
"We don't how exactly how quickly, or how bad it's going to be, or exactly how it's going to manifest, but we have a pretty good idea and it makes no sense to ignore it," says Jim Barrett, executive director of Redefining Progress.
Al Gore's documentary and his Live Earth concerts have brought more attention to global warming, but what's gotten less attention in the mainstream press is the worldwide movement seeking to do something about it.
Led by the world's scientific community, the United Nations Framework Convention on Climate Change initiated talks that lead to the 1997 negotiation of the Kyoto Protocols and its subsequent discussions, which 160 countries have signed on to, while the United States has refused to participate.
"Bush is bound and determined not to do anything," says Barrett. "I've heard several times that he's going to do something about climate change but he ends up reintroducing his same old plans to do nothing."
EU countries are already taking ambitious steps, trying to curb GHGs with mandatory carbon trading programs, comprehensive producer responsibility programs and excellent public transportation. The Progressive magazine reports that Sweden requires gas stations to offer at least one alternative fuel and significantly reduced auto traffic and CO2 emissions while increasing public transportation use by charging a toll on cars entering downtown Stockholm. The government also charges a vehicle tax based on CO2 emissions, not on sales price or car weight, and they were the first in the world to shift from an income tax to a carbon tax. Denmark's consumers pay a hefty tax to buy and drive road hogs while cyclists get red carpet treatment.
In this country, California is leading nationally with Gov. Schwarzenegger's 2005 mandate to significantly reduce GHG emissions. In September, he signed A.B. 32, which specified the means to do it. But already there's been a shake-up at the Air Resources Board this summer—complete with a dramatic resignation, a firing and a new chairman—over how to implement A.B. 32 without watering it down or ticking off industry.
Schwarzenegger is definitely not a green poser. He's made a huge commitment to increase solar power, with his Million Solar Roofs Program, and he's fighting the EPA because they've refused to permit implementation of 25 percent and 18 percent car and SUV emission reductions by the 2009 model year.
Bay Area Air Quality Management District spokeswoman Karen Schkolnick says they've already built GHG emission reviews into their permitting process which has authority over factories and businesses and they've integrated climate protection into existing air pollution reduction programs. BAAQMD's most recent inventory shows 89 percent of the Bay Area's total GHG emissions are CO2 and Santa Clara County is responsible for 22 percent of that. Schkolnick says over half of the GHGs emitted within Santa Clara County are from transportation.
The Greening of Santa Clara County
Meanwhile, Santa Clara County, Palo Alto, San Jose and Santa Clara, along with other Bay Area cities and counties, are part of 600 governmental agencies worldwide who joined Local Governments for Sustainability's Cities for Climate Protection campaign and are integrating GHG reduction targets into their master planning.
PG&E has just made huge investments to reduce global warming by purchasing renewable solar and wind energy from the Mojave Solar park and PPM Energy's Klondike III Wind Project in Sherman County, Oregon. In June, PG&E kicked off ClimateSmart. Customers can neutralize the CO2 associated with their energy use by paying a fee that funds GHG reducing projects. Customers will be charged based on the amount of GHG emissions their utility usage produces. You can view an estimate of your carbon emissions using PG&E's carbon footprint calculator on their website. PG&E estimates that it will cost an average residential customer $5 per month to participate.
Add Sustainable Silicon Valley and the Silicon Valley Leadership Group to the mix and you have a whole lot of valley businesses, governmental agencies and NGOs large and small committed to reducing regional CO2 emissions to 20 percent below 1990 levels by 2010. Margaret Bruce, director of environmental programs for the SVLG and founding director at SSV, says participating members' targets are lower than the Kyoto Protocols and they're not only lower than A.B. 32's initiatives, but are 10 years ahead of them. Businesses here, she says, have embraced aggressive reduction of GHGs rather than dragging their feet.
"Our targeted reduction in CO2 emissions in Silicon Valley between 2000 and 2010," says Bruce, "is the equivalent of removing 1.1 million cars from our roads."
Send a letter to the editor about this story.