August 15-21, 2007
home | metro silicon valley index | news | silicon valley | news article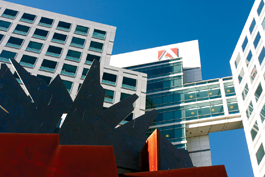 Photograph by Felipe Buitrago
How green was my valley: Adobe boasts one of the best-known eco-friendly buildings in Silicon Valley, but it may have a lot more competition as clean-tech investment becomes this area's hot topic.
Panel Discussion
Will solar be Silicon Valley's next big thing?
By Erin Sherbert
SAN JOSE might have something to brag about when it comes to being green: It recycles more waste than most other large cities in the nation, it has progressive green building policies and it has set strict standards to cut back on greenhouse gases.
But that's not going to be enough to turn the city into an alternative energy giant.
So with growing excitement for clean energy swirling around Silicon Valley, San Jose Mayor Chuck Reed plans to roll out an aggressive proposal to make San Jose even greener, with solar power as the centerpiece.
Reed's plan is set to be an important component of the budding clean energy industry that might put Silicon Valley back on the map of innovation.
While the details are still in development, Reed says his goals are clear: to create new renewable energy sources for San Jose and reduce and recycle urban waste.
He wants to start by making most city buildings solar-powered within the next few years, and then move out of the way and make it easier for homeowners and commercial developers to install solar.
It's not just about saving money and becoming energy efficient.
"We have a clean and green industry growing here and we want it to stay here," Reed said. "If we can facilitate solar power to help them be successful it's good for the valley."
Catching Up
In a 2007 "Green" report card for the country's 50 largest cities, San Jose ranked No. 23 on the list of urban sustainability. The study gauges cities' approaches to public transit, renewable energy, air quality, recycling, local food and green building development and how this affects the local economy and environment.
San Jose received bad marks for traffic congestion, commuting and the availability of affordable housing. The city also got mixed reviews on its energy and climate policies.
So it will take more than a critical mass of novel technology to carve out a new energy niche. There need to be strong political support and good public policy to help weave clean energy into the mainstream.
That means creating more reasons to build green—guaranteed tax breaks, easy-to-get rebates and a streamlined installation process, with minimal paperwork.
"There's a lot of education that needs to be done among public officials about how this technology works and how we can shape policies that streamline and facilitate it rather than standing in the way," said Frank Teng, environment and energy associate director with the Silicon Valley Leadership Group. "It's up to the municipalities to determine to what extent they want to encourage it."
San Jose might be ahead of the pack when it comes to developing solar technology, but it also falls short when it comes to solar installation, Reed said.
Right now, it's like a "big research project," he says, for residents who want to install solar panels. It can take too long to get a permit and cost the average homeowner $236 for solar installation. Part of his plan will target the process, with the hope of making it easier for residents and developers to go solar.
Also, Reed wants the city to work with companies to provide buying packages, where residents can purchase blocks of solar panel systems at a discounted price.
"I'm not sure we have to put a lot of incentives in place; I think we just have to get out of the way in many instances and facilitate making the process easier for solar," Reed said. "If we can make it as simple as going to the store and buying a refrigerator, it will be much more appealing to homeowners."
Trashy Solution
Reed's green vision plan stretches beyond creating a solar-powered San Jose. The mayor tiptoed around the details of his proposal, which will be announced in the fall, but he did touch on a few of his priorities.
They include converting garbage, cooking oils and yard waste into fuel. He wants to strengthen the city's green building policy, requiring certain city projects to meet the top LEED (Leadership in Energy and Environmental Design) standard, a nationally recognized rating system for green building.
Reed also wants to tap into other alternative energy sources, including wind energy. It's possible there are locations for wind turbines by the bay, he said.
But just how far can the mayor push his plan? Reed's office is currently working with the Department of Energy as well as the Environmental Protection Agency to determine what's realistic and cost-effective for San Jose.
One thing is for certain: there are plenty of days of sunshine going to waste in San Jose.
"With the venture capital money poured into this space, we have dozens of the biggest solar and alternative energy companies in the county in Silicon Valley," said Jeff Janssen, senior policy adviser for government affairs with Reed's office. "This may become Silicon Valley's next thing."
Bring on the New Green Startups
Reeling from the dust of the dotcom era, some of the region's sharpest entrepreneurs have now turned to developing clean energy technology, driving the alternative energy buzz in Silicon Valley.
Just look around at the amount of clean-energy startups cropping up across the valley; investors are funding these enterprises, large and small, having poured in roughly $135 million in venture capital dollars during the first two quarter of 2007, according to the National Venture Capital Association.
"Most tech firms in the valley have done some amount of clean-tech investment," said Greg Gretsch, managing director of Sigma Partners, a Menlo Park–based company that invests in innovative technology. "There are clearly examples today of alternative energy businesses that have great prospects in PV and solar—those are the ones that started around here."
Four years ago, it was difficult to get investors to talk to startup companies wanting to pursue alternative energy development. But with dramatic increases in oil prices and consumer concerns over global warming, alternative energy suddenly moved to the forefront.
California quickly became the bellwether of clean energy policy, with Gov. Arnold Schwarzenegger's solar roof initiative and his bioenergy plan that pushes the state to reduce its dependency on fossil fuels and bring alternative energy into the mainstream.
At the same time, "green building" policies have quickly trickled down to the local levels, with Bay Area cities implementing innovative ways to become more energy efficient and reduce urban waste. In San Francisco, the city outlawed banned the use of plastic bags in grocery stores, while in Belmont officials are considering free permitting for residents and developers who install photovoltaic systems.
Everyone is counting on solar energy to compete with conventional electricity sources sooner than later, said David Pearce, president and CEO of Miasole, a Santa Clara–based solar technology manufacturer.
"I would say we are on our way toward establishing a center for solar excellence in Silicon Valley," Pearce said. "We are expecting solar to get to the place where it's competing with conventional sources of electricity without incentives."
However, others believe that it will be years before solar power makes any dent in the energy market.
While the price gap between solar and conventional energy sources is narrowing, we can't rely on solar to become the panacea, said Sean Randolph, president of Bay Area Economic Forum, a San Francisco–based organization working to improve the regional economy.
"It's still more expensive to generate power through solar," Randolph said. "The economics of it still don't work very well."
Send a letter to the editor about this story.