August 15-21, 2007
home | metro silicon valley index | features | silicon valley | sports news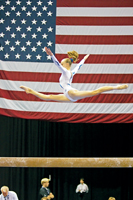 WEE! 2005: World Balance Beam Champion Nastia Liukin reveals her split personality.
When Nastia Met Ninjas
By Felipe Buitrago
YET ANOTHER San Jose first begins this Wednesday, Aug. 15, as San Jose will be the host city for the Visa Championships, a gymnastics event that will decide the national champion in women's and men's artistic and rhythmic disciplines. On the women's side, there will be a good mix of fresh new athletes as well as five world champions, one of them being Nastia Liukin. She is a four-time U.S. national champion in artistic gymnastics and the 2005 world balance beam and uneven bars champion. Other participants include 2005 all-around gold medalist Chellsie Memmel and 2005 world floor exercise champion Alicia Sacramone. For the men's title, the Hamm brothers will be competing. Paul, who won the silver in the high bar event in the 2004 Olympic Summer Games in Athens, also became the first American man to win the all-around title at the world championships in 2003. His twin brother Morgan competed in the 2000 Sydney Olympics at the tender age of 17. The brothers went on to compete in the 2006 Ninja Warrior competition, a Japanese TV sports entertainment special where 100 contestants try to finish four obstacle course stages. The Hamm brothers managed to eliminate 94 competitors. The Championships continue through Saturday at the HP Pavilion. Simultaneously , the USA Gymnastics National Congress and Trade Show will be held at the McEnery Convention Center.
Visa Championships happen Wedneday–Saturday, Aug. 15–18, at HP Pavilion, 525 W. Santa Clara St, San Jose. Tickets are $20–$50, available from TicketMaster. (408.998.TIXS; www.hppsj.com/VisaChampionships.asp)
Send a letter to the editor about this story.