08.19.09
home | metro silicon valley index | news | silicon valley | news article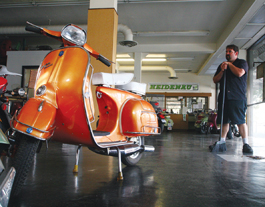 WHEEL AWAY: John Bettencourt says the city's bureaucracy is forcing him out of downtown San Jose.
Ridden Out of Town
Scooter shop owner says San Jose's bureaucracy forced him to move
By Jessica Fromm
WE are sorry to say the city is forcing us to move. For now we will be open by appointment only."
So reads a small sign taped to the locked front door of Moto Amore in downtown San Jose. The small scooter sales and service shop, located in the old Tenth Street Pharmacy building, officially started its move to Santa Clara last Monday, following months of what owner John Bettencourt says has been an uphill struggle dealing with San Jose's code enforcement bureaucracy.
"Have you ever heard that the city is not friendly to downtown small business? Well, every word of it is true," says Bettencourt, 39. "It's one thing to say you need a permit, but it's another thing to make it impossible to get one. I'm like, 'I'm trying to give you my money, and you're making it as difficult as possible.' It's very frustrating, and I'm just done."
Bettencourt opened for business a little over a year ago, filling the 4,100-square-foot glass-paned showroom with shiny, candy-colored Vespas and vintage scooters, with a repair shop in back.
At the time, the opening was received with much adulation and excitement from the San Jose Redevelopment Agency, which has long been trying to make San Jose one of the most business friendly cities in Silicon Valley. Moto Amore's grand opening even prompted the Mercury News' Sal Pizarro to write a story about the new business moving into the empty commercial space.
"When I moved in, everybody was happy, and the city was very happy," Bettencourt says. "[City Councilmember] Sam Liccardo came in right after I opened and he talked about how happy they were to see a few businesses opening on Santa Clara."
Bettencourt says that his problems with the city started when he tried to apply for a few thousand dollars in the form of a signage grant through the San Jose Redevelopment Agency (RDA) last October. He says the RDA (which could not be reached for comment as this story went to press) changed his grant to one dealing with the overall facade, and the bid was put into limbo. More than a year later, he says, the huge golden mortar and pestle and big yellow letters reading "Tenth Street Pharmacy" still adorn the building.
"Daily, I had people walking in asking if we are pharmacy," Bettencourt says.
Bettencourt, who has no employees and mans the showroom and repair shop alone, says San Jose code enforcement then started demanding frequent inspections last spring. He says the last inspection occurred on the morning of April 24, 2009, when six city employees came to look around his shop and said he would have the results of their findings within a week.
Three months later, on July 2, a city compliance order was delivered to Bettencourt, detailing that he had until Aug. 15 to obtain several special use permits. He says this included a permit to change Moto Amore from a "retail" to "service" space, and that he needed to make structural modifications to the building that would cost upward of $100,000.
"It's not possible to do anything in San Jose city in less then a month," Bettencourt says. As he scrambled to obtain the proper permits, he says, he hit wall after wall of bureaucracy as he was shuffled from city office to city office. He says he was stood up for appointments at the San Jose code enforcement office, then a building department officer said that he needed to be paid $225 an hour to answer his questions, and after that people from the planning department said that they weren't even sure if he needed to change his permit after all.
"They really squeeze out small businesses by doing that," he says. "The only people that can deal with this sort of thing are companies that have lawyers to sit around and do this, and I'm trying to run my business."
With the August deadline approaching fast, Bettencourt finally decided to break his lease.
"Nobody has been any real help, and the result is another empty building in an area they say they want to clean up," he says.
Liccardo says his office has received several inquiries from citizens who have seen the sign on Moto Amore's door—but he reports that he and his staff have attempted to contact Bettencourt, and couldn't track him down.
"I tried calling them myself, but there was no pickup," says Liccardo. Ragan Henninger, Liccardo's chief of staff, says she has never received a call from Bettencourt.
I Don't Need No Stinking Permits
Henninger says the code enforcement office conducted the inspection of Moto Amore because neighbors complained of gas fumes. The city later determined that Bettencourt's scooter repairs were industrial work, which violates his location's permit, and that prompted the compliance order.
Michael Hannon, a code enforcement official, says the city tried working with Bettencourt.
"We first started getting complaints about the business back in February, so it's not like we've been overly aggressive in trying to close John down," Hannon says. "We gave him six weeks ... the repair of scooter and vehicles is allowed, but you have to obtain a special use permit from the planning division before you can begin doing that kind of work. He has to understand that there are certain zoning regulations that he has to comply with."
Bettencourt, however, insists that the business tax certificate that the city issued him in February of 2009, which specifies Moto Amore as "General Automotive Repair" shop, is proof enough that he can conduct scooter repairs. Bettencourt might have had more help before San Jose's recent cuts to city services.
Scott Knies, executive director of the San Jose Downtown Association, says that a few years ago the city set up a Small Business Ambassador Program to help owners like Bettencourt navigate the city's complicated permitting processes.
"It certainly is a quagmire for a small business owner who may be wading into all the regulatory requirements," Knies says.
According to Liccardo, San Jose's June budget cuts gutted the Small Business Ambassador Program, and as of June 30 it was largely eliminated.
"That is what that program was designed to do, was to help small businesses manage their way through the bureaucracy of city hall," Liccardo says. "I'll be the first to admit it can be unbelievably daunting at times, and incredibly frustrating for a lot of small business people."
Bettencourt says the city did refer him to the Small Business Ambassador Program, but that other then a website, it no longer exists.
"It's a sham," Bettencourt says. "They have no power, they can't actually do anything other then give you a number to make an appointment."
Liccardo admits that the program is deeply flawed, though he says the city has been working with the planning, building and code enforcement departments so business owners like Bettencourt do not fall through the cracks.
Liccardo says that with the economy being so tough on small businesses, the last thing he wants is for the city to get in the way.
"I'd love an opportunity to talk to the guy and to find out what's actually going on ... I'm frustrated myself just listening to all of this."
Send a letter to the editor about this story.