08.20.08
home | metro silicon valley index | news | silicon valley | news article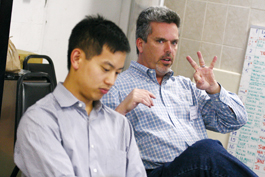 Photograph by Felipe Buitrago
ADD IT UP: Roger Hu and Owen Byrd have helped organize 20,000 Silicon Valley Obama volunteers, some of whom are hitting the road to help the campaign in other states.
Obama's Strike Force
Palo Alto volunteers built an unorthodox campaign office, but its success capturing Silicon Valley votes and money has it playing a key role in battleground states
By Erin Sherbert
JOEY BANKS sat down and relaxed in a folding chair in the cramped meeting room of the Palo Alto volunteer headquarters of the Barack Obama presidential campaign. He got right to the point.
"We are the National Guard, the support troops for the battleground states," said Banks, a local actor turned Obama volunteer.
Banks, 22, is part of a core group of Silicon Valley volunteers who have signed on to a mission: turning traditionally red states blue. Having built an enormously successful volunteer operation, the Palo Alto crew that manages Obama activity in the South Bay is taking its efforts to the rest of the nation.
This group had created a smoothly functioning, highly responsive high-tech organization by the California primaries. The Palo Alto office outpaced other Obama headquarters in production; they called more than a million voters and dispatched, on their own dime, 250 volunteers across state lines to help other Obama volunteers.
At the national headquarters in Chicago, staffers took note of how these homegrown efforts had paid off. In the California primaries, Silicon Valley was one of only four congressional districts in Northern California to go for Obama. Hillary Clinton took the state by a comfortable nine percentage points.
With California locked up, the national Obama campaign decided not to let this Silicon Valley volunteer effort go to waste. Now, they want the Palo Alto group to turn their energy toward Nevada, a shifty swing state with five electoral votes at stake.
The West has become the battleground in this election, with Obama and John McCain fighting for traditionally red states like Montana, New Mexico and Nevada. Recent polls show these states are up for grabs. Already, volunteers here are making their way to Reno striving to push the election results in their favor.
"In New Mexico, John Kerry lost by 3,000 votes," says Roger Hu, campaign manager at the Silicon Valley headquarters. "Recent polls show this election is very tight so the role of this campaign is to provide that extra cushion."
Border Crossings
This is Hu's first political campaign. The 30-year-old high tech worker was attracted to what he saw as an opportunity to bring people back into the political fold. He had been browsing mybarackobama.com, where he found other supporters in the South Bay. By August, they were meeting every Thursday to discuss the campaign. They would meet at local coffee shops, calling voters from their cell phones.
The momentum continued to grow here, along with the surge of volunteers who wanted to join the campaign locally. It became clear that the South Bay needed space to run volunteer efforts. So last December, Hu and his Palo Alto team opened the nation's first all-volunteer, self-financed Obama headquarters. After the primary, the group moved the headquarters to a half-built French bakery next door to Happy Donuts on El Camino Real.
"We are building leadership that will last beyond the election," says Owen Byrd, who is a lead volunteer at the Silicon Valley headquarters. "It's intended to generate a whole new generation of people who will get involved in the party and social change."
The volunteer interest in the South Bay quickly overwhelmed the local office. With more than 20,000 people now listed in the South Bay volunteer database, staffers have looked to create a "mini-headquarters." They are tapping into people living in the 300 neighborhoods that make up San Mateo and Santa Clara counties to serve as meeting places for volunteers.
It's part of the 50-state strategy Obama spearheaded two months ago, asking that teams of six or eight people join up at someone's house to call voters or host events. The local team has also started to adopt neighborhoods in states that might need help.
Byrd, who worked on the Kerry campaign in 2004, says this strategy is different from the way Kerry ran that race. Byrd notes that Kerry contracted with state parties to bring people into his campaign. "Our method is very unusual," Byrd says. "It's a movement, organized like the Civil Rights movement or the Labor Rights movement."
Mining Local Money
Six months ago, on the night of the California primaries, the mood was not somber at the Obama headquarters in Palo Alto, despite the fact that the candidate had lost California to Clinton. Local supporters were pleased that Obama had picked up some small victories in the Bay Area, most notably in Silicon Valley's Congressional District 14 (Assemblywoman Anna Eshoo's district).
As they celebrated, Mary Davey, a longtime fixture in South Bay politics who sits on the board of directors for the MidPeninsula Regional Open Space District, walked up to Byrd and stated how odd it was that she didn't know very many people at the event.
"I said, 'Mary, that's the point,'" Byrd recalls. "I had the same epiphany: that we are not reaching the usual volunteers, and we are not reaching the usual donors."
The Obama campaign isn't just hitting up the usual-suspect heavyweight Democrats in the South Bay for money. Suddenly, people who had never been asked to give money or attend private fundraisers have been writing checks or giving online, Byrd says.
"It's democratized high-donor fundraising," he said.
Nationwide, Obama has raised nearly $400 million, almost double what McCain has pulled down. And Obama's been leaning heavily on California, where donors have contributed more than $42 million, according to the Federal Election Commission. Even traditionally Republican-leaning communities, such as Atherton, Woodside and Portola Valley, have contributed more than $3 million to the Obama campaign, compared to $660,000 McCain has raised there, according to the FEC.
"They are the largest numbers I have ever seen for a presidential candidate a by factor of two," says Steve Westly, the former state controller and current co-chair of Obama's California campaign. Westly, who has also worked on every presidential campaign since Jimmy Carter ran in 1981, confirms that Obama's popularity among Californians has enabled him to collect an amazing amount of cash, particularly in the Bay Area, where Obama has made seven private appearances in the last year. Last Sunday, he raised $7.8 million in a single three-hour stop in San Francisco.
Obama hasn't made any stops in Silicon Valley, but he's still managed to garner big and small donors, especially with his positions on energy and support for the valley's blossoming clean-tech industry. There's a group of clean-tech executives for Obama, including the CEO of Sunpower, who have set a goal to help raise as much as $3 million for the candidate.
"The senator has been successful in raising money from the Silicon Valley because we are region of the country about change," Westly says.
Send a letter to the editor about this story.