08.20.08
home | metro silicon valley index | features | silicon valley | sports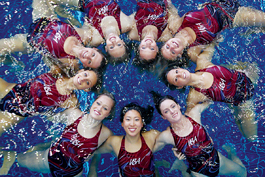 Photograph by Start to Finish Photography
FROM OUR BACKYARD TO BEIJING: The United States Synchronized Swim Team will be competing this Friday, Aug. 22.
In Sync
By Felipe Buitrago
OVER THE PAST week we've seen how Michael Phelps swims and heard plenty of stories about how he eats. But just because Phelps has won his eight gold medals and has taken in his daily 12,000 calories of food doesn't mean the Olympics are over or that the excitement has left the pool. Certainly there are plenty of American athletes hailing from the South Bay still in the Beijing Olympics, especially on the U.S. Olympic Synchronized Swim Team. Not only have they trained consistently at the Aquatic Center at San Jose State University, but many of the team members are locals as well. Take 26-year-old San Jose native Andrea Nott, for instance. She was an alternate for the Synchro Team in the '04 Athens Olympics, where she learned the pressure of high-end competition. As if the mental stress wasn't enough, Nott also deals with exercise-induced asthma. A strong athlete, Nott has been able to keep her condition in check, becoming quite the team player. (She's also a regular Martha Stewart on the domestic end, according to her teammates.) Christina Jones is from Fremont, while Annabelle Orme and Becky Kim are from Walnut Creek, and Kate Hooven is from Pleasanton. With a little luck and a lot of hard work, they'll come home from Beijing with a gold of their own. Be sure to catch them Aug. 22 on NBC.
For more info on our Olympic Synchronized Swimmers, go to www.NBC11.com.
Send a letter to the editor about this story.