August 22-28, 2007
home | metro silicon valley index | features | silicon valley | sports news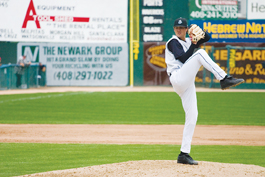 Photograph by Felipe Buitrago
Where have you gone, Alex Hinshaw?: He served 'em up hot and spicy last season, but the Giants lost him in the offseason. He's looking good now as the team has gone cold.
Giant Steps Back
By Felipe Buitrago
APPARENTLY there's a small case of Bad News Bears Syndrome running loose in San Jose. OK, maybe it's not that bad, but it's hard not to notice that the San Jose Giants have gone from a first-place first half of the season to a middle-of-the road roller coaster limbo. The three-time league champs have managed to make one thing consistent this season: keeping their fans in suspense. While one minute they're powering over the Modesto Nuts 12-5, the next they fall 8-3 to the Oaks of Visalia. And now, as of presstime, the Giants have only claimed three out of 15 games. After being swept by the Stockton Ports and losing the opener to the Nuts, fans better bring their lucky charms of choice to the Giants home games starting the 21st when they take on the Visalia Oaks once again for a three game series and then the Rancho Cucamonga Quakes for another three gamer. Let's pray the Giants can turn it around once again.
Send a letter to the editor about this story.