August 22-28, 2007
home | metro silicon valley index | features | silicon valley | column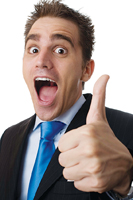 It's like a belt—for my neck!: Time to discover ties.
Tie One On
By Joseph Rosenfeld
I HAVE been observing so many men wearing open-collared dress shirts that I started to wonder whether the tie is dead altogether. So, let me stick out my currently unadorned neck to make a few observations on men and their cravats.
A lawyer will always wear a tie to court, but not always to the office. A twentysomething employee at a major financial services firm will wear a white shirt without a tie to the office, but will likely wear one to a client site.
A mayor of a city would no more forget his tie than miss a photo op. Chuck Reed even wore Old Glory as his tie of choice as a mayoral candidate.
A news anchor will always wear a tie on air. He's not putting on airs; he's doing what every man does when wearing a tie. He's showing respect for others and enhancing his visual command.
Within the last few years in Japan, there has been a movement to eliminate the tie from the wardrobe during the summer months. The Japanese president suggested that this would help conserve energy because office buildings would not have to be cooled as much. For that matter, he also suggested wearing short-sleeve dress shirts to the office. Who knows what he'll ask everyone to take off next summer.
Recent news reports indicate a crackdown in Iran on men transgressing by dressing with neckties. Iranian president Mahmoud Ahmadinejad is always seen wearing Western-style apparel, but conspicuously without a cravat. Ties "contribute to the spreading of Western culture," according to Iran's supreme leader Ayatollah Sayyid Ali Khameini.
It's pretty easy to find neckwear if you're of average height. Even extra-long selections are readily available for the taller gent. But for the 30 million working-age men under 68 inches in stature (including your image mentor), selecting and tying ties can be more of a nuisance, pun intended. After realizing that he was spending an extra 15 minutes a day trying to get his standard-length tie to look just right, Jason Rappaport started his own Internet neckwear business, J. Raffiani.
"The average man may buy three ties a year if he wears ties every day. I've got men buying six ties at a time and can now complete their wardrobes with the best-fitting ties," according to Mr. Rappaport. Clearly, men are looking for ways to tie one on.
For those of us not fighting a culture war, the tie is the singular item in a man's wardrobe that conveys taste and personality. The various configurations of facial hair and neatly tweezed eyebrows have limited benefits when it comes to getting others to focus on a man's face. And since men have not caught on to wearing eye shadow, blush and lipstick to enhance their communication center, men need a little something extra to complete their dressed-up looks. A tie ties everything together; it's not just something that gets tied up. It's the item that ties the man to his clothes, the man to his message.
Joseph Rosenfeld, AICI, CIP, the nation's only male certified image professional, polishes the appearances of professional men and businesses and is based in downtown San Jose. Contact him at: [email protected]
Send a letter to the editor about this story.