08.26.09
home | metro silicon valley index | news | silicon valley | news article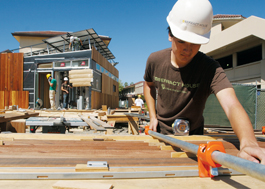 RACE TO THE FUTURE: Student Dale Everett assembles the paneling for a sustainable home on the SCU campus, as part of a national Solar Decathlon competition.
Class Action
Santa Clara University teaches sustainability—and practices what it teaches
By Laura Fishman
ACROSS the nation, in places like Indiana and North Dakota, windmills are spinning, pumping power to Santa Clara University—one of the United States' top university purchasers of renewable energy.
This month, SCU is stepping up its game environmentally by committing to the use of 22,512 megawatts of renewable energy annually. This purchase doubles the university's previous renewable energy usage. Almost 75 percent of SCU's electricity now comes from renewable sources.
SCU buys its power from Santa Clara Green Power, a division of Silicon Valley Power—a municipal utility owned by the citizens of Santa Clara. John Roukema, the utility's director, believes the success of the Green Power program is linked to the fact that company decisions are made by elected officials rather than a board of directors.
"It's our city council that sets the tone of the company," Roukema says. "They give us direction to establish these new green programs."
More than 1,000 cities around the United States operate their own power companies, Roukema says, but only about 30 cities in California have a municipal utility.
SCU is Silicon Valley Power's top energy purchaser, by far. The company reports that SCU's efforts will prevent the emissions of over 17,821 tons of carbon dioxide annually, the equivalent of taking 2,961 cars off the road.
The university's green power purchases will be supplied through so-called renewable energy certificates sourced from wind farms, most of which are located in North Dakota and Indiana. A renewable energy certificate—also known as a green tag—ensures that clean energy is being used. These certificates are audited by individuals and businesses who do not have direct local access to green energy sources.
With the green tags, power buyers are able to receive credit for their purchases and support the emerging green power industry.
Silicon Valley Power's Larry Owens says he is particularly pleased with the university. He says SCU's ambitious move encourages other people and institutions in the community to break into renewable energy habits.
"Santa Clara University has shown a remarkable interest and has taken responsibility with green power as a philosophy," Owens says.
Teaching and Doing
SCU's administration has built a curriculum to match its environmentally progressive actions, teaching students about the importance of sustainability through classes, outreach and research. Many SCU students are taking advantage of the environmental education programs being offered.
As part of that effort, a group of SCU engineering students are competing in the Solar Decathlon, a national competition among colleges where teams work to create the most efficient solar-powered house. In addition, the environmental studies department offers classes on climate change, energy efficiency, environmental law, sustainability outreach and conservation.
SCU also has a full-time staff member devoted to greening the campus. As the campus' sustainability coordinator, Lindsey Cromwell encourages students, staff, faculty members and others in the community to examine energy resources on a daily basis.
"When students are in college they're forming the values that they'll have for the rest of their lives," Cromwell says. "We have a community that inspires others where we can teach students and employees how to be sustainable."
Silicon Valley Power's Owens concedes that it generally costs more money for the university and for Santa Clara residents to use green power. However, many community members have told Owens that being green is worth the costs.
"Our customers have really stepped up and demonstrated their commitment to renewable resources by paying more," Owens says.
Silicon Valley Power reports that the average household in Santa Clara spends around $7.50 more per month when they transition from standard power to renewable energy. Because SCU is such a large institution, the university this adds up. According to SCU's assistant facilities manager, Lauren Grumland, the university spends $2.5 million each year on power bills and spends approximately $7,500 more each month in order to use green power.
"It costs the university more money but we're doing it because we're concerned about the environment," Grumland says. "It's not a cost-driven decision."
Even with a its student population growing, the university reports that energy consumption remains steady and is not rising with the campus's expansion.
SCU is rapidly gaining national recognition for the campus' green power innovation. Princeton Review gave the university a "green rating" of 96 points out of a possible 99 points. The Kaplan College Guide 2009 ranked SCU as one of the top 25 most environmentally responsible colleges in the nation.
Cromwell hopes SCU can be a model for other institutions looking to reduce their carbon footprint. She believes the university is doing its best to keep up with the new advances in green technology.
"Green Power is a growing trend across the nation and a lot of campuses are starting to take on these types of initiatives," Cromwell says. "I think we're doing really well."
Send a letter to the editor about this story.