August 29-September 4, 2007
home | metro silicon valley index | news | silicon valley | news article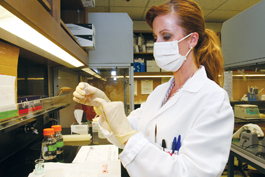 Photograph by Felipe Buitrago
Glove story: Cassandra Musgrave-Nelson performs a differential extraction, separating sperm cells from epithelial (skin) cells, at the Santa Clara County crime lab.
Sleuthing of The Future
County's new $70 million crime lab will revolutionize crime-solving in Silicon Valley
By Erin Sherbert
CSI IT ISN'T. There are no shiny supercomputers or futuristic machines that allow crimes to be solved in one nice, neat hour.
At the Santa Clara County Crime Lab, criminalists are bogged down with a backlog of cases—as many as 600. And the average turn-around time: 35 days, at least.
That's not too bad compared to other crime labs across the state, but lab workers are hoping to pick up the pace in analyzing evidence when they move into the new Santa Clara County crime lab, which is set to open next May.
The county is spending nearly $71 million to build a cutting-edge crime lab that is expected to fine-tune criminal investigations and open the doors for top-notch technologies to come.
The new lab will be triple in size, which means criminalists will no longer have to work practically on top of each other in a basement where boxes and papers are stuffed in every nook and contamination is a constant worry.
It will centralize all the departments so workers won't have to have to lug evidence back and forth between the three lab sites. More importantly, the extra space and enhanced equipment will give the staff the ability to start chipping away at the caseload mounting in Santa Clara County.
"If you've been to the old lab, it's woefully apparent and obvious people are working in terrible conditions," says Dolores Carr, Santa Clara County's district attorney. " I think [the new lab] will really move our office and our county into the 21st Century in terms of being able to really address important investigation needs."
DNA Revolution
DNA sampling has revolution-ized crime investigations over the last few decades, and as that technology continues to improve, Santa Clara County wants to stay in the lead.
At the new lab, criminalists will have access to advanced DNA technology that will allow them to examine small, degraded and damaged evidence, such as bones and burned tissue.
Right now, they don't have the room for this kind of work, and instead they have to ship out evidence to the FBI for analysis. Getting those results can take anywhere between six months and a year, lab directors said.
That will change when criminalists have access to that technology in the new lab. The hope is to turn around results on that type of evidence in just a few weeks, lab directors say.
"We're excited about being able to offer that to the community," says Cassandra Musgrave-Nelson, who works with DNA samples in the lab.
Keeping on top of DNA technology is important, especially as crime labs across the state prepare to expand their DNA databases to include all adults arrested or charged with any felony offense under the voter-approved Proposition 69. That change goes into effect in 2009. Currently, DNA databases only include adults convicted of serious felonies, such as homicide.
In addition to leading DNA technologies, the new lab will have a full-blown firing range, replacing what Santa Clara County Crime Lab director Benny Del Re calls a "dinky" range at the current lab. It will also have improved computer systems where labs can share information immediately instead of having to pick up the phone to discuss results, officials said.
"It will help us in responding quickly on requests with lab results and determine whether there's enough evidence to file on someone or if we have the wrong person," Carr says.
We're in the Money
If CSI bugs actual forensic analysts because it's created ridiculous expectations for their work, it's also effectively bolstered the image and importance of forensic science and crime labs.
That visibility has generated excitement and interest among community members and politicians, which has helped crime labs garner extra funding and support.
"It's a good coattail to grab onto," says Del Re.
Just look at the legislation and funding that crime labs are securing from the federal level down. In 2004, U.S. Congress passed the "Justice for All Act," which among other things allocates resources to enhance DNA collection and analysis efforts.
Also, U.S. Rep Mike Honda (D-San Jose) has requested $1 million in federal funding specifically to help update the technologies at the Santa Clara County Crime Lab.
These efforts are partly to help lab analysts to keep pace with the growing DNA samples at crime labs across the country. There are as many as 300,000 unanalyzed DNA samples from offenders of convicted crimes and more than 500,000 samples yet to be taken across the country, Del Re said.
In California, forensics commissions are cropping up to help steer funding and resources into crime labs while keeping track of the needed technologies for research analysis and backlog cases.
Meanwhile, the county is completing the four-story, 90,000-square-foot crime lab on the corner of Hedding Street and Guadalupe Parkway near Juvenile Hall.
The county approved plans for the new lab five years ago, as the crime lab's caseload continued to increase by about 25 percent each year, with DNA requests climbing by as much as 40 percent.
Lab directors have been lucky, adding staffing while the county continued to cutback in other departments over the last few years. The lab, which operates with a $8 million annual budget, employs 61 workers, including criminalists and toxicologists.
With the added staff and growing caseload, space became too tight, and the toxicology and computer forensics department were relocated to offices outside the lab.
"It came to the point where we couldn't conduct business as usual," Del Re says. "The need is there—our caseload keeps increasing."
True Crime Lab Story
Crime labs date back to the turn of the last century, when investigators had only enough technology and expertise to process fingerprints. Santa Clara County's lab was one of the first in California, founded in 1947.
At that time, the lab was a small room on San Pedro Street, where lab workers were old-fashioned "ambulance chasers." They trailed after car accidents, examining drivers for alcohol and other substances.
The 1947 crime lab was nothing more than a toxicology and alcohol lab, but as technology progressed, Santa Clara County quickly developed a state-of-the-art facility, moving into the current lab in 1972.
It was the envy of many California cities, being one of the first in the state with a full-service DNA analysis and computer forensics, Del Re says.
DNA typing was first introduced in the 1980s, helping to solve crimes against people or in many cases exonerate the accused. As the technology has progressed, crime labs are now cracking property crime cases using DNA, including vehicle theft, burglary and robberies, Del Re said.
Since 1998, the Santa Clara Crime Lab has made 477 "hits" in its DNA database, primarily sexual assault and burglaries. Those DNA "hits" could be matches to a convicted offender or to cases where there is no suspect, yet the crime evidence DNA matches.
"We solve crimes that we never through we would with DNA," Del Re says.
He believes the next boom in forensic science will include digital evidence. Not only will DNA samples be filed on computer chips so investigators can have that information at crime scenes, but iPods, Global Positioning Systems and Smart Cars will become a major part of crime lab, Del Re says.
"Think of everything being built now that has a computer chip," Del Re said. "We'll know what time you started your car, what time you started your washing machine and will it corroborate your story?"
Send a letter to the editor about this story.