August 30-September 5, 2006
home | metro silicon valley index | features | silicon valley | feature story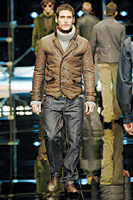 Fall Style: Brought to You by the Letter V
By Joseph Rosenfeld, AICI, CIP
THE FALL fashions for men appear to have been influenced by a dueling duo of distinctive archetypes, yielding a season of varied looks and attitudes. It's as though the designers were threatened to "Put up their dukes," thus resulting in fashions that represent much of what's happening in the world: the opportunity for diplomacy or the opportunity to "give 'em hell." Given today's current issues on the world stage, it's possible to take cues from fashion's points of view, mix up the messages and have some fun.
Velvet is everywhere this season. Worn night and day, it is the one key fabric embraced by nearly every designer. Purveyors of fine fabrics must have become excellent surveyors of the collective conscience of consumers this fall. Velvet has an enveloping quality on our bodies, cloaking us, protecting us. This season is going to be very velvety, with everything created in velvet from suits to jackets to trousers to jeans. Any guy in velvet this season can add some swarthy swagger while being veiled from the evil villains of the world.
Vintage elements are big, as well. The plaids and three-piece suits worn by the Duke of Windsor get the royal yet somber treatment while leather jackets get the bomber treatment. Accessories abound with vintage adornments, each selecting the somber or bomber approach to vintage motifs. For instance, hats range from a beret befitting a B-1 bomber uniform to an oversized 10-gallon cowboy style.
One more element of the fall men's fashions is for certain, despite it being a very mixed-up season. Look for items to have more volume this season. From the occasional jeans with pleats to more voluminous coats, there's more than one way to "max out" your style personality. Try mixing up that volume with a still-popular puffy vest and something dressier and more fitted. Try a coat with a pleated back for a capelike effect.
Whether you like more or less structure, prefer the city or the country, like to dress up or down, are dovish or hawkish, there's definitely something new in store for your wardrobe this fall.
Send a letter to the editor about this story.