August 30-September 5, 2006
home | metro silicon valley index | features | silicon valley | sports news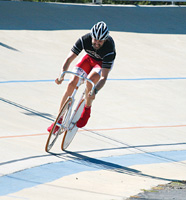 Race Face: Shawn Hatfield from San Francisco is all smiles at the time trial qualifying event at the Sprint Tournament held at Hellyer Park last Sunday.
Highway to Hellyer
DOWN, but definitely not out. Hellyer Park took a huge hit recently when thieves stole all of the copper wiring from its lighting system, but it's still holding daytime races, training and beginner sessions at the track for all of you fixed-gear fanatics out there. So how fast do you think you can go? At last Sunday's Sprint Tournament at Hellyer Park, some of the top riders from San Francisco, Oakland and even Sacramento battled it out to see just who is the fastest. Track racing as a discipline originated back in the 1800s and was very popular in the United States; in fact Madison Square Garden was originally built for track racing. But the thrill of the automobile caught on, and the 1940s marked the beginning of cycling's decline as it quickly lost its place as the country's No. 1 spectator sport. But recently velodromes have been making a comeback. A newly opened track in L.A. is now the site of the UCI Track Cycling World Championships. Hellyer is on the list of the 20 or so tracks presently active in the country with its own local competitions. And Sunday was a live spectacle of speed. The tournament started out with qualifying time trials and then proceeded to three-rider sprints and then one-on-one sprints. The action was intense as the riders not only used speed and endurance to better one another but had to ride strategically to get an edge on opponents. In this sport, the time frame of only a split second can mean difference between winning or losing.
The next Sprint Tournaments will be held Sept. 10. For more information on the track and its events go to www.ridethetrack.com.
Send a letter to the editor about this story.