09.02.09
home | metro silicon valley index | news | silicon valley | news article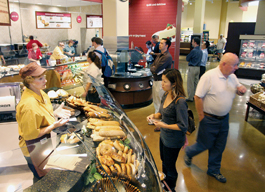 MAKING SOME BREAD: Safeway, with annual sales of $41.1 billion last year, just opened an upscale 'Market' in downtown San Jose—the second of the company's new concept urban grocery stores.
Store Wars
Safeway's shiny new 'Market' is being touted as a boon to downtown—just blocks from San Jose's own Zanotto's
By Jessica Fromm
A 50-PERSON queue snakes through the buzzing aisles of The Market in downtown San Jose. It's the brand-new grocery store's opening night, and a huge crowd of businessmen in button-downs, college kids in flip-flops and a few seniors have turned out to investigate Safeway's new flagship urban grocery store.
Wandering the aisles with eyes open wide, toting bags full of half-priced pasta and bananas or pushing carts filled with rotisserie chicken and artisan bread, a mob has packed the 24,000-square-foot store.
"Oh. My. God. They have everything here. I don't have to go to Target anymore," exclaims one pony-tailed college-age woman in jean shorts and a strappy tank. She is flanked by three nearly identical friends, each sipping a tall Tully's bellaccino as they loll around the highly polished concrete floors, grabbing up a plethora of marked-down goods.
Located on the ground floor of The 88, a new high-rise condominium building at the corner of San Fernando and Second streets, this is not the Safeway of sprawling white linoleum, blinding fluorescent lighting and rows upon rows of Technicolor-boxed processed food that has become a mainstay of suburban California and the West.
Instead, organic produce sits on marked kiosks next to maps showing exactly where the fruit or veggie was picked. Recessed and natural lighting illuminates the store's large food court–style cafe area, which includes oven-fired pizza, a yogurt bar, a sandwich station, a Tully's coffeehouse, fresh meat counter, deli, bakery and an impressive wine section.
Every seat was taken at the full sit-down sushi bar on opening night, the sushi chefs chatting animatedly in Japanese with patrons.
In contrast, approximately 350 feet away from this scene, just up Second Street, Zanotto's Family Market is completely dead. It's 8pm on this Thursday evening, and the only warm bodies in the store are staff.
Price Check
Pushing an industrial-size broom around the store's well-worn linoleum, Lindsey Doneilo, Zanotto's front-of-store manager, watches the aisles carefully. She explains that she's making sure that Safeway employees are not spying on the 13-year-old family grocer's ideas.
"They've been coming in all day," she says. "They're dressed really nice, they write stuff down and don't buy anything," says the exasperated young woman, who at first mistook this reporter for an agent of the competition.
Zanotto's employees are worried about The Market opening up less than a block away. At one time, the small family-run grocery bragged that big-box supermarkets like Safeway could never lure away their health- and environmentally aware core customers. They are now finding themselves eating their words.
When Zanotto's first arrived in downtown San Jose in 1996, it was welcomed with the kind of zeal now being shown for its new corporate competition. Based in San Jose, Zanotto's helped pioneer the market-style grocery store, offering its customers higher-quality produce, fine wines, a range of imported and gourmet items and a well-stocked deli.
"I used to be able to sit back and say, 'Well, those big guys will never do what we do,'" says Troy Tibbils, owner of Zanotto's Downtown Market since it opened. "I think we said too much, because somewhere along the line they realized that people just want to be able to run up to the corner sometimes, rather then going to a 50,000-square-foot facility. "That was our biggest competitive edge, and clearly they are seeing that as something that is attractive to them now."
In fact, The Market is just the beginning of Safeway's campaign to transform its image and expand into cities that have been so far untapped by mainstream chain food retailers. Independent grocers like Zanotto's have long had an upper hand on the food shopping of urbanites because they could occupy smaller stores and provide more specialized, ready-to-go service.
Now, Safeway Inc. is rebranding its new city locations as "The Market." If its San Jose prototype store is a success, the Fortune 50 company has plans to roll out several more concept urban-marketplaces around the country.
Tibbils says that since The Market project was announced, he's seen Safeway employees in and out of his store looking for ideas and pricing. "They've spent a considerable amount of hours in our store in different stages," he says. "I don't think by any means they developed their concept based exactly on what we are doing. But, I think they probably figure we have a very large part of the market share, so they want to find out whatever they have to do to have a competitive edge."
Susan Houghton, director of Public and Government Affairs for Safeway Inc., said that she was not aware of any Safeway employees taking ideas or pricing cues from Zanotto's. "Our pricing is set at a national level, so there would really be no reason for us to go over there and take a look at them," she says.
It's not a coincidence that the $44 billion Pleasanton-based company is opening its second flagship store in a plum spot at the bottom of San Jose's swankest new residential tower (the first Market opened late last year in Long Beach).
Seth Bland, a principal for The 88's developer Wilson Meany Sullivan, says his company spearheaded the effort to bring The Market to San Jose because they believed a new grocery store would be a key to the city's downtown renaissance.
He says the company rejected the idea of bringing a restaurant into the retail space on the ground floor of The 88. "It would have been easier," Bland says, "but that's not our perspective in the long run. We're not here for the path of least resistance."
Bland says that he first saw the potential of an urban Safeway at the company's mixed-use condo complex The Beacon, across the street from AT&T Park in San Francisco's Mission Bay neighborhood. There, Wilson Meany Sullivan brought in a small-scale, higher-end Safeway that proved to be such a big success that Bland says it ultimately prompted Safeway Inc. to develop "The Market" concept store.
"We do try to take a longer view, and the grocery [in San Jose] was certainly a challenge because of the integration necessary with the parking garage," says Bland, referring to The 88's 330-space underground parking complex. "But this was the right thing to do to benefit the entire downtown." (The city of San Jose spent $1.85 million to install elevators in the garage.)
Residents began moving into The 88 last May. As the housing market continues to slowly recover, the tower has been averaging around four sales a week of its 197 luxury condo units.
On the afternoon of Aug. 27, Mayor Chuck Reed, downtown Councilmember Sam Liccardo and other city leaders celebrated The Market's official ribbon cutting. Bland said that the speeches hadn't even come to a close when customers started pushing grocery carts into the store.
Longtime downtown grocer Tibbils worries that as the city enthusiastically welcomes big chains with deep pockets, it is are overlooking home-grown independent businesses.
"Look around," Tibbils says. "We're getting a new Ross, but Black Sea [Gallery] is moving out. We get a new Billy Berk's, but A.P. Stump's closes. We are getting a new Safeway, but does that mean Zanotto's won't be here anymore?"
Now that the city is finally banking on a future that includes a critical mass of San Jose urban dwellers, Tibbils feels that he and his compatriots are getting left in the redevelopment dust.
"Its terribly sad if those pioneers, if you will, who were the cornerstones to this bigger [redevelopment] picture, get trampled in the process, which is potentially what could happen to us," he says.
Since We're Neighbors ...
Houghton says that Safeway is counting on there being enough business to support both Zanotto's and The Market. "Our goal is to provide different types of things in The Market that you can't necessarily get at other stores. So, I think they fill different voids," she says.
Bland agrees. "We still think that there is room for everybody. Downtown San Jose is not a small environment, and there will be people who have preferences in terms of their shopping experiences," he says.
Customer loyalty is a fickle thing in the current economy, and Tibbils is unsure if Zanotto's can split its business in the long run with The Market.
"The problem is that about half of what we do is almost exactly the same as what they do," he says. "How long can we afford to split that half with a company that has a lot more resources and frankly seem to be coming at us?"
But for the time being Zanotto's is focusing on figuring out what its role will be in the future in the new downtown grocery landscape.
"This is a big challenge in a market that is not already overwhelming, so we're just going to have to wait and see what happens," Tibbils says. "We're never going to be able to go toe to toe and sell Tide for less then them, or Coke for less then them. But, the things we've done that are different and unique, that has always been enough."
Send a letter to the editor about this story.