09.03.08
home | metro silicon valley index | features | silicon valley | sports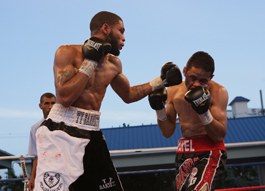 Photograph by Rocky Widner
TY FIGHTER: Ty Barnett (left) took out Pavel Miranda earlier this year at the Royal Watler Cruise Terminal in the Cayman Islands.
Fear the Sweet Pea
By Felipe Buitrago
WHEN I think boxing I usually think power, speed, agility, a little blood and of course nicknames. While some come off with mobster undertones, others just project an image of straightforward pain. But when the ring announcer calls out the fighter in the corner by the name Pernell "Sweet Pea" Whitaker, you'd think the guy has a glass and jaw and enjoys gardening on the weekends. Clearly his nickname hides the power Whitaker packs in his gloves. A welterweight at 5 feet 6 inches, Sweet Pea stands tall with his 40-4 and 1 record, 17 of those 40 by KO. And he will be in the audience at the next edition of American Iron and Metal Fight Night at the Tank on Thursday, Sept. 11. But even if Whitaker will be on the other side of the ropes he still poses a threat. A "You Be the Judge" format has been added to the first four undercard fights, where a round of applause from the crowd will decide the best fighter. The winner gets a trophy and a $500 dollar bonus.
The rest of the excitement for the night will be coming straight from the mat. Rico Ramos will juke it and duke it with Alvaro Muro, and Francisco Santana will be fighting Antonio Johnson. But the main event is saved for Ty Barnett from Washington, D.C. With his 14-0 record with 10 of those wins by knockout it's no wonder why, at presstime, his opponent is yet to be announced.
For more information and detailed fight card go to www.fightnightatthetank.com
Send a letter to the editor about this story.