09.10.08
home | metro silicon valley index | news | silicon valley | news article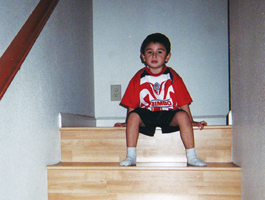 Photograph courtesy Rosa and Alberto Ramirez
Foreclosed Out: Noel Martinez, 3, will likely be forced to leave his home—which he shares with his parents, two siblings and another family—because of a mortgage scheme gone bad.
Unreal Estate
This deal sounded too good to be true. It was. And it was just one of the schemes that wreaked havok on real estate.
By Paul Wagner
ALBERTO and Rosa Ramirez's sport socks are bright white, their sandals glossy new-car black. But the bottoms of their jeans bear the inevitable stains of their work in the fields. Alberto and Rosa pick strawberries eight months a year and earn around $400 a week doing so. And until late 2005, they qualified for and lived in county-assisted farmworker housing with their three children, and their friend Jesus Martinez, his wife and their three children. In a three-bedroom apartment.
The arrangement was, to put it mildly, a bit crowded. So when Rosa and her sister, out shopping for food, spotted the newest issue of La Ganga magazine, got home, plunked down on the couch to read it and found a real estate ad promising, "With Maria and Rafael you can do it—you can buy a house," that sounded awfully good. "Buy with us and we'll give you furniture" sounded even better.
And that's how Alberto, Rosa and Jesus, in the summer of 2005, ended up at the Rancho Grande Real Estate office in Morgan Hill to ask a few initial questions about buying a house.
They say they told real estate agent Maria Avila that they weren't able to afford much. Three thousand a month, tops. And given the two couples' combined income of around $6,800 a month, that would use up around 44 percent of their monthly income—a burdensome but typical housing cost level for local residents.
No problem, they recall Avila saying. We'll find a way. She showed them a house in Hollister and went looking for a loan.
By the fall of 2005, the couples had OK'd the house, which Avila was selling for its owners, and by November Alberto was signing papers—here and here, and just one more place, right here. And on Dec. 22, 2005, just in time for Christmas, the two families—four adults and six children—moved into their clean, modern four-bedroom dream house.
A house that was, within months, to become a living hell.
Maria Avila, who emigrated from Colombia, was unavailable for comment. In previously published reports she has denied allegations of predatory lending.
The ways in which the Ramirez-Martinez home would become hellish are many. But the root reason is that in that slippery world of oft-shifting meaning and random reality known as "loan and financial services," Alberto Ramirez was not, unbeknownst to him, a strawberry picker. No, in that world, the world Maria Avila created for the financial community to review, he was an "agricultural expert" who owned his own business and boasted an income of around $100,000 a year.
Divine Intervention
From the beginning of their house-bidding process, Alberto, Rosa and Jesus suspected something was a bit off, because the $720,000 loan needed to buy it would ordinarily require a mortgage payment of around $4,800 a month.
But, Ramirez says, Avila told them if they wanted to be able to get out of that particular loan and, say, refinance later at a better rate and avoid immense pre-payment penalties—and they certainly would want to do that within just two or three months, she suggested—it would cost $5,278 a month. "We can't afford that," Alberto says he told Avila, again and again, throughout the summer and fall of 2005. That's OK, he recalls Avila finally answering: I'll help you make the payments.
And starting in December, when they moved in, she did help, cutting them checks for $2,278 each month, which they bundled with their own $3,000 and sent off to New Century, the cheerful lenders. It all felt a bit odd to the Ramirez and Martinez families, even as first-time home buyers—odd enough that at one point, Rosa asked Avila, "Why are you doing this?"
Because, Avila told them, she had nearly escaped death just months earlier in a natural disaster in Cancun. And at the most terrifying moment she had promised God that if He let her survive, she would repay Him by helping an unfortunate family. And the family God had chosen Avila to help, she told Rosa, was hers.
So the two families moved into their $720,000 home right at the time of year when families hoist their youngest children overhead to plant the star atop the Christmas tree. And all seemed right with the world.
Soon thereafter, during the annual four-month downtime field workers go through each winter season, they decided to spend some of their free hours on the refinancing Avila had suggested. "What can we do?" they asked Avila. "Where can we start?"
But within the few months between buying and inquiring, background factors—specifically, factors involving the ease with which homeowners can refinance—had begun to shift.
For one thing, the number of families buying homes with loans based on exaggerated income had multiplied, which made competing for refinancing tougher. Some lenders had been utterly shameless in their quest both to make loans and to sell refinancing packages.
"I have one client who got numerous calls, at least daily, from just one company—Cal-Wide, formerly of Fremont—mass-telemarketing refis," says attorney Gretchen Regenhardt of California Rural Legal Assistance. "They didn't need to refinance—they were doing just fine in their home—but eventually the calls and letters wore them down."
The moment the clients—also farmworkers—gave even a mild possible assent, Cal-Wide brokers showed up at the front door, with incomplete English-only paperwork they couldn't read and a notary public in tow to seal the deal right there. Only later did the family learn that they were represented on paper not as field workers but as "field technicians" with incomes of $12,000 a month. They actually earned around $12,000 a year.
They were, of course, sold the infamous subprime loan—one with an interest rate below even the prime interest lending rate, for which loss to lenders was made up later by jacking up the interest rate after the initial "teaser rate" period had expired. At which point, after the brokers involved had collected their 3 percent loan-origination fees, too many buyers, facing often-unmentioned rate escalations, lost their homes.
Plenty of single families lost their savings and more—and so did groups of families or friends looking to go in on a home together. Sometimes, the victims of these subprime and refi arrangements were complete strangers persuaded to join forces in order to "get in" to the market.
"At the height of all this, back in 2005 and 2006, pairs of real estate agents used to circle around places like Home Depot," says attorney Pamela Simmons, who represents the Ramirez and Martinez families. "They'd pick up a group of day laborers in their SUVs, bring them out to a property they were selling to 'cut the weeds and fix the place up,' and then at the end of the day, pay them well and ask, 'Are you guys by any chance renters? If so, you really ought to buy a house. In fact, how about this one you've been working on all day, right here?'"
By the time the teaser rate period ran out, and the day laborers had begun losing their home to escalated interest rates and impossible payments, the agents—having collected their 3 percent commission on the home's sale and often the additional 3 percent for originating the loan—were long gone to another town to scam another day. Simmons has seen enough of this to have been quoted in several national periodicals, including the Wall Street Journal, Money magazine and Business Week, on safe and unsafe mortgages.
Time Bombs
A second factor also intruded on the families' refi plans—namely, that the financial world had begun catching on to the frequency of mortgage fraud and was beginning to tighten up.
Several years before, no one had particularly cared about such fraud. When, back in 1999, finance wonks warned that then-U.S. Senator (and now John McCain adviser) Phil Gramm's successful attempt to repeal a 60-year-old law—one keeping commercial and investment banks' hands off each other—was dangerous, no one really listened. Sure, that repeal might let losses from fraud spread throughout the entire world financial system, but how likely is that?
Similarly, few had noted Warren Buffet's warning in 2002 that repackaged mortgages and other derivatives were "time bombs" devised "by madmen" that would soon prove to be "financial weapons of mass destruction."
But they certainly began listening when, at the end of 2005, the U.S. Treasury Department spread word of a 1,411 percent increase in incidents of mortgage fraud.
Lenders, for both new mortgages and refis, grew far more suspicious of potential borrowers as the winter of 2006 unfolded. And the number of lenders willing to take on refis for folks like Alberto and Rosa Ramirez shrank with each passing month.
Therefore no answers were forthcoming when, every time Alberto or Rosa or Jesus would pick up their monthly $2,278 mortgage-payment-aid check from agent Maria Avila, they'd ask, What about the refi? Eventually, Alberto says, she simply started handing them business cards. He says they called every number. No one answered their calls, and many numbers had been disconnected.
The Big Reveal
So in the late summer of 2006, after months of stonewalling and inaction on the refi from their agent, the families took matters into their own hands. They decided to simply start walking into banks and asking for help. And at the first bank they walked into, a branch of Washington Mutual, a sharp employee named Jose Bocanega noticed that three things seemed very wrong.
First: their house seemed, given its size and neighborhood, substantially overvalued. Second: their combined incomes could not possibly afford them the house, even at a realistic price. Third: every page of the standard home valuation and borrower income documents was missing.
So Bocanega called Avila and asked for the documents. Covering the phone, he repeated her answer: "Oh, I usually don't share those with clients."
Oh, yes, you do, Bocanega said, and off went Alberto and Rosa to collect the documents. They say Avila ordered them out of the office, yelling insistently, "I did nothing wrong! I did absolutely nothing wrong!"
But back at WaMu with the documents, Alberto and Rosa learned that the opposite was true. Avila, as agent for the sellers, had vastly overvalued the house. As agent for the buyers—Alberto, et al.—and as loan originator, she had used that inflated value to sell Alberto a loan much larger than the house was worth, according to the bank's analysis. Every aspect of which earned her a commission far higher than had the house been objectively valued and priced. Were that not enough bad news for one day, just moments later Alberto and Rosa learned, for the first time, that Avila had represented Alberto to lender New Century not as a $400-a-week strawberry picker, but as a $100,000-a-year business owner.
The two families confronted Avila and said they wanted to be done with the house: give us some of our money back so we can move, and we'll call it even. Alberto says she responded: No can do. "I don't need the house. And I've got better houses."
Both buyers and agent were now stuck in a standoff. Were the Ramirezes and Martinezes to file a complaint against Avila, they'd be homeless. Were Avila to act against them, the time for the loan to "season"—to provide a stable enough payment history to be checked off in the financial world as OK —might not complete. She might have to return the $21,600 loan commission and be subjected to far greater scrutiny from then on. So the mutually uncomfortable arrangement went on through the summer and autumn, with the homeowners knowing they'd been overcharged and the agent paying to make up for it. Avila continued cutting checks month after month so the Ramirez and Martinez families could remain in their house.
The relationship roller-coastered continually. Some months, Avila's payment help was late. On another occasion, cheerful at having just closed a lucrative deal, Avila slipped the couples $500 in cash to get new shoes—including the glossy new-car-black sandals Alberto and Rosa sported the day Metro interviewed them, through a translator, in their attorney Pamela Simmons' office.
In the meantime, though, again unbeknownst to the couples, Avila's business was crumbling.
On July 7, 2006, the California state Department of Real Estate, investigating fraudulent mortgage practices, revoked the license of Rancho Grande Real Estate—which had also been doing business under the names Realty World Rancho Grande, Rancho Grande Financial, Mundo Real, the Mortgage Company and ACR Investments of San Jose. By mid-December, all offices had been abandoned. And on Dec. 19, the state canceled the registration of the last corporate officer.
The Ramirezes say Avila never told the families about any of this. Rather, in December of 2006, responding to Alberto's letting her know that the families could no longer stand the financial strain and needed to sell the house, she gave them one last $2,278 contribution and advised them to let the mortgage go into default and possible foreclosure. "Don't pay the mortgage," she said. "Just have yourselves a good Christmas."
Waves of Failure
Now, some 20 months later, various notices have come from various companies, and the foreclosure is now in process, but is not yet complete, because the lending institutions buying the loans keep collapsing. New Century collapsed in April of 2007, filing for bankruptcy, and the foreclosure process began with a new lender. It still goes on. And the families cannot simply start paying as they can, because once borrowers miss three successive payments, a loan is labeled as being in default and lenders will accept no more payments—even in full.
"I've managed to save about $2,000 to move into a new place," says Alberto, indicating with his hands that he knows that's not much, and that the families have no sure way into new housing. The waiting list for the $780-a-month farmworker apartments that housed them too cozily but inexpensively is impossibly long. And other apartments, due to other families' abandoning homes in midloan, are scarce.
Overall, the Ramirez and Martinez families put $39,000 into the house. Maria Avila put in around $29,600—and collected 3 percent as seller's agent, again as buyer's agent and a third time as loan agent for a total of $64,800. She netted around $35,200. The families have lost their former affordable farmworker housing, their $39,000 and their house.
This is the nature of many of the questionable practices that are leading to boarded-up neighborhoods everywhere Pamela Simmons' law partner, Bill Purdy, describes these practices as "the root cause of hundreds of thousands of foreclosures.
"This process and the loans it generated have ravaged the value of California real estate and decimated property tax rolls.
"What happened to the strawberry pickers at the hands of that particular broker is symptomatic of a massive tidal wave of foreclosures breaking across the state. There will be wave after wave of them. There are many, many more latent foreclosures out there. The approaches used were different, but the result was exactly and invariably the same."
Send a letter to the editor about this story.